An anticlimactic Super Bowl allowed me to do my usual perusal of the top 20 insider buy list that comes out every week in Barron's by the third quarter of the game.
As one might suspect, insider buying is picking up a bit after January's significant decline which was the worst one month performance for equities since May 2012.
Last week there was only one company that saw over $1mm in insider buying and that was from a beneficial owner and not by an officer or director. This week we have four entities which had over $1mm each in insider buying driven by directors and officers of the company for the first two entries on the list this week.
In the top two places on this list this week are two stocks with at least a 3.5% dividend yield. The first had a tough year in 2013 and the other has just pulled back recently in the first month of the New Year. Both happily are in my income portfolio as well and look attractive at these levels.
American Eagle Outfitters (NYSE:AEO) - The teen apparel provider with over 1,000 stores, mainly in North American, had a horrific 2013. Along with competitors Abercrombie & Fitch (NYSE:ANF) and Aeropostale (NYSE:ARO), sales were tepid in the just concluded year and the stock declined some 40% during the year.
Given this, it is a nice vote of confidence that the company's chairman just bought over $6mm in new purchases and another officer bought 5,000 shares as well. In addition, the stock is hovering just above long term technical support levels (See Chart).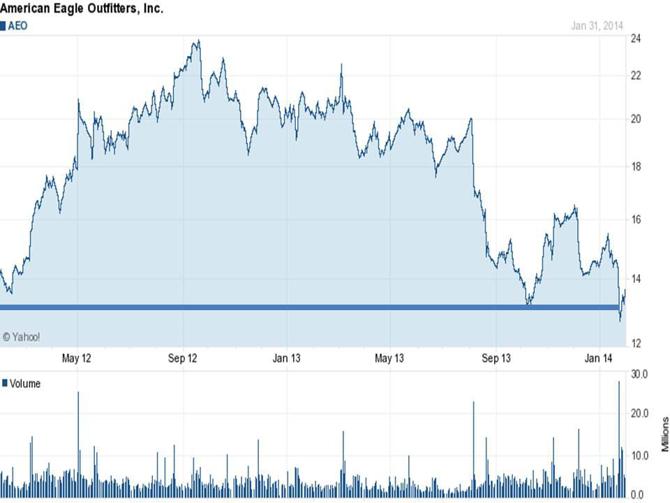 Another floor for these shares should be their 3.7% yield. American Eagle has become what Jim Cramer likes to refer to as an "Accidental High Yielder". The company also has a solid balance sheet with over $350mm in net cash (~15% of market capitalization) on the books.
After being almost cut in half year over year in FY2013, earnings are projected to rise over 20% in FY2014 on the back of a 5% increase in revenues - approximately the same amount sales declined in FY2013. Finally, the company should have very easy comps to beat this year after 2013's debacle. Insiders certainly seem to be signaling that better times are ahead for this beaten down retailer.
General Electric (NYSE:GE) - After a very solid year in 2013, the stock of GE has pulled back some 10% recently on concerns around emerging market demand and slight disappointment that margins did not improve more in its last earnings report. I took the opportunity buy a few more shares on the dip as the company currently has record order backlog.
It looks like I was joined by the company's CEO, Jeffrey Immelt, who picked up a cool $1mm in new shares. Two other directors also purchased over $350,000 in new shares as well. General Electric has been a core holding in my income portfolio since after the financial crisis ended. The shares are a great proxy for the overall market while selling for just under the overall market multiple and offering a significantly higher dividend yield (3.5%).
The company should take the next step in its journey to more a pure play industrial concern later this year when it spins off its consumer finance arm in the United States. This move should be rewarded in the market. With the recent pull back the shares sell more than 15% below the $29.50 a share price target that the analysts who cover the company currently have on GE.
Disclosure: I am long AEO, GE. I wrote this article myself, and it expresses my own opinions. I am not receiving compensation for it (other than from Seeking Alpha). I have no business relationship with any company whose stock is mentioned in this article.