Why is Tiffany special?
Tiffany and Co. (TIF) is a 177 year old taste-and-style setting, world-wide retail jewelry dealer. Since 2011 Tiffany's stock price has risen to $83, then fallen, finally settling again near $83. An investor may wonder where its price is going next. I'll discuss whether you should maintain or initiate an equity position with TIF, and mention an alternative investment choice.
A visit to a Tiffany store suggests what it must be like to enter heaven and stand before St. Peter. Everything is sparkling and shining bright. Showcases are filled with objects worthy of angels. Gold necklaces, silver bracelets, diamond rings and crystal vases are carefully displayed in glowing showcases. Giving a gift from Tiffany tells dear ones that they are loved. The gift giver will not be forgotten because the offering bestowed is an object of faultless quality and style. Tiffany's will not be forgotten either, since its name is engraved on each article.
Ambiance comes at a cost. Tiffany charges an average 57% (Jan. 2013) markup on its wares. Customers seem not to mind the high prices. Tiffany's sales and earnings have increased steadily since 2007. Its gross margin percentage has varied like a roller-coaster.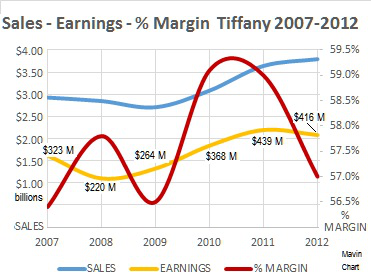 What's happening at Tiffany
An investor must consider factors of presentation, competition, image and management quality to make a judgment on how Tiffany's business will fare. Presentation does not represent a deterrent to Tiffany's growth because of its excellence in exhibition and display.
Competition, however, is always a worry. The Internet is a special problem. Since the advent of the Internet retailers have their wares undersold on the Web. Capital required to begin a Web based sales organization is small and operating costs are less than for traditional stores. Prices may be comparatively minimal.
The Amazon Company comes first to mind when we remember that its entrance into the retail book selling industry has harmed retailers, such as Borders, and its subsidiaries Brentano and Waldenbooks along with Barnes and Noble. Only Barnes and Noble remains. One wonders if this same process of obsolescence that happened to retail book sellers is occurring in the retail jewelry industry.
Retailers that exclusively sell jewelry on the Internet have not yet reached great sales volume. One retailer, Blue Nile (NASDAQ:NILE), has grown larger than the others. It has attained $400 million (2012) annual sales. This represents 10.5% of Tiffany's sales of $3.79 billion (2012) and may be the beginning of a threat. The danger to Tiffany's is twofold:
The possibility that Blue Nile will gain sales from Tiffany
Blue Nile's low retail margin of 18.8% (2012) may force Tiffany to be more competitive, which could greatly lower its profits.
Tiffany is selling image and the loss of image would represent a great threat to the Tiffany organization. Its unspoiled image has enabled it to maintain high retail margin and growing retail sales. History has shown us that image is ephemeral, and may disappear quickly.
Tiffany has long serving management that we would hope can avoid the dangers that face them. Michael Kowalski, CEO, has served since 1983 with positions in financial planning, merchandising, marketing and advertising. Pamela Cloud, Senior Vice President-Merchandising, joined Tiffany in 1994 as an Assistant Buyer and has since advanced through positions of increasing management responsibility.
James Fernandez joined Tiffany in 1983 and has held various positions in financial planning and management prior to his appointment as Senior Vice President-Chief Financial Officer in 1989. In 1998, he was promoted to Executive Vice President-Chief Financial Officer. In June 2011 he was promoted to Executive Vice President and Chief Operating Officer.
We might question its management's effectiveness when we observe two recent threats to Tiffany's image.
In December 2013 Ingrid Lederhaas-Okun, a former Tiffany vice president was sentenced to a 366 day prison term for stealing $2 million in jewelry from Tiffany. The publicity about this event could effect the aura of Tiffany, and cause customers to question whether it is a safe place to shop.
Tiffany & Co. recently had dealings with the Swiss based Swatch Group concerning a joint venture to produce and market a line of watches
The Swatch Group, maker of Omega watches, blamed Tiffany for "systematic efforts to block and delay development of the business [arrangement between the two organizations]." Swatch was to produce watches that Tiffany would sell in its stores and at other high profile sellers. Tiffany must have had second thoughts about sharing its name with other retailers. Tiffany also did not believe that the Swatch designs were of the quality that its customers expected. Swatch began a court action and was awarded a judgment of 402 million Swiss francs ($466 million).
Tiffany was set back in its display of watches when it was left without its expected watch supplier. Customers may seek other venues for watch shopping until Tiffany's watch department is brought back to its standard.
The future at Tiffany
High priced luxury businesses are dependent upon careful attention to every detail. These lapses question Tiffany's future. The $466 million loss represents a year's pre-tax profit. This is a serious matter.
Tiffany, after these two missteps, is not as attractive an investment as it has been previously. Tiffany has shown only mildly increasing sales and earnings since 2007. Large up and downward swings may indicate management inattention. It is difficult to assign blame to Tiffany's management since Tiffany has been long operated without adverse publicity. It seems inconsistent with past performance that management attention has declined, but if it has Tiffany's future is at stake.
The evidence that something is going astray at Tiffany's top levels is: Selling margin varies greatly. It is difficult to believe that Tiffany's customers, who accept merchandise sold at such high margin, would be sensitive to a few marginal percentage points. One would expect business results to be more even.
The Swatch disaster is clearly a result of management's looking the other way. So great a loss cannot be an accident.
Should I participate in Tiffany equities?
Past investment in Tiffany stock answers the needs of many investors. It bears an approximately 1.5% dividend; it has shown steady growth since 2007, and its sales are made to buyers whose high incomes always include discretionary funds.
These reasons for investing must be viewed against a background of Tiffany's recent instability. Has its management become lax after running the company for so long? Is new management needed or is the recent disaster that has befallen Tiffany just an accident to which no fault can be assigned?
I advise waiting, and observe future activities before initiating or continuing participation in Tiffany because it is difficult to predict where the recent missteps will lead.
If you want to participate in the luxury retail business look at Signet Jewelers Limited (SIG), a multi-national retailer with 1379 stores in the United States and 554 in the UK. Its growth since 2007 has climbed steadily upward.
Disclosure: I have no positions in any stocks mentioned, and no plans to initiate any positions within the next 72 hours. I wrote this article myself, and it expresses my own opinions. I am not receiving compensation for it (other than from Seeking Alpha). I have no business relationship with any company whose stock is mentioned in this article.