Auspex Pharmaceuticals Inc. (NASDAQ:ASPX), a biopharmaceutical company focused on the development and commercialization of treatments for orphan diseases, plans to raise $61 million in its upcoming IPO. See S-1 here.
The San Diego, California-based firm will offer 5.5 million shares at an expected price range of $10-$12 per share. If the IPO can find the midpoint of that range at $11 per share, ASPX will command a market value of $231 million.
ASPX filed on December 20, 2013.
Lead Underwriters: BMO Capital Markets Corp., Stifel Nicolaus & Company Inc.
Underwriters: Ladenburg Thalmann and Co Inc., Robert W. Baird & Co Inc., William Blair and Co LLC.
Summary
ASPX is a clinical-stage biopharmaceutical firm, intent on developing and commercializing novel medicines to treat orphan diseases-rare diseases affecting fewer than 200,000 people in the US. The firm's lead product candidate, SD-809, is designed for the treatment of chorea, or involuntary movement associated with Huntington's disease. SD-809 is a modification of Tetrabenazine, the only FDA-approved treatment for chorea.
ASPX believes the drug's profile should permit it to achieve less-frequent dosing, improved patient tolerability, and reduced drug interactions. In addition, SD-809 should allow smoother blood levels to be achieved, according to ASPX (see chart below).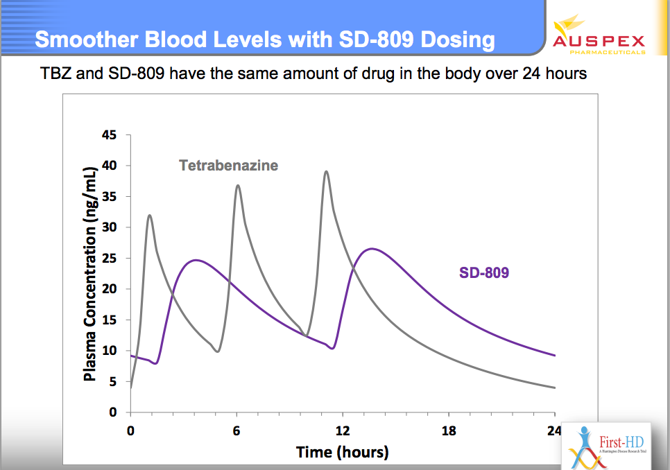 (Source: Auspex Phamarceuticals www.hdsa.org/images/content/1/9/19993/D%...)
SD-809 is in a Phase 3 registration clinical trial for the treatment of chorea. The firm also plans a Phase 2/3 efficacy trial of the drug for treatment of tardive dyskinesia and a preliminary efficacy and safety Phase 1b clinical trial for treatment of adolescent patients with tics, associated with Tourette syndrome.
Valuation
ASPX offers the following figures in its S-1 balance sheet for the nine months ended September 30, 2013:
Revenue: $0.00
Net Loss: ($8,040,000.00)
Total Assets: $11,627,000.00
Total Liabilities: $7,064,000.00
Stockholders' Equity: ($57,561,000.00)
ASPX's non-existent revenues and large losses are typical of pre-commercial biopharm companies. ASPX will not turn a profit before commercializing one or more of its products - and should not be expected to do so.
Business
ASPX believes that, if approved by the FDA, SD-809 will primarily compete against Xenazine, a brand of tetrabenazine. Xenazine is distributed by a subsidiary of Valeant Pharmaceuticals Intl. Inc. (NYSE:VRX), an established pharmaceutical firm with far greater financial resources than ASPX. Valeant will certainly dispute ASPX's claims that it has developed a superior treatment in SD-809.
Several other firms are developing treatments for Huntington's disease that could potentially harm demand for SD-809. These firms include Teva Pharmaceutical Industries (NYSE:TEVA), Prana Biotechnology Ltd. (NASDAQ:PRAN), Siena Biotech S.p.A., Raptor Pharmaceutical Corp. (NASDAQ:RPTP), Omeros Corporation (NASDAQ:OMER), and Pfizer Inc. (NYSE:PFE).
Management
President and CEO Pratik Shah, Ph.D. has served in his current positions since October 2013 and as a member of the ASPX board of directors since 2007; he served as chairman from September 2008 to October 2013. Dr. Shah is a partner in the venture capital firm Thomas, McNerney & Partners. He previously co-founded Kalypsys Inc., a private clinical-stage pharmaceutical company, where he served as the chief business officer.
Dr. Shah also previously worked on biotech and venture capital projects at McKinsey & Company. He currently serves on the boards of Ocera Therapeutics Inc. (NASDAQ:OCRX), Cebix Inc., and SGB Inc. He holds a B.S. in Biological Sciences from the University of California, Irvine and both a Ph.D. in Biochemistry & Molecular Biology and an M.B.A. in Finance from the University of Chicago.
Conclusion
We rate this IPO a buy at the proposed range of $10 to $12 for aggressive investors.
The market has certainly been very receptive recently to biotech IPOs.
The firm certainly has a promising opportunity with SD-809 as a replacement for tetrabenazine, which generated annual sales of $238 million for the four quarters ended September 30, 2013. Some 30,000 people in the US have Huntington's disease, and 90% of them present chorea, so there certainly is a market for an improved treatment.
However, there is no guarantee that SD-809 will make it past clinical trials or overcome the challenges posed by its competitors; as ASPX has each and every one of its eggs in the SD-809 basket, a failure to pass through the trial phases could be catastrophic. None of ASPX's other candidates have completed more than a Phase 1 trial.
Disclosure: I have no positions in any stocks mentioned, but may initiate a long position in ASPX over the next 72 hours. I wrote this article myself, and it expresses my own opinions. I am not receiving compensation for it (other than from Seeking Alpha). I have no business relationship with any company whose stock is mentioned in this article.