Yesterday, we discussed the Baltic Dry Index. To sum up, there's a whole lot more to dry bulk shipping than the BDI. Following the BDI misses the bull market in Panamaxes, Supramaxes, and Handimaxes, whose spot rates have been accelerating this past year as, indeed, the world recovers.
Now, it's time to again play "It's A Small World After All."
We know now that the BDI has hidden the boom in shipping. It's time to buy the shippers, the group the market left behind. Why?
1. The oil tanker business is on fire. Compare these 2 charts. The first represents the Baltic Dirty Tanker Index (BDTI), an index that tracks spot shipping for crude oil carriers after the seas. The second, the Baltic Cape Index (BCI), shows the spot rates of the large Cape-size dry bulk carriers. The prices that oil tankers have been able to command have been on the rise this past year. Last year, the oil tanker business was dead while the dry bulk shipping stats were soaring. I postulated that the oil shipping business was ready for a turn. After all, I postulated, why should conveying "liquids" be so much worse than "solid" commodities across the oceans? The prediction came to pass and the oil tanker business boomed. Now it's time to make the case for the dry bulkers. So, "It's A Small World After All."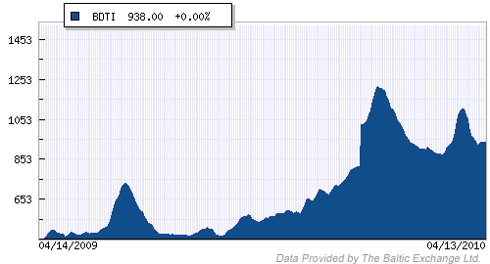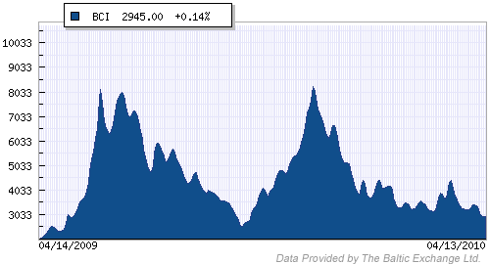 2. CSX tells us volume is crazy for iron, metals, fertilizer. CSX reported 32% more fertilizer, 27% more metals, 19% more iron. Repeat after me: "It's A Small World After All."
3. China is making its last hurrah with the Aussie miners. They are trying to gain leverage in order to avoid huge iron ore price increases. They have cut their imports of iron from BHP and RTP and, in doing so, briefly killed the Cape market. Hence the drop in the BDI and BCI indexes. That's something that cannot stand for long. Expect the BDI to rise. China has demonstrated its hunger for all things metal. I don't think renting 100,000 + wt Capes are going to remain cheaper than 60,000 wt Supramaxes for long.
4. The dry bulkers are buying ships. DSX just bought some. IPOs are being created with the express purpose to buy ships. GNK just put up $75 million along with investors $225 million to buy 2 Capes and 4 Supramaxes. They are not purchasing vessels for the fun of it: think inexpensive boats with a big upside.
This is a sector slaughtered by the "Great Recession".
I would suggest Genco (GNK) and its offspring (NYSE:BALT). GNK has a diverse fleet with a good chunk of BALT and JIN.OL stock to boot. BALT is in the amazing position of getting 2 Capes and 4 Supramaxes at prices that would have been unheard of 2 years ago. This IPO starts out with no debt, something few other dry bulkers have.
Disclosure: Long GNK and BALT