A comment from our last article on the upstream MLP companies dovetails in with another MLP financial consideration we want to start highlighting when discussing the transition of partnership revenues to distributable cash flow.
To start the discussion, commenter upn42 included "...Linn's presentations have slides that demonstrate that organic growth is rather robust so I'm not sure but you could be discounting the organic growth opportunities which will play a major part going forward." as part of his contention that Linn Energy LLC (LINE) could replace declining well production with its own drilling program.
The other item that relates to the comment above and directly affects distributable cash flow is the amount a partnership spends on maintenance capex. There is typically plenty of focus on growth capital spending, which is expected to produce higher revenue and cash flow in the future, but often less scrutiny goes towards maintenance capital spending. In the case of Linn Energy, maintenance capital is allocated in the company's efforts to counter declining production from existing wells.
Linn's Active Drilling Program
According to Linn Energy's 2013 third quarter 10-Q, for the first nine months of the year, the company had capital expenditures not including acquisitions of $912 million. The capex for the third quarter alone were $306 million, so it's a safe estimate that Linn spent $1.2 billion and change in 2013 on its well drilling - mostly - and other capital spending. During the first three quarters of 2013, Linn drilled 376 wells, all with success. For the same period in 2012, 272 out of 276 drilled wells were successful.
To compare acquisition spending with the internal capex, the amounts spent on acquisitions for the years 2010 through 2013 were $1.4 billion, $1.5 billion, $2.9 billion and $5.5 billion respectively. Last year, the Berry Petroleum merger accounted for $4.9 billion of the total. A look back at the recent years prior to 2013 shows that acquisition capital spending was about 2 to 2.5 times the internal production capex spending. However, it is a fair statement that Linn has been spending a significant amount of capital each year in development of previously acquired to maintain and increase oil and gas production.
Reported Maintenance Spending Takes a Big Chunk
For the different MLP energy sectors - upstream, midstream or downstream - maintenance capital spending will have different meanings. In future articles on companies in different sectors, we will discuss the maintenance capex ramifications. When Linn Energy management reports on distributable cash flow, the company now refers to maintenance capex as "Discretionary reductions for a portion of oil and natural gas development costs." In the footnotes, this item is further described as:
"...an estimated component of total development costs, which are amounts established by the Board of Directors at the end of each year for the following year, allocated across four quarters, that are intended to fully offset declines in production and proved developed producing reserves during the year as compared to the prior year."
Applying this to Linn Energy for the first 9 months of 2013, the DCF report shows net cash provided by operating activities of $940 million. Out of that amount, $338 million was allocated to what we are viewing as maintenance capex. Distribution to unit holders of $512 million also came out of the $940 million. For the third quarter alone, claimed maintenance capex was $116 million out of $379 million of cash from operating activities. Using these historical results, Linn Energy has been spending about 35% of the cash from operations back into drilling activities to maintain the production levels necessary to support the distributions to unit holders.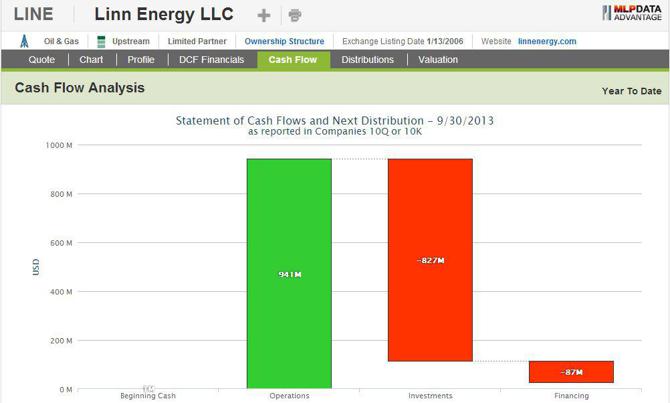 Distributable Cash Flow and Maintenance Capex Considerations
Each MLP uses its own criteria to calculate distributable cash flow. In general, the companies will use the same cash and non-cash expenses and credits to come up with a dollar number that represents the money that could be paid out to shareholders. The DCF Financials page provided for each MLP on MLPData.com provides the cash flow breakdown reported by each company. For a couple of comparison numbers, the maintenance capex reported by Vanguard Natural Resources LLC (NYSE:VNR) was 18% of cash from operations - adjusted EBITDA - for the first three quarters of 2013. For BreitBurn Energy Partners LP (BBEP) the maintenance capex number was 17.4%.
Questions have been raised about how MLP companies allocate capital spending between growth and maintenance purposes. As noted above, maintenance capex reduces distributable cash. The temptation could arise to under-report maintenance capex to increase DCF, the distribution amount and incentive distribution rights paid to the general partner. In the long run, this bookkeeping gimmick would result in lower returns from the reported level of growth capex. For today's focus company, Linn Energy does not pay IDRs to a general partner. The lower percentages for VNR and BBEP may be in part due to the less advanced years in business of these companies compared to LINE.
Financing Internal Growth Capex
You may have noticed that the total internal capex for the three quarters of $912 million was not much different than the $940 million of cash from operations produced during the same period. This points out a couple of items that investors should be aware of:
First, about 35% of the money spent on drilling is necessary just to replace declining production and maintain oil and gas production levels that fund the current distributions.
Second, the other 65% is spending not accounted for in the cash flow calculations. As a result, about two-thirds of Linn Energy's non-acquisition related capex spending must still be funded through capital raising from a combination of unit issuance and/or debt. This relates closely to our recent article on ATM capital raising by MLPs. Linn Energy does have an active ATM program and the company also can issue LINE units to LinnCo LLC (LNCO).
Looking at how Linn Energy manages its capital spending on assets and production, it takes a significant portion of the company's cash from operations to replace natural production losses and internal growth comes at a cost of dilution to investors and debt.
Things May Change in 2014
This year points towards significant changes for Linn Energy. The Berry Petroleum merger increases the company's market cap by more than 50% and production by a claimed 30%. As a result, I expect internal capex spending to ratchet up significantly. According to a recent presentation, Berry's capex spending was $675 million in 2012 and about $600 million last year. From a baseline of about 35% of capital spending going to maintenance capex, investors should watch what portions of capital spending go towards maintaining production and how much will actually be spent towards increasing oil and gas production. Linn typically includes an upcoming year outlook along with the company's year-end financial report. With the merger Linn Energy has acquired a large asset base, now is the time to see if working those assets can produce increasing distributions for investors.
Long time LINE investors should be able to count on at least the current distribution rate. For those looking to establish a new position in LINE, discretion points towards waiting a few quarters to see whether the company transforms to more of a driller than it already is and whether that increased internal capital spending produces net distributable cash growth.
Disclosure: I have no positions in any stocks mentioned, and no plans to initiate any positions within the next 72 hours. I wrote this article myself, and it expresses my own opinions. I am not receiving compensation for it (other than from Seeking Alpha). I have no business relationship with any company whose stock is mentioned in this article.