VAALCO Energy (NYSE:EGY) recently (Jan. 8) released an operational update. The update is positive in that all projects are on schedule and on budget. I believe this update, along with the lackluster price performance of the stock provides an excellent buying opportunity. The operations update is summarized below and can be found here.
Operations Update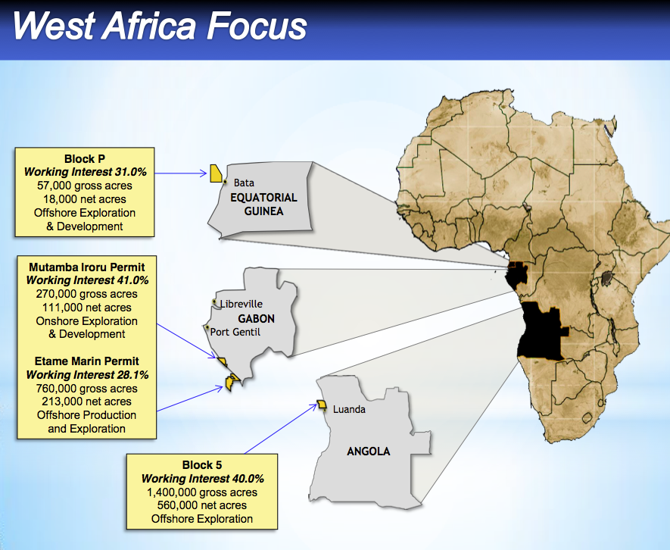 Offshore Gabon:
In December 2013, VAALCO spudded an exploration well in the Dimba prospect. The exploration well is being drilled by a contracted KCA Deutag Rig and will be used to evaluate both the Gamba and deeper syn-rift formations. The rig will also be used to redrill the S. Tchibala 1-H well, which experienced a casing failure in early 2013, and to perform a workover of the Avouma 2-H well to replace a failed submersible pump assembly.
Construction work on the two production platforms for the additional development of the Etame Marin block is continuing on schedule, with one platform expected to be installed in the Etame field and the second platform to be installed between the Southeast Etame and North Tchibala fields in the second half of 2014.
In addition, VAALCO confirmed that it successfully completed an end of year lifting, bringing its total fourth quarter 2013 crude sale liftings to four. On a gross basis, liftings from the FPSO in the Etame Marin block (28.1% Working Interest) offshore Gabon totaled approximately 2.2 million barrels in the fourth quarter of 2013, as compared to approximately 2.0 million barrels in the fourth quarter of 2012. Liftings in the third quarter of 2013 were approximately 1.4 million barrels on a gross basis.
Angola:
VAALCO has entered into an agreement to license and reprocess 3D Seismic data covering the deeper water segment of Block 5, offshore Angola. The reprocessed data will enable the Company to better define the Ombundi and other high potential pre-salt leads in the deeper water portion of Block 5 (40% Working Interest).
Why I Like VAALCO Energy:
VAALCO Energy has significant upside and growth potential for numerous reasons. VAALCO Energy recently named industry veteran Steven Guidry as CEO of VAALCO as of October 21, 2013. Steven Guidry worked at Marathon Oil (NYSE:MRO) for 33 years in various executive roles. Guidry is a particularly good fit for the job due to his experience in Africa, having worked as president of Marathon's Libya subsidiary, leading the company's central Africa business unit, as well as serving as regional vice president for Marathon's U.S. production operations. I believe Guidry's industry and regional expertise makes him a strong fit for CEO and that his addition will be a strong catalyst for future growth as VAALCO continues its operations in Africa.
VAALCO Energy has an extremely clean balance sheet. VAALCO is one of the least levered companies in the small cap E&P space with no debt. The company also has one of the largest cash positions relative to price; as of 9/30/2013 VAALCO had approximately $100MM in cash or roughly $2 per share. Along with having a large amount of cash and no debt, VAALCO has also been buying back shares, with $10.7MM in share repurchases in 2013. The fact that VAALCO has such a strong balance sheet means that it is in an excellent position to grow; with a lot of cash and no leverage the company can invest heavily in growth. Realizing this, the board recently approved a $117MM 2014 capital budget which is the largest capital budget ever approved. This should be seen as a positive, however, because it means that management is confident in its prospects and that we can expect aggressive exploration, drilling, and development in the coming years. From a balance sheet perspective, VAALCO sets itself apart from its peers.
VAALCO is essentially completely levered to Brent Oil (98%), and given the recent price action in Brent, VAALCO is maintaining very strong margins. As you can see below, Brent has remained over $105 per barrel and looks poised to stay above the $100 level for quite some time; supporting strong cash margins for VAALCO.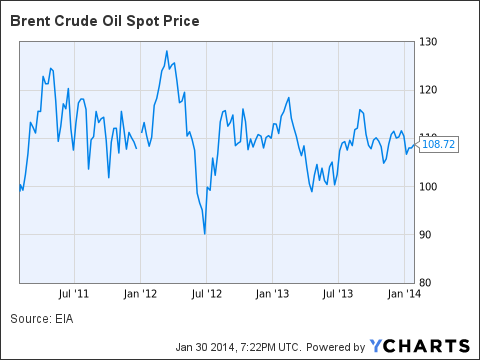 VAALCO's base business, the Etame Marin Permit in offshore Gabon (28.1% net working interest), has been a strong source of consistent high margin cash flow. Cumulative production through Q3 2013 was 77.5MM barrels, and current oil production stands at 18,000 bopd, with 4400 bopd net to VAALCO. While the construction of two new platforms are underway and the company is pursuing Etame Permit exploration opportunities and extension, the main additional growth will come from the company's other prospects.
VAALCO's assets in Equatorial Guinea and Angola both have the opportunity to become very accretive to the company. VAALCO has a 40% working interest in Block 5 in offshore Angola. In the past few years Angola has had several huge oil discoveries by Cobalt Energy (NYSE:CIE) and Maersk Oil, which is approximately 150 miles south of Block 5. Drilling is expected to begin around the summer, and any clarity on the prospects will be a strong catalyst for the stock. VAALCO also has a 31% working interest in Block P in Equatorial Guinea. The company is currently working with GEPetrol (operator) to develop a joint operatorship model. There are two exploration wells which are expected to be drilled in the near future, either late 2014 or early 2015. Other companies with properties in the area are energy powerhouses: Exxon (NYSE:XOM) with 1300MMBoe in unrisked recoverable resource potential, Hess (NYSE:HES) with 600MMBoe, and Marathon with 1100MMBoe.
VAALCO's new CEO, very strong balance sheet, high margins, along with its very promising and potentially very accretive prospects make the company a strong buy candidate. The recent price action of the stock, however, does not reflect the true value in the company.
Valuation:

For the valuation of VAALCO, I believe the most appropriate metric would be price to cash flow using a peer group multiple. I use an estimated cash flow per share of $1.35 in 2014, and I use a target multiple of 7x to arrive at a target price of $9.45 per share. The target price implies roughly 54% upside from current levels. While the prospective discoveries in Angola and Equatorial Guinea won't be contributing significantly to cash flow in 2014, I believe it's important to note that even without the addition of new discoveries to the valuation, VAALCO still trades at a significant and unwarranted discount to its peers. Adding new discoveries in Angola or Equatorial Guinea will only be even more accretive to shares and offer additional upside from my current price target. VAALCO is trading at a discount to its peers, when it should be trading at a premium due to its high cash position, zero debt, and strong cash margins.
Recent Stock Performance:
While VAALCO is poised for a strong 2014, the stock price hasn't reflected this. VAALCO currently trades just above $6 per share, at the lower end of its 52 week range of $5.03-9.06.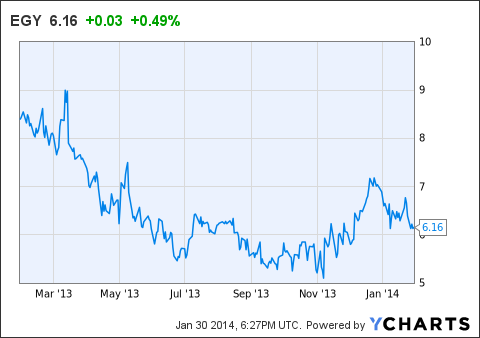 The lackluster price action of the stock offers a great buying opportunity with minimal downside. Most of the downside has already been realized in the stock, as the stock has already been beaten down and is trading relatively close to its 52 week low. VAALCO's strong financial position and already high margin and stable business in offshore Gabon offer protection in the case of exploratory failure in either Angola or Equatorial Guinea.
Conclusion:
A buying opportunity has presented itself in VAALCO Energy. VAALCO is fundamentally a very strong business, It has properties in three of the four most prolific producing countries in Africa: Gabon, Angola, and Equatorial Guinea. The company is under new management and has a very strong balance sheet and a stable high margin base business. All of VAALCO's projects are on time and on budget presenting a low risk growth opportunity. The stock has already been beaten down significantly and trades at a significant and unwarranted discount to its peers. As the company continues to provide more clarity on its exploratory projects the market will gradually realize the true value of VAALCO Energy.
Disclosure: I have no positions in any stocks mentioned, but may initiate a long position in EGY over the next 72 hours. I wrote this article myself, and it expresses my own opinions. I am not receiving compensation for it (other than from Seeking Alpha). I have no business relationship with any company whose stock is mentioned in this article.