On December 17th, Frontier Communications (NYSE:FTR) announced that it would be purchasing the Connecticut wireline (the term wireline will refer both to traditional copper as well as fiber-optic cable) business from AT&T (NYSE:T) for $2 billion. The move was cheered by investors in Frontier, sending the shares sharply higher from the previous day's closing price of $4.40 to as high as $4.94 before closing at $4.78, up almost 9%. Since then, the shares have held onto most of those gains, closing between $4.65 and $4.91. Why all the euphoria? Probably the statements by management during a presentation about the merger that:
Frontier shareholders benefit since this transaction is cash flow accretive in year one and there is no change to our current dividend of $0.40 per share per year. Through the increase in free cash flow, we not only improved the sustainability of our dividend but we also improved the dividend payout ratio by 5 points in the first full year.
In fact, eight times during the prepared remarks, the word dividend was mentioned.
The Dividend
The dividends in the telecom sector vary greatly, as do their safety and stability. Five of the largest payers include AT&T, CenturyLink Communications (NYSE:CTL), Frontier, Verizon Communications (NYSE:VZ) and Windstream (NASDAQ:WIN). The yields range from Verizon's 4.5% to Windstream's gaudy 13.3%.
AT&T has been the most consistent. Its current yield of 5.5% is the second lowest in the group. More importantly, it has increased its annual dividend for thirty consecutive years, with its most recent hike taking place early this year.
CenturyLink has a current yield of 7.4% and it is right in the middle of the pack. It's an attractive current yield, but after having increased the dividend every year for the better part of two decades, it cut the dividend by more than 25% in early 2013. As might have been expected, the cut sent the share prices sharply lower. After regaining much of the initial loss by the middle of 2013, CenturyLink began a downward slide and is currently trading at multi-year lows.
Verizon, as previously noted, has the lowest yield in the group at 4.5%. It is the only other stock in the group that currently has a string of annual dividend increases. Although its record is not close to AT&T, it has increased the annual payout each year since 2006.
Windstream, as noted earlier, has the highest yield in the group at 13.3%. Its annual $1 dividend has been in place since the end of 2006, and it is clear from the yield that the market has priced in a dividend cut. This is despite continued statements by management about the importance of maintaining the dividend, most recently at an analyst conference in mid-December. At that time Windstream's CEO Jeff Gardner made the following statements:
But generally at the end of the day all those activities are focused on the single thing and that to produce stable, sustainable free cash flow to support our dividend, to allow us to delever and to continue to invest in our business. ...

...And importantly, for 30 quarters, for seven and half years, in 2006, our dividend was a $1 today it remains a $1. So we've done all this transition continued to manage our dividend strategy and really transform the business and manage margins all along the way.
It's not just these types of statements. The company's website asks the question, "Why invest in Windstream?" and gives the first reason as:
Returning Capital to Shareholders: The best way for us to create value for our shareholders is by returning capital in the form of our dividend. Our business model supports our $1 annual dividend payment through consistent cash generation and the improving trajectory of our financial performance.
Windstream isn't the only company where the market thinks a dividend cut is likely. The Frontier dividend currently yields about 8.4%, indicating the market may also be pricing in a further dividend cut. The company has had two dividend cuts in the past few years. The first, from $1 to $0.75 in mid-2010, was forewarned as part of an acquisition of a significant portion of Verizon's wireline business. The second, from $0.75 to $0.40 in Q1 2012, was more of a surprise as it followed a series of statements by management about the sustainability of the $0.75 dividend.
While these five companies all offer wired phone and Internet service and offer relatively attractive yields, their businesses are somewhat different. Both Verizon and AT&T are much larger and heavily into both cellular and video. Windstream and CenturyLink have aggressively expanded into hosted solutions. Frontier resells satellite TV service (in addition to some Verizon FiOS offers as part of the previously-mentioned acquisition) and is currently piloting an AT&T Wireless dealer program.
One final note about the dividends. Frontier and Windstream dividend distributions are not entirely dividend income. They also include "return of capital." In the case of Frontier, 86.706% of the dividend is considered return of capital. For Windstream, 51% is considered return of capital. This means that less than half of these dividends are considered taxable income. The balance is used to reduce the investors' cost basis and will affect the capital gain or loss at the time the shares are sold.
Frontier Background
Many investors in Frontier have chosen to invest because of the dividend yield, weighing the risk of the company sustaining the dividend against the current yield of more than 8%. The sustainability of that dividend has been an area of concern. Not only had the company been spending hundreds of millions of dollars upgrading the networks and computer systems acquired from Verizon, but at the same it was losing customers to cellular and cable companies.
Then, in 2013, it finally finished converting the acquired computer systems and had upgraded most of the network to support higher-speed Internet access. The system conversion and upgrades allowed Frontier to offer higher-speed Internet access more broadly and support it through a unified call center. The results were impressive. Broadband net adds of 28,200 in Q1 2013 exceeded the total for all of 2012 and was the highest since the merger. And although an Apple gift card promotion aided sales in Q1, after its expiration the broadband net adds continued strong in both Q2 (29,500) and Q3 (26,800).
Meanwhile, the company continued to cut expenses and ladder out its debt structure. Prior to the AT&T announcement, Frontier had its debt maturities at levels that could be funded through anticipated free cash flow and cash on hand for several years: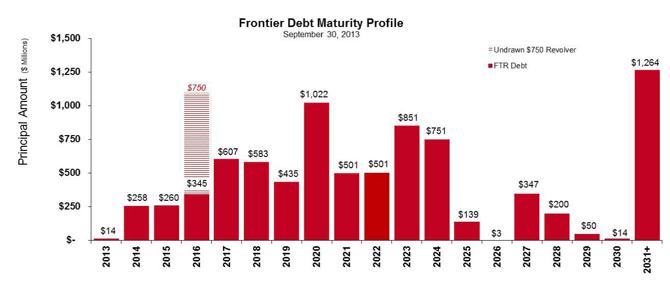 The above chart was presented during the Q3 earnings call on November 5th. Also part of the presentation was a chart that showed leverage as of the Verizon acquisition in 2010 (4.04x), the leverage as of the end of Q3 (3.33x) and the long-term leverage target of 2.50x. One month later, CFO John Jureller responded to a question about a timeline for the company's 2.5x leverage target saying:
...I'd say perhaps you are going to see us talk less about [2.5x leverage target] in 2014. It is something that if we get to there, it could be helpful. But we don't see an immediate need to be there in short term. Our leverage where we sit right now at about 3.3 times, we think is comfortable for us. We have a high level of liquidity. As you saw at the end of our third quarter with those reported results, our cash combined with our undrawn revolver is very significant. So, our liquidity is strong, we also think too that with our cash, with the earnings that we generate from our operations over the next three to four years is we don't have to be out into the capital markets until 2016, 2017, unless an event came up, right? But we think we have the right structure in our debt profile and the right earnings capabilities to be able to manage that as well.
Well, obviously an event came up, one which Jureller knew was coming up, and one that obviously pushes that 2.5x target - if it is even still a target - further out. It is anticipated that the acquisition from AT&T will require $1.9 billion in additional debt, and it is expected to drive the net debt to EBITDA leverage above 3.7x. During the conference call to explain the transaction, the question of leverage was raised:
Ana Goshko - Bank of America Merrill Lynch: Okay. And then finally, could you just update us based on this transaction and the fact that it is levering to some degree what the company's sort of updated leverage target is?
After Jureller danced around the question, Chairman Maggie Wilderotter stepped in:
I think just to leverage on top of what John said, I think we're very comfortable in the low 3 times leverage area and we think that this deal provides that opportunity for us to be there. And if we want to be - if we want to take advantage of going below that, our board would look at those criteria over the years. But if you think about the next couple of years, I think you should think in the 3.4 to 3.1 range that's probably where we are going to end up.
The recently filed 8K discloses the terms of a bridge loan agreement entered into on January 29th, including an initial interest rate of at least 7.25%. It is expected that Frontier will replace the bridge loan as soon practicable with new long-term debt in either the second or third quarter.
The Acquisition From AT&T
Frontier stated "this transaction is cash flow accretive in year one" but subsequently noted:
We are forecasting that this transaction will be accretive to free cash flow and free cash flow per share in the first full year. ...
Since the transaction is not anticipated to close until the second half of the year, we can assume that it will not be accretive in the current year. There will be costs to convert the existing computer systems in Connecticut to Frontier's systems as well as other costs related to the merger before cost savings can be realized. Should investors be concerned about other aspects of the transaction? Probably.
Despite this being only one state, the anticipated annual revenue of just over $1.25 billion would increase Frontier's revenue by more than 25% and would comprise more than 20% of Frontier's estimated future revenue. Frontier also expects that this acquisition will generate incremental EBITDA of $413 million. A significant portion of the cash generated by this EBITDA will be chewed up by the interest on $1.9 billion of incremental debt and incremental capital expenditures (estimated at $147 million in the first year). Frontier hopes to realize annual cost saving synergies of $125 million by the end of the third year following the completion of the deal. Additional data on the acquisition includes the following:
State Population 3.6 million
State Households 1.4 million
Rural 48%
2011 Median Household income $97K (4th highest in US)
Average age ~40
High School Degree ~89%
Bachelor's Degree and above ~36%
Voice Connections > 900,000
Broadband Connections > 400,000
U-verse Video Connections Approx. 180,000
Est. U-verse Video availability (% of Living Units) 42.0%
This would certainly appear to be an attractive market for Frontier to enter. It is a market that has been well built-out and is very well-penetrated. So the real question investors should ask is why is AT&T anxious to leave the well-educated, very wealthy and very densely populated state of Connecticut?
Perhaps it is because of customer losses. Jureller noted:
...the trends that we see in Connecticut are generally similar to what we see across the rest of the country and I think Dan (Frontier President Dan McCarthy) laid that out pretty well. We'll also probably pick up a little more of video component as part of residential mix given the U-verse penetration in the market.
Frontier has continued to lose traditional voice customers, but as noted earlier, Frontier has been adding broadband customers at a healthy rate over the past year. However, in Connecticut, the broadband penetration is already at a fairly high level. This would seem to reduce the potential to grow average revenue per customer from broadband net adds. Company management believes that there will be the opportunity to increase revenue in Connecticut by
duplicating its success by allowing local managers to introduce programs that are tailored to individual market characteristics (referred to as local engagement)
up-selling its Frontier Secure package add-ons to current customers, and
further penetrating the market with its simplified pricing plans.
On the cost side, Frontier expects the computer system conversion to be relatively straightforward and that the experience gained in converting 14 states during the Verizon integration will provide for a smooth transition. Frontier also expects the capital investment in Connecticut to be less than other states since the network is more modern and in much better shape than the assets acquired from Verizon.
One other complexity of this deal could be managing the cost of providing content to the U-verse video customers. AT&T may have had a better negotiating position with a much larger installed base of customers.
Disclosures
I am long four of the five telecom companies mentioned in this article. The exception is CenturyLink, which I have held in the past and may purchase in the future. These stocks are all held for the dividend income, and in some cases, that income has been enhanced through the selling of covered calls.
In January, several of the positions I held in Frontier were assigned at $4.50 per share. Most of the shares have already been repurchased in combination with $5 January 2015 calls written against the long positions. I will likely be adding to my Frontier position with additional buy the stock and sell the call positions in the near future. In addition to enhancing the yield on the investment, using options has decreased the net cash exposure.
The Windstream position had $10 calls sold against the long position, and those also expired in January. If the share prices increase, and/or the call premiums become more attractive, I would expect to write additional calls against Windstream.
Summary
Every company issues disclaimers on conference calls similar to the following:
During this call, we will be making certain forward-looking statements. Please review the Safe Harbor language found in our press release and SEC filings.
The Safe Harbor language allows management to discuss the future and limit their liability. Frontier has a long history of taking advantage of this disclaimer and providing misleading information, and it makes it difficult to trust their statements and properly evaluate the purchase from AT&T. Investors that have held through the Frontier acquisition from Verizon are well-aware of broken promises about the sustainability of the dividend.
While Windstream and CenturyLink have focused on diversifying into hosted solutions, Frontier has decided to stay the course, focusing on basic voice and broadband. Has the dividend at Frontier suddenly become more sustainable? Or, has Frontier bought another declining business?
For those that like to look at the overall market perspective or follow the so-called big money, they may be interested to know that short interest in Frontier hasn't changed much since the announcement of Frontier's purchase from AT&T on December 17th.
| | | | |
| --- | --- | --- | --- |
| Settlement Date | Short Interest | Avg. Daily Share Volume | Days To Cover |
| 1/15/2014 | 195,911,112 | 7,355,566 | 26.634403 |
| 12/31/2013 | 195,871,553 | 11,139,643 | 17.583288 |
| 12/13/2013 | 198,075,292 | 10,470,505 | 18.917454 |
One way to interpret this is that the shorts aren't buying into the premise that the dividend is more sustainable. Or, the shorts have traded one concern for another, reacting to the recent tapering announcements and moves by the Federal Reserve making all dividend-paying stocks less attractive in an environment of rising interest rates. On the other hand, BlackRock, which had been Frontier's second largest shareholder, increased its stake during the fourth quarter. It now controls 66,303,326 shares (up from 57,208,205), or 6.6% of the shares in Frontier and has become the largest shareholder.
Frontier management still needs to go through several regulatory approvals before the transaction is completed, an event it expects to close in the third or fourth quarter. It will be interesting to see how some of the guidance will be phrased on the conference call later this month.
More importantly, it will be important for investors to focus on the broadband net add and customer loss activity in the fourth quarter. It may give an indication as to whether Frontier felt it was necessary to buy the Connecticut business, or whether the AT&T purchase represented a true growth opportunity at a good price.
And, it still begs the issue: Why is AT&T selling?
Disclosure: I am long T, CTL, FTR, VZ, WIN. I wrote this article myself, and it expresses my own opinions. I am not receiving compensation for it (other than from Seeking Alpha). I have no business relationship with any company whose stock is mentioned in this article.