We've all heard about Apple (NASDAQ:AAPL) and its momentous rise, as well as the accompanying fortunes that were made for those brave enough to stomach the risks or insightful enough to foresee the opportunities. What we rarely hear about is a company that has provided investors with the next best returns in the past 10 years. You have probably never heard of it, and if you have, you have probably not been aware of its momentous rise. The company I speak of is Sberbank (OTCPK:SBRCY), Russia's largest bank and the third largest bank within Europe.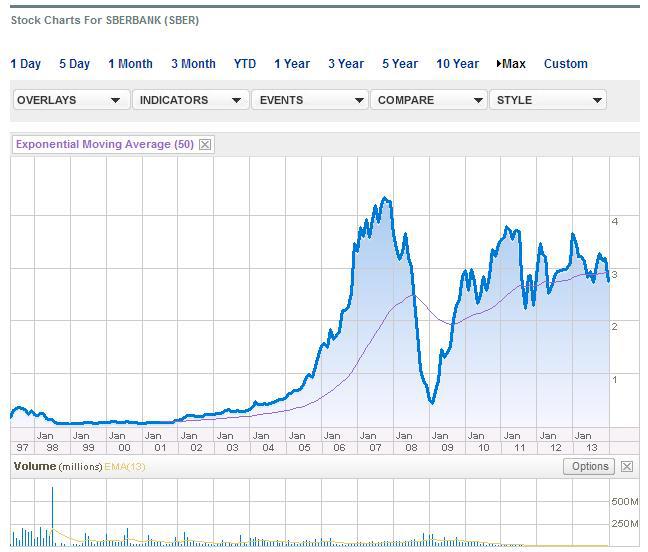 While 2008 saw the collapse of American and European financial titans, Sberbank quietly and efficiently met its five-year targets (2008-13), succeeding in tripling net profits. In this same period it acquired banks in Turkey and Europe at fire sale prices, improved and expanded business within the domestic Russian market, and provided some of the highest NIMs, ROEs, and ROAs in the banking coverage universe. All of this took place as the stock price has traded flat from the peak of 2007.
While investors have been speculating in the recovery of troubled banks, they may be overlooking a healthy bank with a wide competitive moat, a large potential for domestic and international expansion, and fundamentally worth 100%-200% more than current market value. Trading under the radar on the OTC, it is available to American investors as an ADR with the ticker SBRCY.
Monopoly
Sberbank is the unchallenged leader in the Russian banking sector whose retail branch network is over 10x the size of its nearest competitor. This has provided it with an enormous competitive advantage.
Click to enlarge images.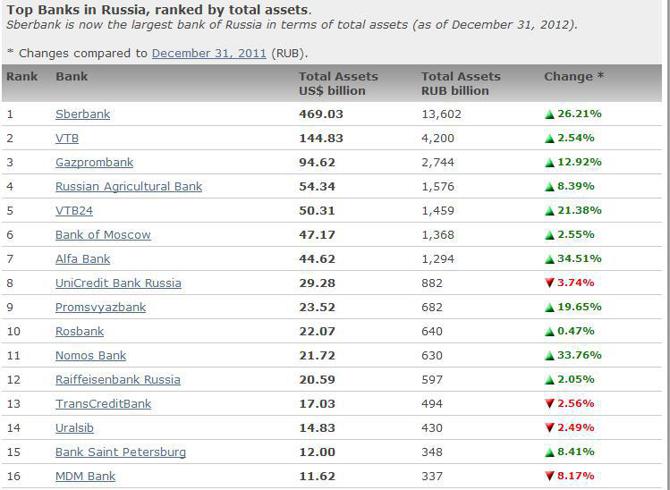 Sberbank dominates the Russian banking sector in terms of total assets. It is the key lender to the national economy and the biggest deposit taker in Russia. As of January 1, 2013, Sberbank accounts for 28.9% of aggregate banking assets, 45.7% of retail deposits, 33.6% of loans to corporate clients and 32.7% of retail loans. Sberbank's equity totals RUB1.7 trln (~USD55 bn), which corresponds to 27.4% of aggregate capital of Russian banks.
Sberbank has an international presence, having expanded beyond CIS -- Kazakhstan, Ukraine, and Belarus -- to nine countries of Central and Eastern Europe via Sberbank Europe AG (former VBI) and Turkey via acquisition of DenizBank.
Furthermore, Russia remains an extremely underbanked nation, which provides an attractive platform for future growth.
The Next Five Years
As of 2014, Sberbank has announced plans to expand into China -- as well as Germany, Austria, Slovakia, and the Czech Republic -- through organic and acquisitive growth. Sberbank has set a target goal to double profits by the year 2018 through branch closures, employee layoffs, and other innovative means within the context of a slowing Russian economy.
With banks across Europe continuing to recover, Sberbank's robust capital position provides a broad competitive edge for continued growth into new markets beyond the borders of Russia. Simultaneously, it's dominant market share within Russia allows for many possibilities to stimulate growth within its own domestic market.
Flatline
In the wake of the financial crisis of 2008, banks have earned investor mistrust, the good along with the bad being punished through investor sentiments of fear and mistrust. Simultaneously, Russian stocks have become fundamentally cheaper than they have ever previously been, with Russia's stock market at present being the cheapest on the planet.
09 September 2013

Right now, Russia comes with about the lowest stock valuations you can find anywhere in the world. It is on a price/earnings ratio of a mere 5.5 times, and a price to book ratio of 0.75 times (i.e. you can buy companies for a mere 75% of the stated value of their assets).

That's cheap relative to everywhere else, and cheap relative to Russia's own valuation history.
Sberbank has more than tripled net profits from 2007, yet stock price has remained flat. The explanation for this would seem to be one of sentiment. This flat trading behavior can be seen in the chart below: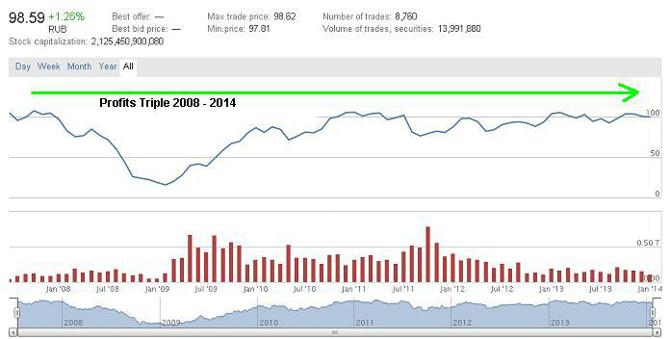 Sberbank has previously traded at much higher multiples: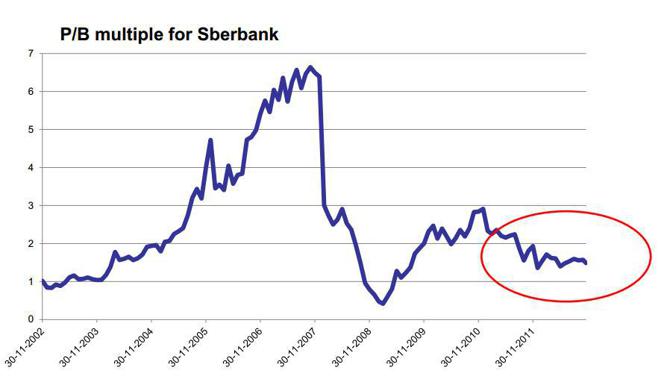 Trading at a P/B of 1.06 and a P/E of 5.43, Sberbank remains fundamentally undervalued. One explanation for this is that being Russian, investors feel a level of mistrust. However, Russia seems no more risky than other emerging market economies like Turkey, Egypt, or Pakistan, each of whose stock markets trade at much higher multiples.
Russia seems to have acknowledged that they must attract foreign capital, and have been attempting to improve their investor friendly image abroad:
In November 2012, Russia's strong-arm leader began requiring that state-owned companies pay a minimum 25% of profit as dividends.

Why the pressure? Larger dividends would mean higher market values for the state-owned companies.

Right now, they trade for peanuts. The MICEX trades at just 4.9 times estimated earnings. That's the lowest of all 21 emerging markets tracked by Bloomberg.

Oct. 29, 2013

Russia made considerable progress in 2013 toward bolstering its business climate, climbing 20 positions to 92nd place in the annual Ease of Doing Business survey compiled by the World Bank and the International Finance Corporation (IFC).

Jan. 29, 2014

Russia in world's top 3 recipients of foreign investment for first time - UN
Institutional investors have taken notice:
Nov. 5, 2013

The annual net income of Sberbank has more than tripled from before the crisis in 2007, but over the same period of time the share price has pretty much been flat. There has been a massive compression of multiples. This is a stock that could double over time.

Oct. 25, 2013

We think Sberbank's dominance warrants an 18x P/E and 3.0x TBV and that the company is therefore fundamentally worth 200% more than its current price.
Alken Asset Management have taken a large position: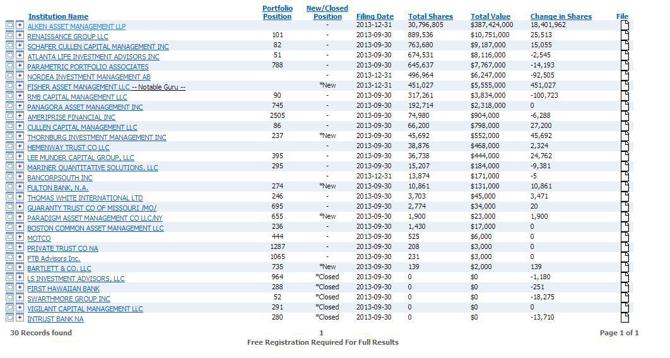 Analysts are in universal agreement: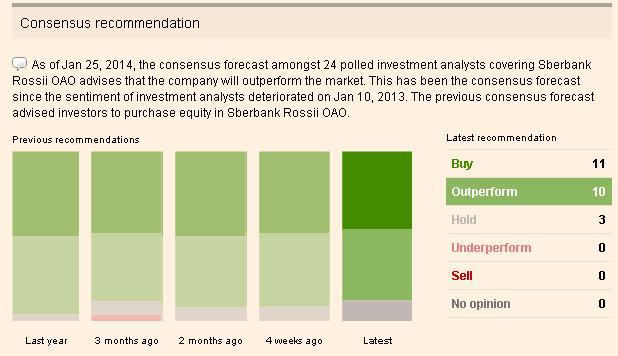 Sberbank has a professional, transparent approach to investor relations, including one of the best promotional videos this author has seen to date:
Youtube - Annual General Shareholders' Meeting of Sberbank, 2013
Competent Management
CEO German Gref, an ethnic German who served during 2000-07 in Vladimir Putin's cabinet as minister for economic development and trade of Russia, has been CEO of Sberbank since November 2007. A liberal capitalist, workaholic, and close personal friend of Putin, he has played a pivotal role in transforming a sluggish state bank into an aggressive player in the global banking universe. Gref is a visionary with an eagerness toward new ideas and is always seeking to be on the cutting edge of innovation.
Investors have warmed to his competent leadership:
...it was a roadtrip aimed at investors, who have warmed to Sberbank under Gref's leadership. Some of the world's biggest and best-known fund managers were at the meetings. A senior banker at a rival firm says Gref "is without doubt one of the most interesting figures in global banking today.
Russia owns a 50% +1 stake in Sberbank , consequently it has two masters. Having government support can be a very valuable asset in Russia and Putin has allowed Sberbank to operate like a private institution with little state interference, in contrast to his misuse of fellow state company Gazprom (OTCPK:OGZPY).
Russia has been aggressively cleaning up its financial sector, revoking licenses of banks at a pace hitherto unseen, while encouraging further consolidation within the sector. This has led to Sberbank enjoying a sharp increase in consumer deposits.
Russia has plans to transform Moscow into an intenational financial center, which has included a rebranding of the ruble, with the Central Bank pushing strongly to make the ruble a global reserve currency. Gref has been actively campaigning for a decrease in state ownership, with the Russian government wanting to reduce its stake in Sberbank to a blocking minority of 25% by 2015.
As investor sentiment has hurt Russia's stock market, we can't overlook the importance of their most visible public representative. Love him or hate him, Putin has recently enjoyed a string of public relations coups, showing diplomatic strength in the Syrian crisis, pardoning Khodorkovsky, Pussy Riot, and Green Peace activists, while presenting Russia as a conservative alternative to Western liberalism. The Sochi Olympics, in which Russia has invested heavily, provide an opportunity to showcase Russian achievements to a global investor audience.
This indicates a turning point and the Russian governments sincere attempts to rehabilitate its public image and improve investor sentiments.
Risks
With Sberbank earning the majority of its profits within Russia, it is important to be aware of currency risk. Russia plans a free float of the ruble by 2015, in a bid to help exporters and escape a period of stagflation as the global economy continues to recover, resulting in a lack of demand for Russian commodities.
In the short term this may cause pain, but if Russia is to escape "Dutch Disease," the strength of the ruble provided through oil/gas exports must experience some depreciation to encourage diversity in the economy and make domestic manufacturing globally competitive. Currently, crude oil and natural gas account for 50% of Russia's budget revenue, exposing the economy to any downturn in commodity prices. Diversification will be key to Russia's long-term economic health.
As of January 2014, the Russian Central Bank has tapered back defending the ruble and it has weakened against the central bank's dual basket of euros/U.S. dollars. Given the emerging markets rout of the past week and the rapid decline in the ruble, the Russian Central Bank has pledged unlimited support to the ruble to maintain it within a predefined band.
While there are currency risks with the ruble, short of a collapse in oil prices the harm should be limited. Holding some of the world's largest foreign currency and gold reserves, and some of the world's largest energy reserves, Russia has a lot of leverage to protect against further downside risk.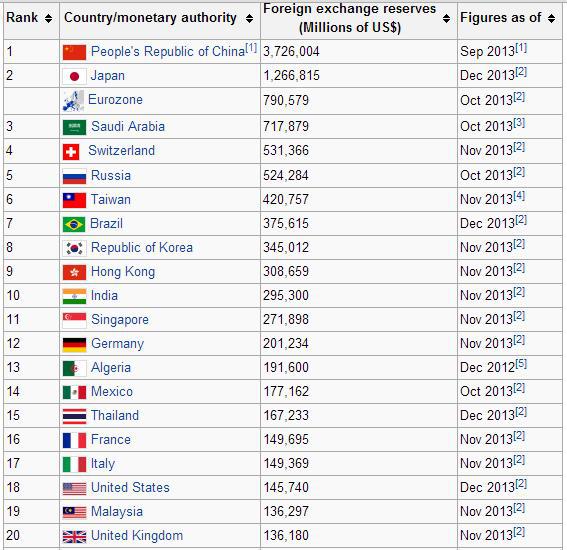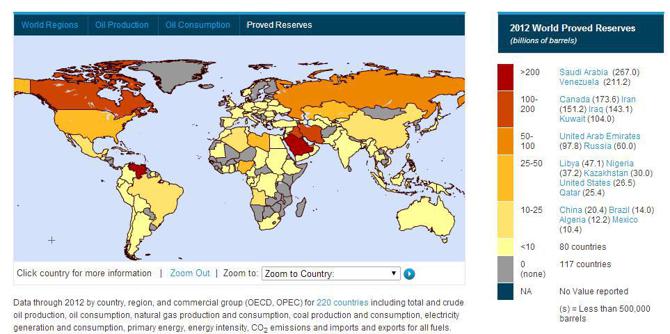 The ruble is currently trading at it's lowest point in more than 10 years and much of the recent decline appears to be speculative in nature, moving in anticipation of the free float in 2015. There is a certain level of safety in buying at a historical low point, with anticipation that a recovering global economy should benefit Russia and help the ruble's future appreciation.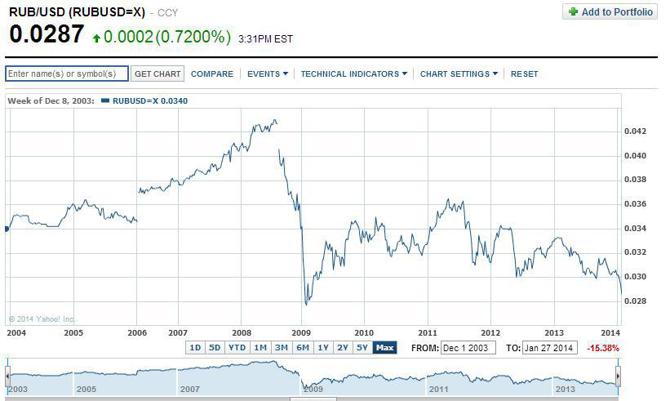 Conclusion
By 2020 Russia should have evolved to become a fully developed nation with a large middle class. Sberbank's domestic market dominance, and the early stage of development in banking services within Russia, provide a significant runway for future growth.
The coming decade sees Sberbank strategically positioned for expansion into mature markets in Europe, and high growth emerging markets in China, Turkey, and India. Under competent management, with some of the strongest fundamentals of regional bank peers, holding a very low market value, and with government support and a lack of political interference, the risks appear meager, while the upside appears compelling. As Russia imposes structural reforms on their economic model, increases efforts to attract foreign capital, and continues to improve its public image, investor sentiment has the potential to shift in its favor.
Such a sentiment shift would see Sberbank be a large recipient of investor interest, with a sharp increase in market valuation being justified, and fundamentals supporting a share price jump of 100%-200%. Additionally, with Sberbank holding a substantial 10.50% weighting on the SPDR S&P Russia ETF (NYSEARCA:RBL), there is an argument to be made for the risk-averse to use this index as a hedge against company-specific exposure.
Given the low risk and high potential upside, it may be time to take another look at this unloved Russian bear.
Disclosure: I am long SBRCY. I wrote this article myself, and it expresses my own opinions. I am not receiving compensation for it (other than from Seeking Alpha). I have no business relationship with any company whose stock is mentioned in this article.