One month down and eleven months to go until 2014 is done. We can only hope over the course of those remaining months that both Mother Nature and the stock market get a better attitude. They were in a rather foul mood to begin the year, producing negative temperatures and negative returns in January.
We have every reason to believe that Mother Nature will warm up as the year progresses. We like to think that the stock market will, too, but a down January has muddled the forecast. In doing so, it has provided investors added reason to consider increasing their exposure to total return ideas in the equity portion of their investment portfolio.
History Made and in the Making
The so-called January Barometer, which was popularized by the Stock Trader's Almanac, is couched in the maxim, "As goes the S&P 500 in January, so goes the year."
There have been only seven major errors in the January Barometer since 1950, according to the Stock Trader's Almanac, which equates to an 88.9% accuracy ratio. If eight flat year errors (less than +/-5%) are included, the accuracy ratio of the barometer slips to 76.2%, which is still pretty high. Interestingly, four of those seven major errors have occurred since 2001. The latest occurred in 2010 when the S&P 500 declined 3.7% in January but ended the year with a 12.8% gain.
The one revelation that sticks out above all others, though, is this: even though many years ultimately ended higher after a down January, a new or continuing bear market, a 10% correction, or a flat year has been seen in the wake of every down January since 1950.
Dating back to 1950, there have been 24 down Januarys. Subsequent declines to the eventual low point those years have often been material. The data provided in the Stock Trader's Almanac show a range of -0.9% (1956) to -45.4% (2008), with an average decline of 13.9% following a down January to the low point of the year.
Might 2014 prove the trading history for the January Barometer wrong? Anything is possible.
Cornering the Market
In the update to Briefing.com's market view published in mid-December, we said an expected return of 6-7% for the S&P 500, which takes into account a dividend yield of 2.0%, was a reasonable forecast for 2014. Excluding dividends, the expected price return is a more modest 4-5%.
We realize that isn't a scintillating outlook for most investors, yet bear in mind that the S&P 500 is coming off a year in which it soared 30% on EPS growth of just 5%. Accordingly, it is not out of line to think that 2014 returns were pulled forward into 2013.
The expectation for modest price returns in 2014 should raise the appeal of total return investment strategies that incorporate dividend-paying stocks.
A corner of the dividend-paying universe worth a closer look, particularly after the down January, is the Dividend Aristocrats. These are S&P 500 companies that have a history of raising their dividend for at least 25 consecutive years. That's no small feat, evidenced by the fact that only 54 current S&P 500 members have achieved that distinction.
The capacity to raise their dividend for such an extended streak is a reflection of their financial strength that is borne out of a strong operating position. Not surprisingly, some of the country's most well-known corporations are on the Aristocrats list - names like 3M (NYSE:MMM), AT&T (NYSE:T), Coca-Cola (KO), Exxon Mobil (XOM), Johnson & Johnson (NYSE:JNJ), McDonald's (NYSE:MCD), Procter & Gamble (NYSE:PG), and Wal-Mart (NYSE:WMT).
The fit between the Dividend Aristocrats and the January Barometer is that the former have outperformed the S&P 500 each year since 1992 (as far back as data available) when there has been a down January. The only exception was a slight one in 2003 when the S&P 500 Dividend Aristocrats Total Return Index was up 25.37% versus 26.38% for the S&P 500.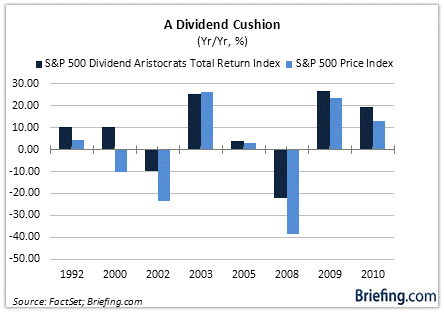 What It All Means
The message in the chart above isn't a novel message. Rather, it is a clear reminder - along with the chart below - that dividends reinvested make an importance difference in return calculations, particularly when companies continue to increase their dividend.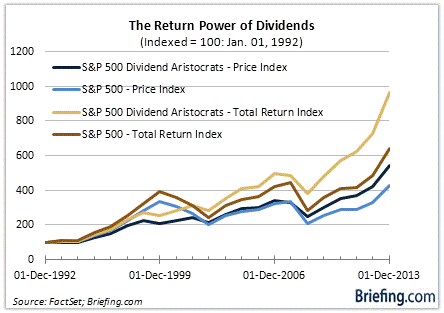 Dividend payers like the Aristocrats aren't the hippest stocks, but they have a dividend growth style that can be appreciated in any market. That style has afforded them an element of relative strength in down markets and certainly in most years since 1992 when the S&P 500 has experienced a down January.
The ProShares S&P 500 Aristocrats ETF (BATS:NOBL) has been built to produce investment results, before fees and expenses, that track the performance of the S&P 500 Dividend Aristocrats Index. Alternatively, the SPDR S&P Dividend ETF (NYSEARCA:SDY) aims to track the performance of the S&P High Yield Dividend Aristocrats Index, which measures the performance of the highest yielding S&P 1500 constituents that have raised their dividend for at least 20 consecutive years.
There are myriad options from mutual funds to ETFs to individual stock purchases to try to capitalize on dividend-growth companies. An individual stock purchase is the most challenging way to go. You might get a nice 3.0% yield, for example, from one of the 54 Aristocrats in the S&P 500, yet that will be a small consolation if the stock price drops 20% in the short term. That is why the diversification offered by an ETF or mutual fund is more appealing. Like always, though, one's own risk tolerance will define the approach taken.
January 2014 will go in the record books as a down January. That doesn't guarantee 2014 will be a down year, but it suggests to us it won't be smooth sailing like it was in 2013.
History has shown that dividend payers - and especially the highest-quality dividend-growth companies - are good companions to have on board when waves of uncertainty rise and the sailing gets tougher.
Disclosure: I have no positions in any stocks mentioned, and no plans to initiate any positions within the next 72 hours. I wrote this article myself, and it expresses my own opinions. I am not receiving compensation for it. I have no business relationship with any company whose stock is mentioned in this article.