By Platinum Tiger
A resurgence in pharmaceutical stocks and impressive gains for several industrials drove the small cap Rising China Stock index to a new record high on Wednesday. The 35 stock index has gained nearly 21 percent since January 1st.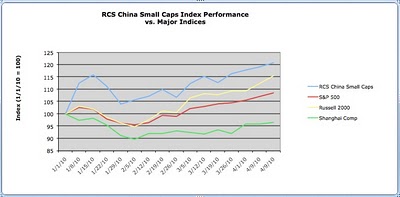 [Click to enlarge]
Big gains by pharmaceutical companies Biostar (NASDAQ:
BSPM
) on Wednesday and by Jiango (
OTCPK:JGBO
) earlier in the week contributed to a 14 percent gain for the pharmaceutical sector since Monday. A big earnings announcement from Guanwei Recycling (
OTC:GURC
) - with year-on-year EPS growth of 81 percent - and positive analyst reporting on China Electric Motor (
OTCPK:CELM
) drove both of those stocks to new all-time highs.
Even with their recent price run-ups, all four of these stocks trade at extremely low PE multiples relative to their projected growth rates, and thus remain real bargains. Jiangbo, for instance, is still trading at an absurdly low forward PE of about 3 to 4.
One concern I have regarding the bullish trend in Chinese small caps is breadth. Although the RCS index rose by nearly 1.5 percent on Wednesday, declining stocks actually outnumbered gainers by a 3 to 2 margin. Breadth has been diminishing over the past few weeks, a bearish sign that may indicate an impending end - or at least a pause - to the market's rise.
Disclosure:
BSPM.OB, JGBO.OB