"The essence of the independent mind lies not in what it thinks, but in how it thinks." - Christopher Hitchens
Investors are relearning the essence of volatility as after two years of an ever rising market, 2014 is bucking the previous trend as pullbacks become more frequent & violent.
I am rather surprised that more investors did not seem to anticipate a high probability of a downdraft in January. The market posted double-digit declines at the conclusion of both QE1 and QE2. Investors believing that this time would offer up a different fate seem to putting their faith in four of the most dangerous words in the English language: "It's different this time."
Being a contrarian with ample sums of cash in my own portfolio, I am starting to become as happy as a pig in slop as we are starting to get some better entry points after a month of declines within the market.
One strategy I am employing is to pick up "Accidental High Yielders" , a term that Jim Cramer has made famous. These are stocks in industries that are not known for their dividend yields, but thanks to a decline in the market have become good yield plays in addition to offering attractive valuations.
One of these I have just started to nibble at is offshore driller Noble Corporation (NYSE:NE). The offshore drillers have been hit hard recently on some disappointing earnings reports, tepid guidance and analyst downgrades. The sentiment on this sector has become quite dismal but has started to attract the contrarian in me. Management of Noble has also noted that it is seeing less 'opportunities' recently.
However, the stock's ~25% decline since November is starting to seem overdone at this point. After this pullback the shares are getting close to longer term technical support levels (See Chart).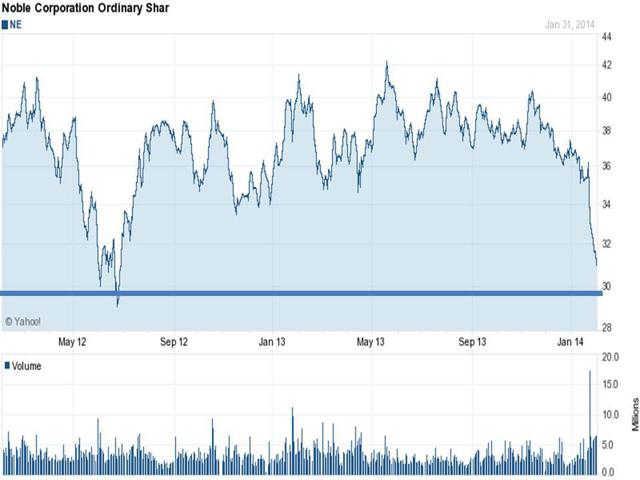 Click to enlarge
Another floor under the stock should be its suddenly generous looking yield which is fast approaching the three and a half percent level (3.4%).
In addition, the shares are very cheap based on earnings valuation. The stock is priced at less than 6.5x FY 2015's consensus earnings projections, and that is after the FY2015 consensus have come down ~15% over the past three months.
Revenue growth is projected to clock with around 20% gains this fiscal year and increases in the low teens in FY2015. The stock has a minuscule five year projected PEG of under 1 (.45). The mean analyst price target by the 32 analysts that cover the stock is just north of $39 a share, implying 30% upside from current levels.
Given the uncertainty of the market which I think will continue for some time, I am being cautious here. However, I am picking up a small position of this offshore driller for my income portfolio given its attractive valuation and rapidly approaching a 3.5% yield. I will pick up more shares if market continues its recent decline. ACCUMULATE
Disclosure: I am long NE. I wrote this article myself, and it expresses my own opinions. I am not receiving compensation for it (other than from Seeking Alpha). I have no business relationship with any company whose stock is mentioned in this article.