In the past few months, the bears have had a field day pronouncing the inevitable doom of Facebook (NASDAQ:FB). There has been a seemingly endless amount of coverage and opinionated pieces concerning the decline of teenage users on Facebook. While many have considered Facebook's long-term outlook to be damaged as a result of this evidence, there are also many individuals who strongly believe Facebook's teenage problem is overexaggerated.
Based on Facebook's fourth quarter numbers, Facebook investors may as well sing the "Hakuna Matata" song from Disney's classic feature: "The Lion King."
For the fourth quarter, Facebook's revenues increased by 63% to 2.59 billion. This surpassed the consensus estimate of $2.33 billion. Additionally, the majority of Facebook's revenues were derived from the mobile platform. Facebook's mobile revenues accounted for 53% of all advertising revenue for the fourth quarter, a 30% increase from the fourth quarter of 2012. Additionally, operating margins for Facebook increased by 44% to a two-year high.
Facebook's monthly active users were up 16% to 1.23 billion. However, the increase in monthly active users was also largely driven by the mobile platform as mobile monthly active users increased by 39% to 945 million.
Facebook's net income dramatically increased from $64 million in 4Q 2012 to $523 million in 4Q 2013.
It is clear that Facebook's mobile advertising problem is a thing of the past. There has been an underlying notion that Facebook was susceptible in a world that is shifting from PCs to mobile devices.
Yet, Facebook has done such a tremendous job of transforming into a mobile brand that it has managed to eliminate the notion entirely.
In addition, Facebook has managed to crack the Top 25. Facebook's stellar earnings have landed the brand as one of the 25 most valuable companies in the U.S. After the earnings release, it has been reported that Facebook's market capitalization is near $150 billion.
Now I shall move to provide a thorough examination of Facebook's overall condition, especially with regards to the "teenage issue." Does Facebook have a real problem on its hands or are we making a mountain of a molehill? Let's find out.
The following chart contains information from IStrategyLabs: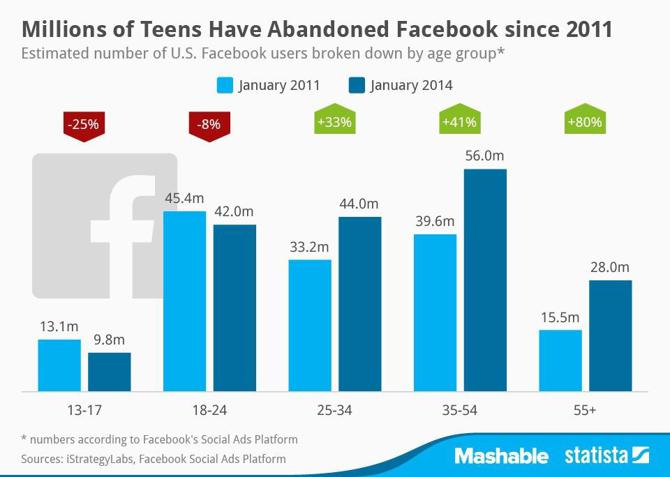 As one can see in the chart, it was reported that the usage of Facebook among 13-17 year olds has decreased by 25%. There was a reported decline of 3,400,000 Facebook users in the 18-24 year old age group. One can also see that the percentage growth of the other three age groups (25-34, 35-54, 55+) clearly outweighs the decline of the 13-17 and 18-24 age group. In particular, Facebook usage in the 55-plus age group has increased by over 80%.
Yet, the data in this report is inconclusive due to the fact that the gathered statistics were unofficial. The methodology was faulty based on the fact that the data was based on the potential reach values of Facebook. Thus, this data cannot be substantiated.
Another inconclusive study of Facebook's teenage decline was the Global Social Media Impact Study that was funded by the European Union. The report was led by Daniel Miller, a professor from University College London. In a piece about the study, he stated that one of his main conclusions was that Facebook was "dead and buried."
Yet, there was no explanation in the piece about the methodologies that he used to come to this conclusion. Later, Prof. Miller would state that he based his research on three schools in villages near London. In spite of the fact that the written piece gave him credit as the author, he admitted later that the piece was written by a journalist.
Enough said.
The real story can be found in GlobalWebIndex's recent Social Q1 2014 Study. The study involved 170,000 users in 32 nations. While there is evidence of a growing disinterest among 16-19 years old with Facebook, there is overwhelming evidence that the demise of Facebook has been greatly overstated. Furthermore, it shows that Facebook still rules the pack.
According to the following chart, Facebook leads the pack in account ownership with 83% as well as active usage with 49%. Additionally, Facebook also leads in visit frequency as 56% of users log on multiple times per day.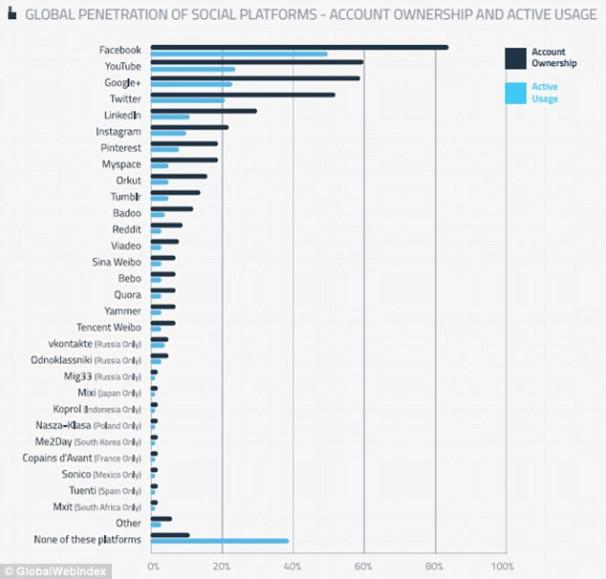 This next chart shows a breakdown of Facebook's dominance in terms of active usage over competitors such as Twitter (NYSE:TWTR) and LinkedIn (NYSE:LNKD) among all regions worldwide.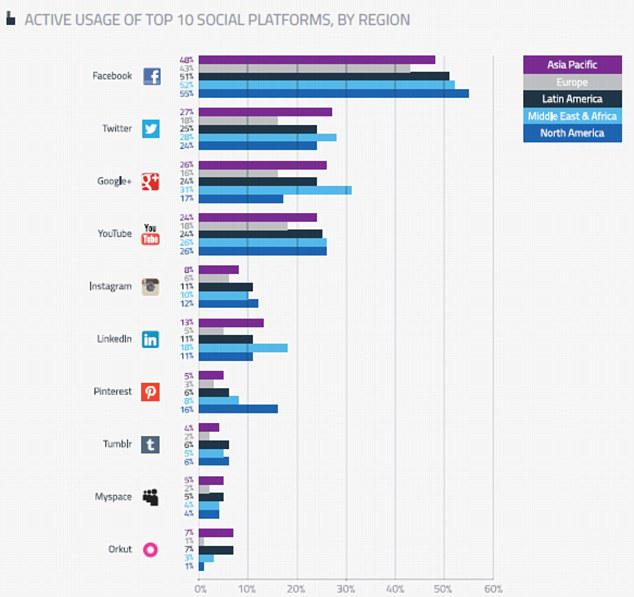 In this next chart, we see that Facebook has declined a paltry 3% in terms of active usage in the last three quarters of 2013. While a decline is evident, this statistic also shows clear evidence that any doom and gloom talk has been clearly exaggerated. As seen earlier, Facebook still has a sizable edge in terms of active usage. Additionally, the rapid rise of Facebook-owned Instagram in active usage cannot be ignored either.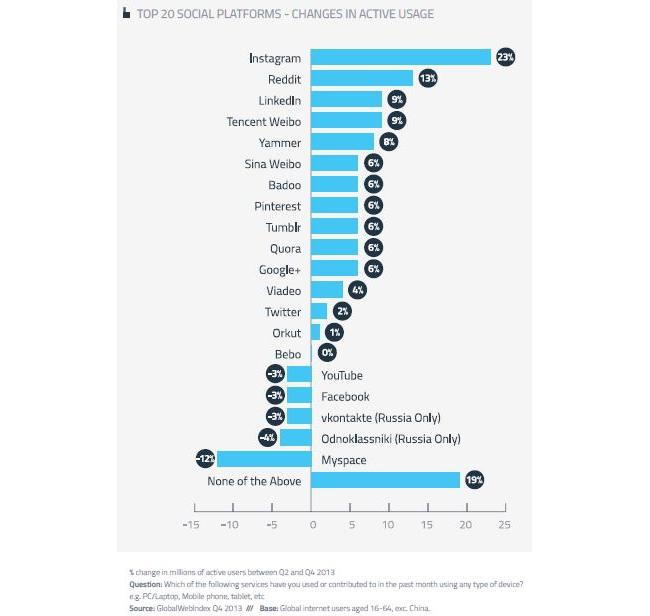 The study also that the number of teenagers that use Facebook on their mobile devices has increased. If Facebook tailors its mobile strategy in order to target teens, it could aid in mitigating any eventual decline in teens. According to GlobalWebIndex CEO Tom Smith, Facebook's active teen usage is 67% higher than its closest competitor, YouTube.
Certainly, one cannot deny that there are plenty of social media alternatives that have cut into the number of teens that have used Facebook. However, this report suggests that no real damage has been done. Facebook is still on top of the social media food chain.
FACEBOOK = BULLS ON PARADE
Facebook has been weighed and measured. Yet, the firm has not been found wanting. Investors are advised to buy Facebook and ride the momentum of its solid earnings report. The following image shows that there is a decisive consensus among Wall Street analysts that Facebook is a Buy.

According to Nasdaq, the potential 12 month price target for Facebook is $70.00. The solid earnings report and the aforementioned study have combined to take the monkey off of Facebook's back. I feel that Facebook will reach $70 pretty soon.
Its time to run with the bulls.
Disclosure: I have no positions in any stocks mentioned, and no plans to initiate any positions within the next 72 hours. I wrote this article myself, and it expresses my own opinions. I am not receiving compensation for it (other than from Seeking Alpha). I have no business relationship with any company whose stock is mentioned in this article.