Jacobs Engineering Group Inc.
(NYSE:
JEC
) has received a $52 million design-build contract from St. Louis County Department of Highways & Traffic and Public Works in Missouri.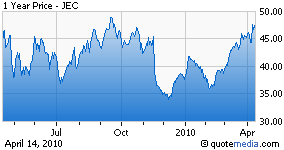 Per the agreement, the company is expected to supply engineering services to the Page-Olive Connector in Missouri. Jacobs will be the design lead for the team headed by KCI Construction.
This month, Jacobs has also won a two-year contract of $5.4 million from the Force Protection Products Division (ZI) of the Air Force Cryptologic Systems Group (CPSG) at the Lackland Air Force Base, Texas.
According to the agreement, Jacobs will provide maintenance and technical support at the Lackland Air Force Base including other locations in San Antonio, and Whiteman Air Force Base, Missouri. The contract also requires repairs and logistics services for the division.
Jacobs is one of the world's largest and most diverse providers of technical, professional and construction services. Jacobs' diversification in terms of markets, geography and services will continue to facilitate future growth.
Despite unfavorable market conditions, we expect the number of new contracts and strict cost control measures to help the company perform well.
The company has a strong liquidity and no debt. Jacobs reported a net cash position of $240.4 million at the end of the first quarter of fiscal 2010.
However, the strongly cyclical nature of its business and a highly competitive environment necessitate a Hold recommendation. Some of its immediate competitors include
Fluor Corp.
(NYSE:
FLR
),
Foster Wheeler AG
(FWLT),
KBR Inc.
(NYSE:
KBR
),
Lockheed Martin Corporation
(NYSE:
LMT
) and Technip. Thus, we recommend the stock as "Neutral".