Recently, Cumberland Pharmaceuticals Inc. (NASDAQ:CPIX) announced results from a meta-analysis comparing the safety and efficacy of Caldolor (ibuprofen) and acetaminophen. The data, which was published in the March edition of The Annals of Pharmacotherapy, revealed that ibuprofen was more effective than acetaminophen for the treatment of pain and fever.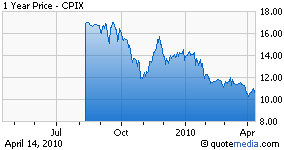 The newly published meta-analysis was based on 85 published studies that compared oral ibuprofen with oral acetaminophen for analgesic efficacy, antipyretic efficacy and safety in adult as well as pediatric populations. Cumberland stated that the data reinforced the findings from previously published studies on the efficacy of Caldolor injection for the treating pain and fever.
As a reminder, the US Food and Drug Administration (FDA) had approved Caldolor, the intravenous formulation of ibuprofen, in June 2009. The product, launched in September 2009, is the first injectable product available in the US for treating pain and fever. The injection is used primarily for treating hospitalized patients who cannot receive oral drugs for pain relief and fever reduction.
Recently, Cumberland filed an application with the FDA to expand the label of its liver failure injectable drug Acetadote. The supplemental new drug application seeks FDA approval to market Acetadote injection in patients with non-acetaminophen acute liver failure. Acetadote has already hit the market to counteract overdoses of acetaminophen.
The other marketed product at Cumberland Pharmaceuticals, founded in 1999 and headquartered in Nashville, Tennessee, is Kristalose, a prescription laxative. The company competes with players such as Hospira Inc. (NYSE:HSP).