In order to compete against Microsoft Corp's (NASDAQ:MSFT) SQL Server and International Business Machines Corp. (NYSE:IBM) in the database space, Oracle Corp. (NASDAQ:ORCL) announced its decision to increase investment in the MySQL open-source database. The details on the investment were not provided.
Oracle acquired MySQL through the acquisition of Sun Microsystems, a leading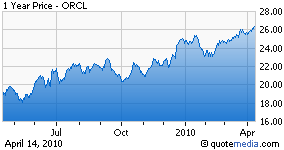 provider of enterprise computing systems, software and services. The acquisition will help Oracle provide database software to small and mid-sized businesses and companies around the world.
With Sun's acquisition, Oracle plans to enter the hardware market, where it will integrate Sun's hardware business into its own database and business applications software business.
With the addition of servers, storage, SPARC processors, the Solaris operating system, Java and the MySQL database to Oracle's portfolio of database, middleware and business applications, Oracle will be well positioned to grow in the database market with the combined benefits of both the software and hardware infrastructure.
The $7.5 billion acquisition of Sun had been on hold for nine months pending the European regulator's approval on the concern that it would decrease competition in the database market and delay the development of MySQL by forcing its users to buy Oracle's high-end product.
However, the regulators approved the acquisition recently after Oracle reassured them that it would support, license and develop MySQL Sun's open source database software.
Oracle's management said that the company plans to add new features and functions to the MySQL software and enhance its performance. By increasing investment in MySQL, we believe Oracle can boost overall database sales and provide tough competition to Microsoft's SQL Server.
Oracle holds a leading position in the $19 billion database enterprise market via its flagship database product, Oracle Database.
Oracle's Database 11g Release 2, a successor of the 10g and Oracle Fusion Applications, appears to be creating significant interest in the industry and we expect it to achieve higher momentum in the long term due to its ability to lower IT costs and deliver high-quality services to its add-on products.
In a separate release, Oracle also announced the release of MySQL Cluster 7.1. The solution includes MySQL Cluster Manager that simplifies and automates the management of the MySQL Cluster database and helps administrators to respond quickly to changing market conditions and stringent service level agreements.
MySQL Cluster Connector accelerates development cycles and time to market and enables higher throughput and lower latency for Java-based services.
Oracle's increased focus on new initiatives in the MySQL space comes as no surprise and is likely to help it garner share from its closest competitors, Microsoft, IBM and
SAP AG
(NYSE:
SAP
).