Nearly two years ago I wrote an article on "Swensen's Six ETF Portfolio" laying out the logic and specifics of a simple six ETF portfolio. Keeping within the general guidelines listed below, is it possible to improve on this basic portfolio?
Develop an equity oriented portfolio to provide sufficient growth.
Hold securities that offer inflation protection.
Hold a minimum of 5% in an ETF so it makes a significant contribution to the portfolio.
Don't hold over 30% in any one ETF to avoid over exposure to a particular asset class or portion of the market.
Allocate 70% to equities, but spread it out over both domestic and international markets.
In the original article the six critical ETFs were: VTI, VEU, VWO, VNQ, TLT, and TIP. If I were to keep the "Swensen Six," the only change I would make is to swap out VEA for VEU since there are emerging market stocks within VEU and we cover emerging markets with VWO. Are there other changes that might improve on the original "Swensen Six?" Before seeking improvements, let's review the original recommendations.
In his Unconventional Success book, David Swensen recommends a very simple portfolio consisting of U.S. Equities (VTI - 30%), Foreign Developed Equities (VEA - 15%), Emerging Markets (VWO - 5%), Real Estate (VNQ - 20%), U.S. Treasury Bonds (TLT 15%), and U.S. Treasury Inflation-Protected Securities (TIP -15%). The ETFs within parenthesis are my choices for Swensen's recommendations. They are not the only ETFs available to fill the asset classes. The percentages are Swensen recommendations.
Since writing that original article in April of 2012, I've started using the "Cluster Weighting Momentum" (CWM) model and I will apply CWM analysis to the "improved portfolio." The philosophy behind the CWM model goes something like this. It is not the number of securities that builds a well-diversified portfolio, but the correlation between those securities. In addition to selecting low correlated ETFs, we also take advantage of the momentum effect.
The logic behind these broad asset classes makes a lot of sense as Swensen argues for an equity orientation while paying attention to risk and inflation protection. Investors wishing for additional risk protection only need apply a combination of ITA Risk Reduction and the SHY cutoff model as explained in the analysis below.
Is it possible to improve on this basic six ETF portfolio if one adds more ETF options? Although slightly more complicated, the following portfolio follows the general guidelines laid out by Swensen. Note that we keep the original six ETFs, but add 12 more ETFs for reasons suggested below.
U.S. Equities (30%) - VTI, VOE, and VBR will provide an opportunity to skew the portfolio toward smaller cap and value oriented stocks.
Foreign Developed Equities (15%) - VEA, VEU, VSS, SCZ gives the investor flexibility to include smaller cap stocks. Keep in mind that VEU, VSS, and SCZ are likely to dip into Emerging Markets.
Emerging Markets (5%) - VWO is the Exchange Traded Fund of choice and I would stick with Swensen's recommendation.
Real Estate (20%) - VNQ (15%) and adding RWX (5%) is a way to branch out into international real estate.
Bonds and Treasuries (30%) - In addition to TLT and TIP, I would include LQD, JNK, BND, BIV, PCY, and BWX. Investors now have the opportunity to add corporate bonds as well as several international securities. When running the "Cluster Weighting Momentum" (CWM) analysis, adding more low correlated ETFs provides greater opportunity to build a well-diversified portfolio.
ETF Rankings: The following ETF rankings includes SPY as a market reference plus SHY, our cutoff ETF. ETFs performing below SHY are culled from the portfolio until they are ranked higher than SHY. This is a primary risk reducer built into the CWM model. The other risk reducer is to sell any ETF that is priced below its 195-Day Exponential Moving Average (EMA). This is the ITA Risk Reduction model.
ETFs are ranked based on performance over the most recent three and six months plus a volatility ranking. The absolute acceleration column shows if the ETF is trending up or down. Most are currently trending down due to the recent market decline.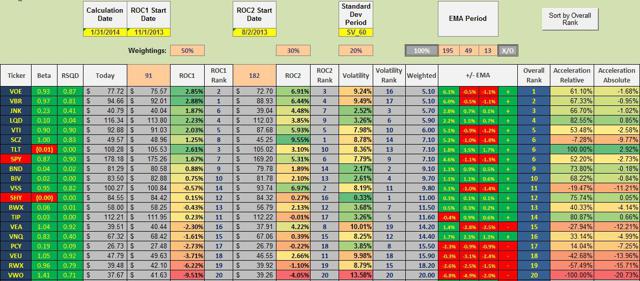 Click to enlarge
Cluster Diagram: The following diagram shows the correlation analysis. Using a correlation cutoff of 0.80, the ETFs selected to make up the "improved Swensen portfolio" are grouped together based on correlation data. This particular group of ETFs breaks down into seven clusters. By raising the cutoff we could increase the number of clusters.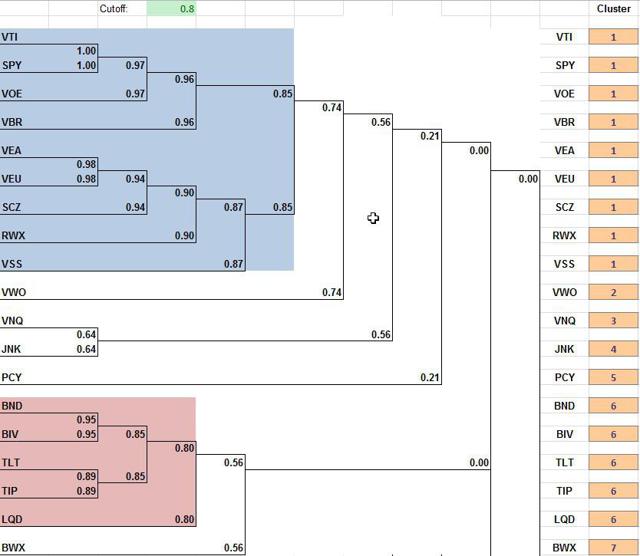 Click to enlarge
Buy-Hold-Sell Recommendations: The buy, hold and sell recommendations come out of the cluster analysis. 1) ETFs performing below SHY are not included in the portfolio. For example, emerging markets ((NYSEARCA:VWO)) would not be part of the current portfolio. 2) VOE, LQD, and JNK are the three recommended ETFs as each is the highest ranked ETF within their particular cluster. Four of the seven clusters are not represented as the ETFs all fall below SHY in performance.
Note that the CWM model recommends 50% be invested in VOE, a violation of the 30% maximum rule from Swensen. In this case, one would reduce the percentage allocated to VOE and purchase some percentage in VTI and VBR, also highly ranked ETFs, but also highly correlated with VOE.
Early results indicate CWM analysis improves portfolio returns while reducing risk.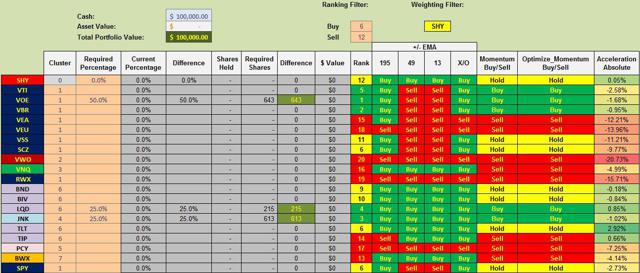 Click to enlarge
Disclosure: I am long VTI, VEA, VEU, SCZ, VOE, VBR, JNK, LQD. I wrote this article myself, and it expresses my own opinions. I am not receiving compensation for it (other than from Seeking Alpha). I have no business relationship with any company whose stock is mentioned in this article.