Daimler AG (DAI) has confirmed its guidance for 2010, provided while releasing the sales and earnings results for 2009. The company continues to expect earnings before interest and taxes (EBIT) of €2.3 billion ($3.1 billion) for the year. Daimler expects revenue to grow during 2010, but not to surpass the 2008 levels.

Daimler believed that its efforts to increase efficiency, upward development in most of its important markets, and the success of its new products, especially the Mercedes Benz E-Class, would drive EBIT growth during the year.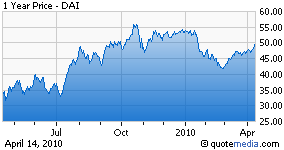 In 2009, Daimler incurred a loss of €2.6 billion ($3.7 billion) or €2.63 ($3.67) per share, in sharp contrast to a profit of €1.4 billion ($2 billion) or €1.41 ($1.97) per share in the previous year. The loss was attributable to a 24% decline in unit sales to 1.6 million vehicles due to the global economic crisis.

The annual revenue dipped 20% to €78.9 billion ($110 billion); adjusted for exchange-rate effects, the decrease was 21%. EBIT in the year was minus €1.5 billion ($2.1 billion) compared to plus €2.7 billion ($3.8 billion) in 2008.

In the Mercedes-Benz Cars division, Daimler anticipates an EBIT of more than €1.5 billion ($2.1 billion) for 2010 compared to an EBIT of minus €500 million ($698 million) in 2009. In the Daimler Trucks division, the automaker foresees an EBIT of €200 million ($279 billion) for the year compared to minus €1 billion ($1.4 billion) in the previous year.

In the Mercedes-Benz Vans and Daimler Buses divisions, Daimler projected an EBIT of €250 million ($348 million) and €180 million ($251 million), respectively. This compared to an EBIT of €26 million ($36 million) in Vans and €183 million ($255 million) in Buses divisions in 2009.

In the Financial Services division, Daimler expects EBIT improve to at least €350 million ($488 million) in 2010 from a meager €9 million ($12.5 million) in 2009.

Daimler benefits by focusing on the most fuel-efficient and lowest carbon dioxide emitting car, smart fortwo. The company relies on emerging growth markets to drive sales. Although the company reported a loss in 2009, its liquidity has improved significantly. These factors have led us to the recommend of the shares of the company as Outperform in the long term.