The biotech sector is one that requires a lot of capital to advance ideas into approved and marketed drugs. With the average time from concept to FDA approval sometimes coming in at over ten years, the cash requirements to fund research can be large. An excellent way to fund the development of pipelines is for biotech companies to use their excess manufacturing capacity to produce products for others. It is a very novel approach that I am surprised more companies do not adopt. When drugs enter clinical trials, companies many times have to produce their own drugs. As the trials advance, the manufacturing infrastructure they built sits idle.
Contract manufacturing, as it is called, is the perfect solution to this issue. One of my investing criteria when I search for investments is cash flow generation. When I invest in biotechs it is even more appealing to see cash come from places other than financing. Two companies that have adopted this approach, and done so very successfully, are NeoStem, Inc. (NBS) and ANI Pharmaceuticals, Inc. (NASDAQ:ANIP).
NeoStem is a company I did extensive research on back in December. My main focus with NBS was on its stem cell division and the huge potential I saw in its Amorcyte division, namely its AMR-001 drug. When I was researching NBS, I briefly covered one of their divisions, PCT (Progenitor Cell Therapy). It was this research into NBS that made me want to take a closer look at contract manufacturing, as I initially saw this area of the business as a very valuable asset.
PCT was acquired by NBS in 2011; it is a contract development and manufacturing organization with manufacturing, regulatory, and commercialization expertise for therapeutics development. This division has 15 years of experience in the cell therapy sector.
Below is a very informative company video detailing what PCT does.
Background
PCT provides service to the stem cell sector, manufacturing for cell therapies, including dendritic cells, stem cells, and T cells. One of the more notable past customers in PCT's dossier is Dendreon Corp. (NASDAQ:DNDN) for its Provenge®, the first cell therapy approved for cancer treatment. PCT supplied all the Provenge for DNDN's drugs trials. Earlier this month, PCT announced another contract win with Kite Pharma, Inc., a private company. PCT will provide cell therapy process development and manufacturing services for Kite Pharma's lead engineered Autologous T Cell Therapy (eACT™) clinical development program.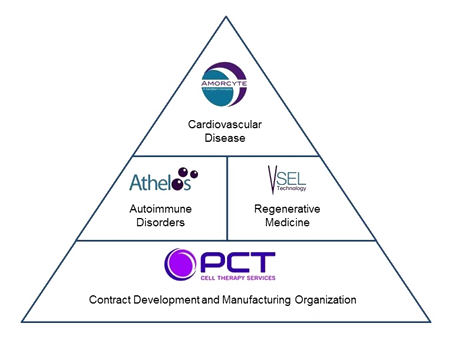 PCT has built five facilities, and has participated in over 50 regulatory filings in the U.S. and Europe. The company has served over 100 clients over the last 15 years. The company lists them as a "who's who" of the cell therapy and regenerative medicine sector. These companies, of course, do not like to publically disclose that another is manufacturing for them, which is a large reason contract manufacturing does not get the buzz from the investment community that it deserves.
Financials
All of NBS's revenues are generated by PCT. For the three and nine months ended September 30, 2013, revenues from this division were $3.7 million and $10.6 million respectively. The $10.6 million contribution in revenues helped reduce cash need by almost 50% for NBS in the nine-month period. This added funding takes tremendous pressure off the company while at the same time utilizing excess manufacturing capacity.
Contract manufacturing for larger companies brings another added benefit in that potential partners or suitors can get an inside look into the company. As of November 7th NBS had a cash balance of $58 million. The average quarterly cash burn is $7 million giving NBS at least eight quarters now before needing additional funding. This cash balance does not take into account additional contract manufacturing deals or partnership news. Current funds coupled with income generated from PCT leaves NBS very well funded for now. This is a major positive for investors looking for an investment in the sector as it greatly reduces any dilution risk.
As I mentioned, the other company that looks very interesting in this sector is ANI Pharmaceuticals, Inc. This is a specialty pharmaceutical company that develops, manufactures, and markets branded and generic prescription pharmaceuticals. As I mentioned above, I have become very interested in biotech companies that use their excess capacity to contract manufacture for other companies. This utilization of extra resources is very helpful in bridging cash flow issues that biotech companies always face.
Background
Just like NBS, ANIP has taken the same approach to contract manufacturing. In June, BioSante Pharmaceuticals, Inc. (formerly ticker BPAX) merged with ANIP and the name was changed. Since its inception in 2004, ANIP has been contract manufacturing for long term partners. The company has over 170,000 sq. ft. of manufacturing space available with a diverse packaging capability that can appeal to many different companies. ANIP is able to manufacture and package most oral dosage forms. The firm has expertise in liquid solution and suspension forms, topical liquids, tablets, both coated and non-coated, as well as capsules.
ANIP also has a unique capability for manufacturing products in a containment space, such as hormones. In addition, the company has added controlled substance handling capability to its assets. In 2008 a new cage and vault were approved by the DEA for working with up to Class II controlled substances, which gives ANIP even more opportunity for sales. In 2000, an expansion to the 47,000 sq. ft. hormone plant resulted in the installation of a fully automated tableting and coating process.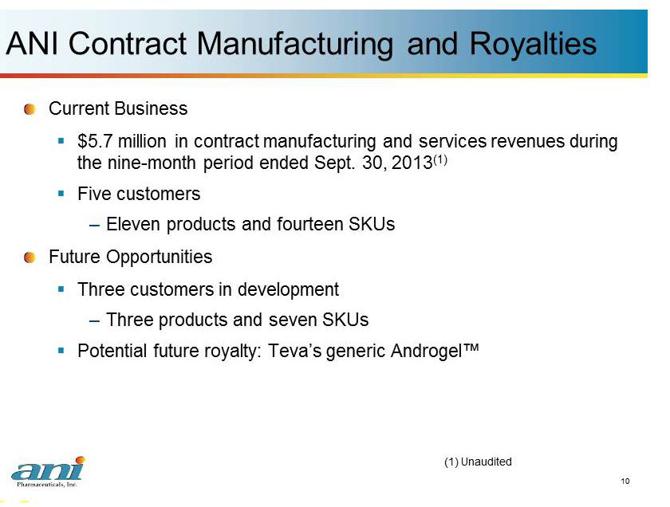 Financials
From the most recent company presentation, the benefit from contract manufacturing is obvious. ANIP has eleven products from five companies that contributed $5.7 million in revenue for the nine months ended September 30th. There are also some big potential sales coming with three customers potentially in the pipeline.
The benefit of contract manufacturing, and what attracts me to companies like this, can be seen from the quarterly cash flow statement below.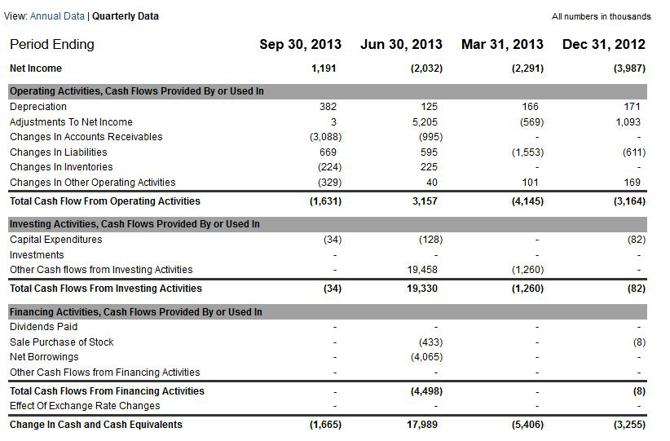 The average quarterly cash burn seen by ANIP is reduced by a third thanks to the additional cash generated by this business. ANIP currently has a market cap of $203 million. For the TTM, revenue has come in at $24.87 million. Key highlights from the most recent earnings report are a big reason shares of ANIP have seen such a rapid move higher.
Third quarter net revenues of $7.8 million, reflecting an increase of 56% versus $5.0 million for the same period in 2012.
Third quarter net income from continuing operations of $1.0 million and third quarter EPS of $0.13.
Net revenues up 30% YOY.
Expanding Opportunities
An January 6th, ANIP signed a generic drug product with Sterling Pharmaceutical Services, a private company. The product will be developed by Sterling and transferred into ANIP's facilities for commercial manufacture and marketing. The current annual market for this product is $60 million dollars, according to IMS Health. In December ANIP made a substantial deal to boost its pipeline, acquiring 31 generic drugs from Teva Pharmaceuticals (NYSE:TEVA) for $12.5 million in cash and a royalty on gross profits from the sales of the drugs.
Contract manufacturing is an excellent addition to a biotech company's financial standing. It brings in added cash flow, which is a major benefit. It also leads to manufacturing synergies and efficiencies that, when coupled with marketing approval for pipeline products, can lead to greater profits. Companies that can successfully contract manufacture for others can see their SG&A cost spread over many other companies' products and in turn help make in-house developed products more profitable.
As ANIP has shown us, contract manufacturing can also lead to growth in other products. The TEVA deal is one example. NBS is taking a similar approach as its $10.6 million contribution to cash flow in 2013 has shown. Contract manufacturing is often times overlooked by investors. With more small biotech companies lacking the funding to build facilities and manufacture their drug trial products, there exists a large and growing market for companies like NBS and ANIP. My research indicates that contract manufacturing assets are being over looked by investors. That oversight means opportunity for investors that know better.
Disclosure: I have no positions in any stocks mentioned, and no plans to initiate any positions within the next 72 hours. I wrote this article myself, and it expresses my own opinions. I am not receiving compensation for it (other than from Seeking Alpha). I have no business relationship with any company whose stock is mentioned in this article.