By Jeff Bailey
Expect to read more here and elsewhere in coming months about stock buybacks, as rising market valuations increase the likelihood that companies will be overspending on their own shares and, should the market and/or economy take a dip, end up wishing they'd held onto some of that cash.
Jack Hough at Barron's got an oar in the water over the weekend by looking at companies that appear to be paying dearly for their shares in recent buybacks, including C.R. Bard (NYSE:BCR), Lowe's (NYSE:LOW), Pfizer (NYSE:PFE) and Viacom (NYSE:VIA) (NASDAQ:VIAB).
Each of those companies has enjoyed a nice run.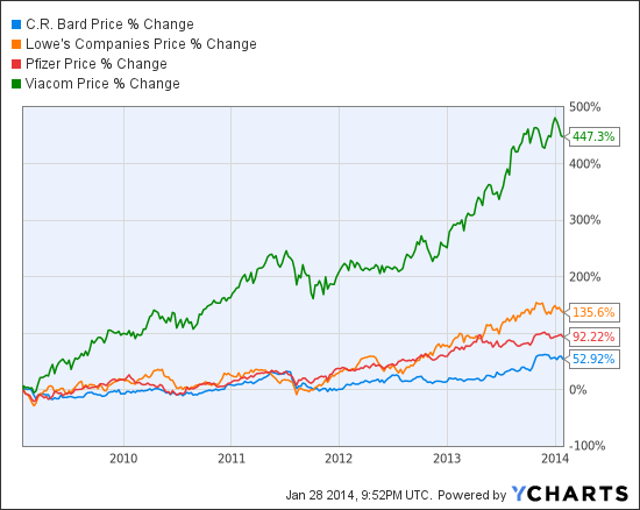 BCR data by YCharts
And a shareholder would already, of course, in hindsight wish that management (and the boards) had weighted more of that buyback activity to times of lower stock prices.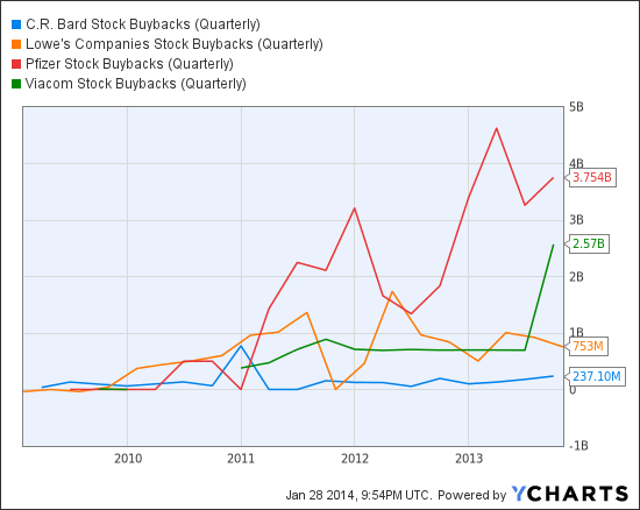 BCR Stock Buybacks (Quarterly) data by YCharts
As the Barron's piece points out, and we've noted here before, buyback activity peaked in the 2006-2007 period when stocks were most dear, and then buybacks all but stopped when the market plunged. And some companies were even forced to issue equity at depressed prices. Why the buy-high, sell-low approach?
We tend to place people with sunny dispositions in corner offices in this country, guys (mostly) who want to throw open the throttle when, well, it's already open, and then are forced to slam on the breaks. Rather than stockpiling cash during good times, they repurchase shares and buy other companies at impressive premiums. And then in crummy times, they hunker down and husband what cash they have, rather than scoop up assets that are on sale.
Warren Buffett, Berkshire Hathaway's (NYSE:BRK.A) (NYSE:BRK.B) contrarian CEO, of course, seldom buys back Berkshire shares and amasses cash during good times and then, when all hell breaks loose, steps up and buys things cheaply from companies that really need the money (and his moral support): in the most recent financial crisis, that included General Electric (NYSE:GE), Goldman Sachs (NYSE:GS) and Bank of America (NYSE:BAC). Each paid onerous terms to Buffett for his money.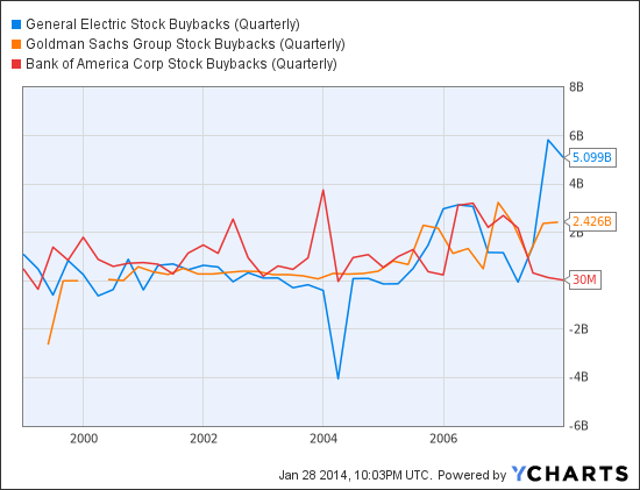 GE Stock Buybacks (Quarterly) data by YCharts
Governments in the United States, too, tend to spend every last cent when times are good and then act shocked when recessions hit and tax revenues decline (and social safety net costs simultaneously rise). And banking regulators, as well, have tended to be most lax in regulation during fevered economic period, when the really big mistakes are being made, and most difficult during downturns, when banks are really only taking small risks. It's all backwards. And government fiscal policy and bank regulation (and deposit insurance premium rates) would all be better with some counter-cyclical weighting.
Notably, Berkshire shows up with piles of cash and no buybacks. Google (NASDAQ:GOOG), which unlike Apple (NASDAQ:AAPL) and Microsoft (NASDAQ:MSFT) has ignored calls to part with its cash and pay out dividends and repurchase shares, also has lots of cash and no buybacks. Doesn't mean the stocks are any good, but you have two managements ignoring Wall Street twits talking about efficient capital structures and such. Amen to that, especially given how poorly Wall Street firms managed their own capital structures.
Foreign companies, you'll note, aren't huge on buybacks. They're also less into stock options and stock awards as executive compensation. Precisely. If you're the CEO of an American company, and you control lots of shares through such vehicles, using the company's cash to buy in as many of the other shares as possible increases your stake, and perhaps wealth. Buffett has mocked this move in letters to Berkshire shareholders.
So, yes, you're going to hear an awful lot of talking heads on CNBC praise companies for "returning cash to shareholders" by paying bigger dividends and by repurchasing stock. And in many cases, the stock may be a great deal. But we can also count on plenty of companies to keep buying even when their shares become pricey, and if you remain a shareholder in such a company, like J.C. Penney (NYSE:JCP), as YCharts and others have harped on, buybacks can threaten solvency.
Buybacks are a favorite topic around YCharts is all market conditions. We've lately warned about overpriced stocks, wondered why Home Depot (NYSE:HD) executives weren't buying if the shares looked so good, and opined on how to find smart buybacks.
Disclosure: None.