Amazon (NASDAQ:AMZN) is a stock that is conventionally trading at unreasonable levels when looking at earnings metrics. For example, before Amazon reported a disappointing fourth quarter, the stock was trading with a trailing PE of over 1400. The reason for this is because Amazon's earnings have been low or even negative in 2013 (EPS of $0.28 for the past 12 months). During this time, Amazon's stock has taken off. If conventional wisdom says that stock prices follow earnings over time, why did Amazon's stock reach such lofty levels? The reason is because investors are valuing Amazon's revenue growth over earnings. The company has a price to sales ratio of 2.63. This is the same as Apple's (NASDAQ:AAPL) price to sales ratio. However, Apple is trading with a more reasonable trailing PE of 12 due to its strong EPS of over $40 for the past 12 months. Like it or not, investors are putting money into Amazon because of its above average revenue growth regardless of its lackluster earnings.
Five Below (NASDAQ:FIVE) is a $2 billion small-cap, young, growing retailer that is trading with a trailing PE of 75. This is also a lofty valuation level. The company is trading at 41 times FY15 earnings, which still looks lofty. However, Five Below's price to sales ratio looks reasonable at 3.98. I think that investors are valuing Five Below's revenue growth and its long-term future earnings potential over its current earnings. This is similar to how investors are valuing Amazon. Investors seem to be putting more weight into revenue growth over earnings growth for these stocks.
One factor that investors need to realize with regard to stocks with abnormally high PE ratios is that they are at risk for drastic drops in price on negative news. For example, Amazon's disappointing Q4 report caused the stock to lose 11% in one day. Amazon experienced drops of over 11% in the past, but the stock recovered each time. Likewise, Five Below experienced a significant drop this month when it gave lowered revenue and earnings guidance for Q4. Original revenue guidance of $211 million-$223 million was lowered to $208 million-$210 million. Original EPS of $0.49-$0.51 was lowered to $0.44-$0.46. Just as Amazon recovers from temporary negative news, I think that Five Below is likely to do the same. Just be aware that these corrections are likely to occur in the future as well.
The good thing for Five Below is that the lowered guidance was attributed to poor weather and a shortened holiday season. This past holiday season was compared to a longer holiday selling season in 2012 because Thanksgiving was a week earlier that year. Large portions of the U.S. were hit with snowstorms and unusually cold weather this Q4 as compared to a mild Q4 last year. Since those situations are temporary, I think that the price of the lowered guidance has been baked in to Five Below's stock price. Overall, the company still looks good as a retailer that can grow into a mid or large-cap company over the long-term.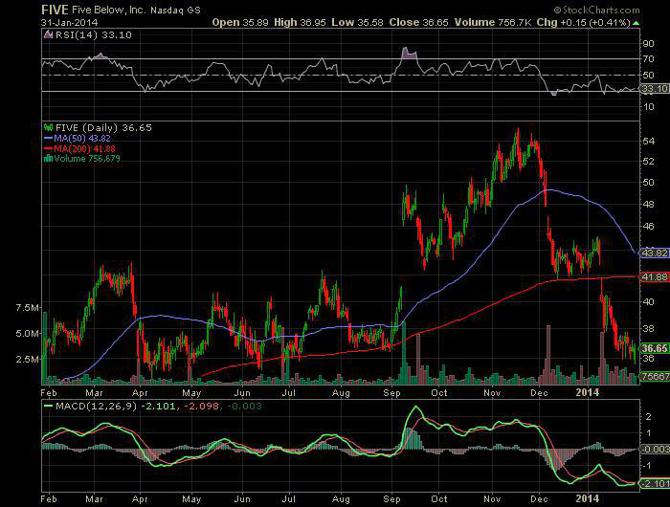 Click to enlarge
Five Below has proven itself as an eye-catching dollar-store type retailer that sells everything for $5 or less. Its products appeal primarily to teens and preteens. In a way, I think that Five Below is a play on the smartphone and tablet market. The stores dedicate a large wall for selling protective and decorative covers for smartphones and tablets. It also sells numerous other accessories for that market such as headphones, cords, etc. The stores also carry sports-related items, books, DVDs, seasonal items, crafts, games, party goods, candy beauty products, and more.
Five Below has over 300 stores in just 18 states. There is plenty of room for growth as the stores can be easily duplicated in the proper locations throughout the country. The company executes well on opening new stores. This was evident when it opened 11 new stores in Dallas, Texas last year in a single day.
Conclusion
Although I don't like the high PE ratios that Five Below possesses at the moment, I do like its reasonable price to sales ratio of 3.98 and its PEG of 1.7. The company is expected to grow earnings annually at over 30% for the next five years. This growth in earnings in derived from 27% annual growth in revenue with a 3% - 5% increase in gross margin. Five Below also expects to achieve 20% annual store unit growth with 4% comparable store sales growth. Just as Amazon recovers from its temporary negative news, I think that Five Below will do the same. The current sell-off in Five Below's stock should make for a good buying opportunity for long-term investors. Just like Amazon, I think that Five Below's PE ratio is likely to remain high as investors put more weight on revenue growth over earnings growth at this stage.
Disclosure: I have no positions in any stocks mentioned, and no plans to initiate any positions within the next 72 hours. I wrote this article myself, and it expresses my own opinions. I am not receiving compensation for it (other than from Seeking Alpha). I have no business relationship with any company whose stock is mentioned in this article.