Recently a new company popped up on my stock screeners. It was Cash America International (NYSE:CSH) and I was more intrigued the further I researched the company. It operates in the following business segments:
The traditional bricks and mortar pawn shops in the United States (under the Cash America Pawn and Superpawn names) and in Mexico (under the Prenda Facil name).
Check cashing businesses operating under the name Mr. Payroll Check-Cashing Centers
Internet based e-commerce lending to customers in the US, United Kingdom, Australia, and Canada (as Cashnetusa.com, Quickquid.co.uk, Dollarsdirect.com.au, and Dollarsdirect.ca respectively)
Its closest competitors are EZCORP Inc(NASDAQ:EZPW) and World Acceptance Corporation(NASDAQ:WRLD). Below is a table showing how the three companies stack up against the industry average. As you can see Cash America International is larger than EZCORP or World Acceptance Corporation. It also has a lower price-to-earnings (NYSE:PE) ratio and price-to-earnings-to-growth (PEG) ratio than the other two, or for that matter the industry average. Now I am intrigued. Why is one of the largest players in the very lucrative pawn shop industry selling at such low metrics. I got my first clue looking at the quarterly revenue growth and gross margin numbers in the table, both of which were lower than I would prefer. Ok, now it's time to dig deeper.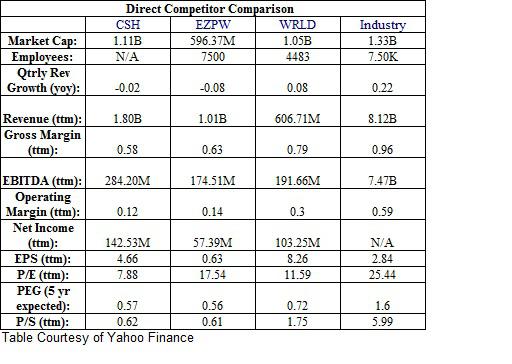 Metrics
I like to look at a variety of metrics when evaluating a particular company. One of the first is return-on-equity (ROE). Cash America International has consistently recorded ROE between 10.8 and 17.0, over the past 10 years. These numbers aren't as high as I would prefer, but they are consistent and respectable. See the chart below.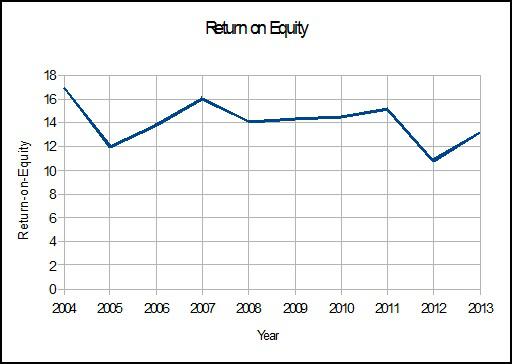 Cash America International has a debt to assets ratio of 35%, which seems like a manageable number. The company is now trading essentially at book value. The closing price on Friday was $36.73 versus the company's stated book value of $38.52 (at year end 2013). More interestingly, Cash America International has consistently been able to grow their book value for the past 10 years. This is impressive given the turmoil surrounding 2008 financial crisis. See the chart below reflecting the growth in stated book value.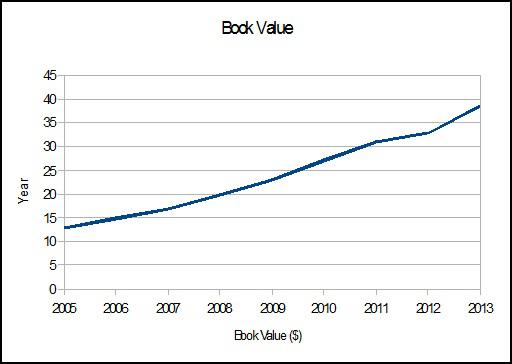 So far Cash America International is looking like my kind of investment, on account of the steady and consistent growth and a reasonable debt load. Like Warren Buffett often says, "Buying a great company at a good price is far better than buying a good company at a great price". So let's take a look at the revenue per share, to see that the top line is growing also. As you can see from the chart below, they have been growing revenue-per-share very consistently for several years.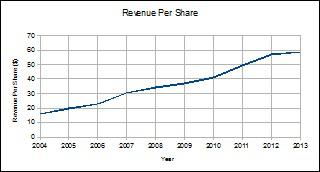 Highlights From Management's January 23rd Earnings Call
Seeking Alpha Transcripts has provided a great transcript for the most recent earnings call, which can be viewed here. In the call, management said the following:
Cash America International ended FY 2013 with $740 Million in debt and $69 Million in Cash
During 2013 the outstanding share count was reduced by 4%
Management expects Q1 2014 earnings per share to be $1.15-$1.25 vs $1.40 for Q1 2013
Domestic inventory turnover has been reduced to 2.3% vs 2.9% for 2012, largely due to a reduction in the number of customers scrapping gold.
Going forward management believes the "bricks and mortar locations" will function more as traditional pawn shops and less like gold scrappers.
In Q4 2013 the business revenue was nearly split 50-50 between online lending and the traditional (physical) pawn shop locations. The growth rate of the online lending however, has far outpaced growth rate of the traditional pawn shop locations.
Conclusions
Based on the earnings call, it appears that some investors have been spooked by the lower earnings forecasts. I am encouraged however, because it appear the slowing revenue growth is the result of a reduction in scrap gold customers (as the price of gold has fallen) and refocusing the business model towards online lending. Both of these factors make sense and an online business model should be able to reach far more customers and be far less demanding from a capital expenditure (cap-ex) perspective. Once management masters the online business model, I imagine Cash America International will be able to be a far more flexible and profitable business.
Now that I've confirmed I want to invest in Cash America International, I want to take a quick look at the technicals on the stock chart. The stochastic indicators turned higher on January 24th, the day after the earnings call. On the same day the stock bounced higher off of support in the $34.5-$35 range, which went back to November 15th, 2012 and December 12th, 2013. I see the stock having a clear shot to the 200 day moving average around $42, with only slight resistance in the $37-$38 range. This represents a 14% upside from Friday's closing price of $36.73. To recap, Cash America International appears to be sitting just above a major support level and trending higher, without serious resistance until the $42 area. Please do your own research, but I am going to make a purchase on Monday morning.
Disclosure
I do not currently own any of the stocks mentioned in this article. I will likely invest in Cash America International when the US stock markets reopen on Monday. This article is for informational purposes only and should not be considered a recommendation for anyone to buy, sell, or hold any equities. I am not a financial professional. The information above is provided by SeekingAlpha.com and Yahoo Finance.
Disclosure: I have no positions in any stocks mentioned, but may initiate a long position in CSH over the next 72 hours. I wrote this article myself, and it expresses my own opinions. I am not receiving compensation for it (other than from Seeking Alpha). I have no business relationship with any company whose stock is mentioned in this article.