Even if NSN's 2013 figures and 2014 guidance failed to impress, we are Buyers of Nokia (NYSE:NOK). Once the Microsoft (NASDAQ:MSFT) deal is completed (end March), investors' attention is likely to focus on two positive catalysts, cash returns to shareholders and the group's new strategy. As Advanced Technologies (patents) is expected to become key in the group's strategy, Nokia will probably make a disclosure effort in coming months on this division which is still pretty secret… This could put some light on the huge graphene opportunity for the group, graphene being considered by many as THE material of the future.
What is Graphene?
Graphene is a single layer of graphite carbon atoms making it the thinnest and toughest material ever created. It is also much more conductive than copper and as flexible as rubber. All these qualities offer huge promises for a large number of applications from IT & consumer electronics to energy, aerospace, medicine…: flexible touchscreens and enhanced batteries are among the likely first applications.
But the semiconductor industry is expected to be the main field of application for graphene as it conducts electricity 30 times faster than silicon, meaning that graphene films and sheets could replace silicon materials in the future.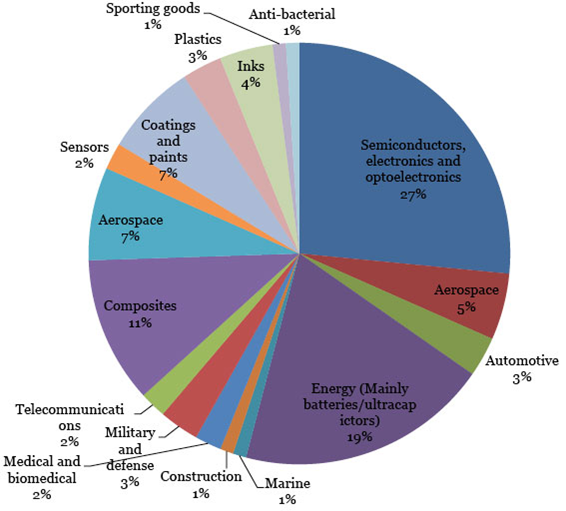 Source: Nanowerk
Fields of application expanding day after day
On a regular basis, scientific research articles pop up and reveal new applications for grapheme.
An article last year highlighted graphene's photovoltaic potential: upon absorbing light, graphene generates multiple electrons capable of driving a current, while conventional materials such as silicone generate a single electron. This suggests that the material could be used to make light sensors, with the most immediate impact in the field of image sensing (enhancing the performance of light sensors used notably in cameras and certain medical sensors). In the medium term, graphene could be used in third-generation solar cells, overcoming the physical limits of conventional solar cells and reaching much higher efficiencies (theoretical efficiency limit of 60% vs 30%).
Another article highlighted graphene's storage potential: scientists in Australia have indeed succeeded in creating the first graphene-based optical disc. This disc offers holographic storage, i.e. incredibly high storage densities, high security, and apparently the ability to recover the data even when the discs are broken → storage densities reached around 3.2 terabits per cubic inch vs hard drives at 1 terabit per square inch and Blu-ray discs in the gigabits-per-square-inch range.
According to Cambridge IP, there were 7,351 graphene patents and patent applications across the world by the end of 2011, a remarkably high number for a material discovered less than a decade ago (2004). China leads the field as the country with the highest number of patents (2,200).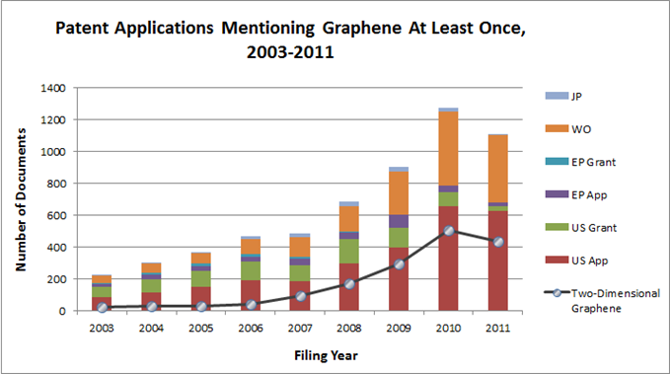 Source: Cambridge IP
Industrial take-off expected in 2015/16
Manufacturing costs are still high, making graphene a niche product currently (but with some marketing power, see an ad for Head tennis rackets below).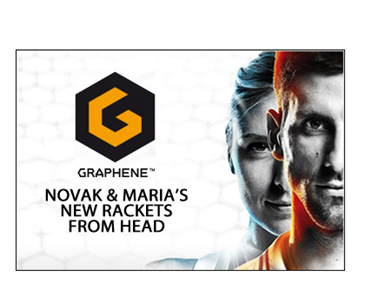 Source: Head
But when these manufacturing costs go down and mass production starts (around 2015/16, i.e. tomorrow), the graphene market is expected to take off and to grow at a 59% CAGR over the 2015-2020 period according to TechNavio.
Nokia's Advanced Technologies division could soon become a great beneficiary of the graphene take-off: Nokia is part of the 74-company Graphene Flagship Consortium that has received last year a EUR1bn grant from the European Union. And we know that Nokia has been using graphene to make a lighter, more durable phone that can't overheat, and for imaging sensors as well, as graphene is 1000 times more sensitive to light than normal camera sensors, is great for low-light imaging, and can make wonders for making 41 MP sensors small.
In conclusion, graphene is a promising material likely to be part of our everyday lives (consumer electronics, planes, batteries…) and to raise the profile and valuation of Advanced Technologies.
Disclosure: I am long NOK. I wrote this article myself, and it expresses my own opinions. I am not receiving compensation for it (other than from Seeking Alpha). I have no business relationship with any company whose stock is mentioned in this article.