Natural gas bulls have finally gotten what they bargained for since 2012, and then some: Henry Hub futures have spiked above the $5.50/MMBtu mark. Natural gas storage is at a level of depletion not seen for several years, and no signs of acceleration in gas drilling activity have been seen yet. While the Nymex natural gas price performance has been stellar, even more impressive are recent spikes in citygate prices. Some recent physical settlements bring up the memories of the U.S. electricity crisis of circa 2000 and more recent gas shortages of 2006-2008. To quote just one example, during a recent snow storm in New York City at the end of January, natural gas delivered on Transco pipeline to the New York Citygate surged as high as $135/MMBtu.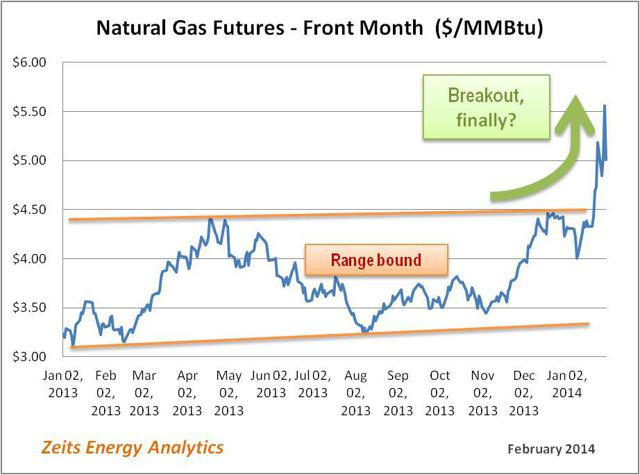 Some investors may find it perplexing that natural gas producer stocks have been reluctant to follow commodity news headlines with a unanimous rally. Indeed, given that many producers have operated at narrow margins (particularly when one thinks about new drilling economics), the almost $2/MMBtu increase in gas price over the past six months - from around $3.50/MMBtu in August of last year to $5.50/MMBtu at the end of January 2014 - would seem to make a tremendous difference in terms of returns. Yet, many flagship natural gas stocks have performed essentially in-line with the S&P-500 over the same period. The graph below shows 6-month price performance for an group of gas-focused E&P equities: Southwestern Energy (NYSE:SWN), Encana (NYSE:ECA), Cabot Oil & Gas (NYSE:COG), EQT Corporation (NYSE:EQT), Range Resources (NYSE:RRC) and EXCO Resources (NYSE:XCO). With just one exception, all the stocks delivered performance within a few percentage points from the S&P 500 ETF.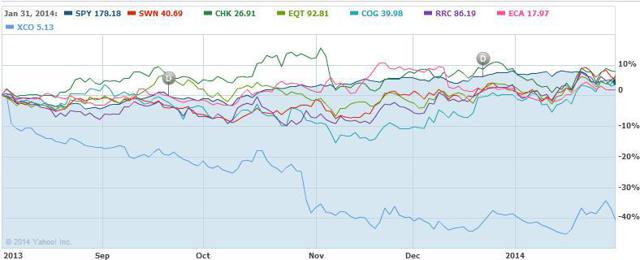 (Price chart: Yahoo Finance)
So what is the equity market missing? And is it really missing anything?
One obvious explanation to the ostensible conundrum is that looking at current commodity prices is to some degree akin to looking in the rare view mirror: the majority of E&P companies hedge the larger portion of their near-term natural gas volumes.
There is another important dynamic, however, that has been quietly developing in the background and may help explain the lack of the market's enthusiasm for the natural gas sector. In the past six months, at the same time as the front-months futures contracts were rallying, the back end of the futures curve saw a… meltdown. As shown on the graph below, the long-dated futures prices declines by as much as 20%-30% since June of 2013.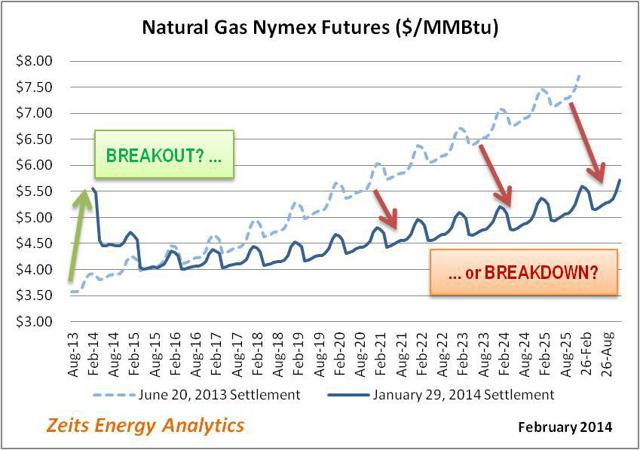 If one could rely on the Nymex curve to be a predictor of future natural gas realizations, this development would be a major concern from the natural gas stock perspective. The decline can be interpreted as the market's increasing disbelief in the ability of the growing demand (from LNG exports, power generation and petro-chemical complex) to tilt the balance in North America's natural gas sector. The new shape of the curve suggests that the decline in the cost of marginal supply is secular and low-cost sources are more than ample to meet demand increases during the next decade.
For low-cost gas producers that occupy the "baseload" position on the supply merit curve (such as Cabot, EQT and RRC, just to name a few), the decline in long-dated prices implies that their margins are now perceived to have less headroom. While this category of producers should continue to see solid profitability and growth, the returns and potential value upside are less exciting than one might imply from last summer's futures curve. For high-cost producers, the curve implies that their profitability will likely continue to languish and market share continue to shrink.
Clearly, it is difficult to fully ignore the negative implications from the shift in the long-dated (and, admittedly, very illiquid) segment of the futures curve. However, there are some reasons, in my opinion, to feel positive about natural gas fundamentals, at least in the short term.
A case can be made that the strength in the near-term natural gas prices may be sustainable at least for several months. The rationale is in fact sourced from the same less-than-optimistic structure of the futures curve.
From an operator's perspective, the portion of the futures curve that really matters begins approximately six months from now. This is the lead time that would be required to initiate an incremental natural gas-focused drilling program (receive approvals for capital allocation, hire additional drilling rigs, mobilize the supply chain, and complete several wells - assuming pad drilling). In the context of shale gas manufacturing, six months is perhaps the earliest when one can expect a meaningful supply response to a price signal.
The operator would want to source confidence from the futures curve that a profitable multi-well drilling program can have a meaningful duration (preferably, well beyond a year) and can be protected by hedges on a least the first year of production. It would be logical to expect therefore that an operator would want to see two-three years of firm pricing on the futures curve to initiate a significant new drilling program.
The following graph shows the change in the position of the futures curve for those months that would be most relevant to an operator's decision to accelerate drilling activity. The graph indicates that little has changed in future drilling economics - the way a typical natural gas producers see it - since last summer.
While there is clearly an improvement at the front end of the "hedgeable" segment of the curve, is does not appear significant enough to make a true difference from an operator's perspective. As a result, if an operator was reluctant to commit capital to natural gas drilling six months ago, the incentive is still not there now to change the situation.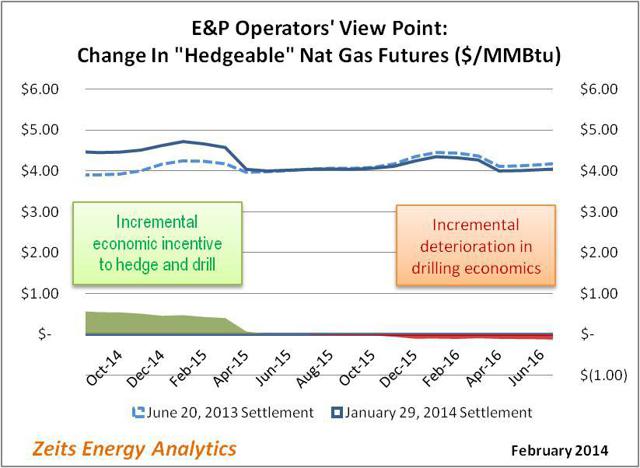 Given the projected low storage level at the end of the withdrawal season, additional drilling activity may be needed at some point to secure sufficient supply for the next winter season. In this context, the curve, arguably, may need to move to somewhat higher level for 2015-2016 timeframe in order to provide an incentive to operators. In the absence of such a move, the lack of drilling activity will continue to support natural gas prices on the downside.
Disclaimer: Opinions expressed herein by the author are not an investment recommendation and are not meant to be relied upon in investment decisions. The author is not acting in an investment advisor capacity. This is not an investment research report. The author's opinions expressed herein address only select aspects of potential investment in securities of the companies mentioned and cannot be a substitute for comprehensive investment analysis. Any analysis presented herein is illustrative in nature, limited in scope, based on an incomplete set of information, and has limitations to its accuracy. The author recommends that potential and existing investors conduct thorough investment research of their own, including detailed review of the companies' SEC filings, and consult a qualified investment advisor. The information upon which this material is based was obtained from sources believed to be reliable, but has not been independently verified. Therefore, the author cannot guarantee its accuracy. Any opinions or estimates constitute the author's best judgment as of the date of publication, and are subject to change without notice.
Disclosure: I have no positions in any stocks mentioned, and no plans to initiate any positions within the next 72 hours. I wrote this article myself, and it expresses my own opinions. I am not receiving compensation for it (other than from Seeking Alpha). I have no business relationship with any company whose stock is mentioned in this article.