Bank of America has been a lucrative investment for those that have ridden the recovery up to 2014. While the market goes schizophrenic and starts to run aimlessly like a headless chicken to start this year, Bank of America has pulled back slightly off of its highs.
However, it has still provided yields of 41% over the last 12 months and 18% in the last three months alone. In the midst of the market's correction in 2014, BAC has even yielded 6.4% this year.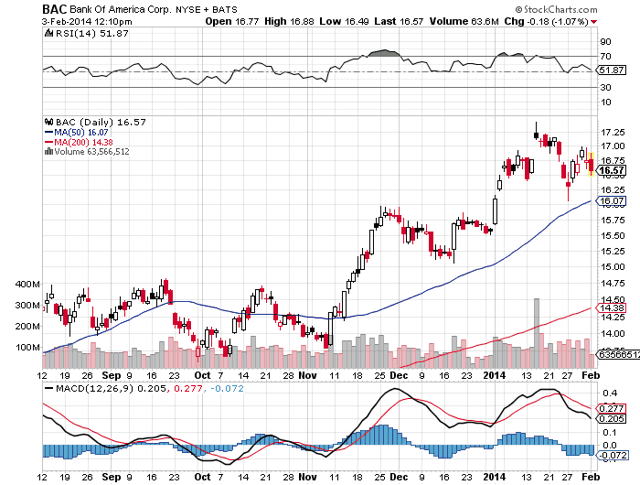 Click to enlarge
It's always great for any investor to see the brand name they've invested in pop up in the middle of the Super Bowl. RadioShack (NYSE:RSH) hit the biggest home run, following in the footsteps of Dominoes when it dissed itself before revealing its new look. I'm still not sold on RadioShack, but that's beside the point.
Additionally, it was nice to see Bank of America (NYSE:BAC) pop up with U2 in a debut of the band's new single. Bank of America has pledged to donate $1 for every download of U2's new single to the (RED) campaign against AIDS.
From RYOT:
(RED), rock group U2 and Bank of America today announced a partnership that will generate more than $10 million to fight AIDS.

Details are available at www.bankofamerica.com/RED.

The partnership will kick off with a commercial during the February 2 Super Bowl that will feature U2 performing a new song, "Invisible." The song will be available as a limited edition release on iTunes for free download during the game and for the following 24 hours.

For every download during that timeframe, Bank of America will donate $1, up to $2 million total, to the Global Fund to Fight AIDS, Tuberculosis and Malaria, which provides life-saving HIV/AIDS treatment, testing and prevention services to tens of millions of people in the world's poorest countries.
While not a fundamental press release that will move the stock, it was nice to see the bank getting some good press, especially as we march further and further from the ugly headlines of 2007-08. The bank continues to truck forward through the muck to start 2014.
So much of my thesis for investing in Bank of America since early 2013 has been to ignore the bank's legal woes - I argued they would eventually get them sorted out - and to invest in the leaner, meaner, more cost efficient company headed by CEO Brian Moynihan.
The bank continues to mow down its legal issues slowly, but steadily.
Reuters reported just last week:
A New York state judge on Friday approved Bank of America Corp's (BAC.N) $8.5 billion settlement with investors in mortgage securities, which would resolve much of the bank's liability from its acquisition of Countrywide Financial Corp during the financial crisis.

Justice Barbara Kapnick ruled that Bank of New York Mellon (BK.N), the trustee overseeing the securities, had mostly acted reasonably and in good faith in determining that the settlement was in the best interests of the investors.

American International Group Inc (AIG.N), which led opposition to the settlement, plans to appeal aspects of the decision, a lawyer for the insurer said.

Bank of America agreed to the settlement in June 2011 to resolve the claims of investors who had bought $174 billion of mortgage-backed securities issued by Countrywide. The investors said Countrywide misrepresented the quality of the underlying home mortgages, which went sour in the housing crisis.
And while its true that the effects of this settlement won't come to fruition until all of the post-trial red tape is taken care of, it is representative of getting yet another issue behind the bank. This settlement and the recent press are part and parcel of the new bank that Brian Moynihan has created - a bank that still has a lot of value to potential shareholders.
It's important to know that the bank has bucked the trend of 2014 thus far and, while being competitively price versus its peers in the banking sector, continues to be an appealing investment. On the heels of the bank continuing to put 2007-08 behind it and trucking through the 2014 muck, I plan on continuing to add to my Bank of America long position as the market dips.
Disclosure: I am long BAC. I wrote this article myself, and it expresses my own opinions. I am not receiving compensation for it (other than from Seeking Alpha). I have no business relationship with any company whose stock is mentioned in this article.