January 2014 was a wild ride for investors as stocks had their worst January since 2010. Maybe it is time to put the so called "January Effect" myth to rest. But investors have a lot of tangible aspects to rely on, such as dividends. This piece was written at the beginning of January, about 3 upcoming dividend increases in February.
SA readers seemed to like that article, which alerted investors about the upcoming increases and also presented estimates for the new dividend based on a few factors. So, this article is to alert investors about potential dividend increase announcements in March for three stocks that we follow. Let us get into the details.
What are the three companies?: Cisco Systems (NASDAQ:CSCO), Qualcomm Incorporated (NASDAQ:QCOM), and dividend legend Colgate-Palmolive (NYSE:CL).
When exactly to look forward to the announcement:
The table below should give a fair idea for investors on when to expect the new dividend announcements and their likely ex-dividend dates. The dates were compiled based on the announcement dates the last 3 to 5 years.

(Source: Table compiled with data from Yahoo Finance)
Recent History: The table below shows the last 5 dividend increases for Qualcomm and Colgate-Palmolive announced in the month of March. For Cisco Systems, it shows the total dividend growth so far, since the company initiated dividends only in 2011. Cisco has not paid the same dividend for more than 4 quarters in a row since initiating dividends in 2011. So, there is a very high chance that we might get an announcement in March 2014.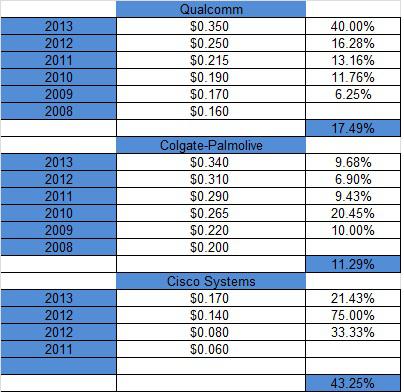 What To Expect ? The Verdict:
Based on the high, low, and average increases from each of the tables above, the table below shows the expected new quarterly dividends per share for these three companies.

Qualcomm's dividend growth rate has been going up each year as shown in the section above. This obviously was on the back of some terrific growth in the smartphone industry. It is highly unlikely for that streak to continue and we expect the dividend growth rate to come down this year. That said, Qualcomm is still very likely to announce a double digit dividend growth, which would put the new dividend somewhere between 40 and 42 cents per share. That would push the yield past 2%. It is better to be conservative than to be disappointed later.
Colgate-Palmolive's dividend growth rate has been around 10% for three of the last five years. To be on the safer side, the new dividend will be 10% higher than the current 34 cents a share, which means 38 cents per share.
As indicated in this article, this is perhaps Cisco's biggest chance to get income investors on its side, given how disappointing Intel Corporation (NASDAQ:INTC) has been recently. Expect Cisco to announce a dividend increase of at least 20%, which means a new quarterly dividend between 20 and 21 cents a share. This would put the yield on cost at 3.70% for those buying at the current price level. A yield of 3.70% would place Cisco firmly ahead of old rivals Microsoft (NASDAQ:MSFT) and Intel.
Conclusion: So, what are your predictions for these three dividend increases? Please leave your estimates in the comments section. Meanwhile, let us see how the February predictions (the article linked at the top) turn out.
Disclosure: I have no positions in any stocks mentioned, and no plans to initiate any positions within the next 72 hours. I wrote this article myself, and it expresses my own opinions. I am not receiving compensation for it (other than from Seeking Alpha). I have no business relationship with any company whose stock is mentioned in this article.