The AFG 50 is an actively managed buy list of 50 stocks, designed to outperform its benchmark (S&P 500) while remaining sector-neutral. The AFG 50 Portfolio serves as an outsourced research team, as our analysts monitor each major economic sector to provide our clients with actionable buy ideas backed by detailed models, reports, updates and a backup list for possible replacements within each sector. Any time that there is a change made to the list, i.e., new stock, reiterated/change of add/drop recommendation or adjustments made to models, our clients are immediately notified via e-mail.
The AFG 50 was launched on June 10, 2004 at AFG's inaugural client conference. Through April 12th, 2010, our clients have enjoyed the following performance:
click to enlarge

Click to enlarge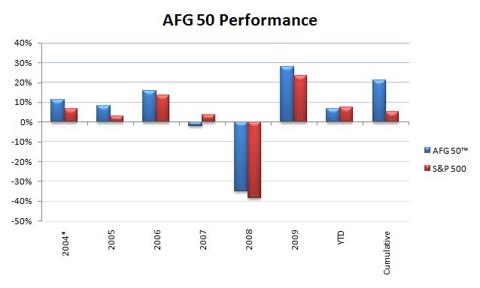 Click to enlarge
The AFG 50 has outperformed the S&P 500 benchmark 5 out of 6 years with Cumulative Performance of over 1,500 bps.
• AFG50 and AFG100 are buy lists and results do not include management fees or transaction costs.
• AFG50 and AFG100 are re-balanced at end of each quarter to remain sector neutral vs. their respected benchmark, S&P500 and Russell 2000.
• Average Annual Turnover: AFG50 less than 20%, AFG100 less than 40%.
AFG 50:
• An actively managed buy list of 50 stocks, remaining sector-neutral.
• Long-only and targeting turnover of less than 40% annually.
Our Goals:
• To consistently beat the index our clients are most often measured against, the S&P 500.
• To serve as an outsourced research team, distributing relevant content to our clients on a timely basis.
• To provide consistent, actionable buy ideas in each major economic sector.
Here is a sample report from our AFG 50 buy list. The AFG 50 buy list provides institutional investment firms access to a devoted research team and investment process with the specific goal of consistently beating the S&P 500. The AFG 50 leverages our client's investment process and enables them to focus on their core strengths. Below is a sample equity research report updating our thoughts on Stericycle, Inc. (NASDAQ:SRCL):
Recommendation:
Stericycle Inc provides medical waste management and return management services in the U.S. and in key international areas. Medical waste management is provided to large medical waste generators, such as large hospitals and blood banks, and small waste generators such as physicians' and dentists' offices and retail pharmacies. Return management is provided for recalled and expired drugs on behalf of pharmaceutical manufacturers and retail pharmacies that normally lack the resources and capability to conduct proper handling. SRCL's waste treatment technologies include sterilization, incineration and chemical treatment through a network of processing centers as well as transfer and collection sites.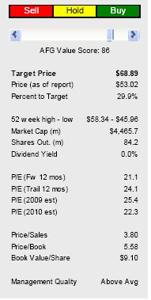 The fragmented medical waste industry provides growth opportunities for SRCL's unique service offerings, allowing the company frequent purchases of businesses that enhance its geographic footprint and network efficiencies. As the global population continues to grow, accompanied by growing demand for illness treatment, medical waste around the world is likely to increase. SRCL continues to focus on acquiring businesses and expanding its expertise in handling medical waste to maintain its leadership position.
Our $69 target price suggests 30% upside. We reiterate a Buy rating for SRCL and will continue to hold it in the AFG50 portfolio as a core Industrial sector holding.
Recent Events:
During Q4 09, SRCL completed 6 acquisitions, including 4 outside the U.S. To deter U.S. antitrust issues for its $185 million MedServe Inc. acquisition, SRCL sold a sterilization facility in Kansas, as well as transfer stations in 4 states. The international acquisitions were in Portugal (the 1st in continental Europe), Romania, Canada and Chile. Most of the acquisitions in international markets are weighted towards large quantity medical waste generators, such as hospitals.
On December 23, SRCL announced that it would close its Boynton Beach, Florida plant and lay off 29 employees. The layoffs are scheduled to take place on February 28.
Click here to download and view the entire 10 page report on Stericycle, Inc. (.pdf). To stay updated on companies AFG believes are attractive investment opportunities register here.
Disclosure: None