Last week, AudioCodes (NASDAQ:AUDC) finally delivered quarterly results that confirmed how successful its One Voice vision and strategy has become in making it a dominant player in the vibrant VoIP market. AudioCodes has positioned itself brilliantly over the past 5 years as a one-stop shop in the VoIP market, during a period in which VoIP has gone from being considered a fad to a hot technology sector. As someone who brought AudioCodes to Seeking Alpha followers in September 2012 at $1.45 per share, I now say with complete confidence, AudioCodes isn't about finding its One Voice strategy, it's now about delivering very strong results quarter after quarter.
The sole analyst covering AudioCodes, Oppenheimer's Andrew Uerkwitz released a very glowing note on 4th quarter results, but maintained his market perform rating. He said he "preferred to stay sidelined with a positive bias." To me, this screams of the famous quote by Winston Churchill, "Kites rise highest against the wind, not with it." There's no reason at all to sit on the sidelines unless you want to miss out of a super bull run or you want to let your institutional clients in at a discount.
Here's why I believe AudioCodes is set to hit my short-term target (45-60 days) of $10 and could potentially hit my 9-month target of $16:
AudioCodes reported 4th quarter revenues of $36.3 million, net income of $0.05 per share and cash flow of $5.6 million, which was in line. What AudioCodes delivered was an outstanding conference call. I can honestly say that I walked away from this call so thrilled that;
1. My decision to stay long AudioCodes since September 2012 was the right call.
2. Needham and William Blair have got to be excited since they have participated on numerous calls as reported by me.
3. It is now evident the Unified Communications (UC) market has strengthened, that Microsoft (NASDAQ:MSFT) Lync is achieving great success in this market and that AudioCodes has positioned itself to benefit from these two trends.
4. AudioCodes is without question a takeover target in 2014, as it's the only one-stop pure play VoIP company left in the market.
Here's why the call was so positive in my eyes:
Guidance: Guidance was raised to $150 million vs. the $148.5 million consensus estimate, and backlog was reported to be 45% higher than this time last year. Furthermore, gross margins were up 100 basis points to 58.1% and management said to look for gross margin expansion in quarters ahead.
Microsoft Lync: Seeing larger deals than ever before, and many of the signed deals are moving past the trial stages to implementation. AudioCodes sees Microsoft Lync sales up 40% in 2014 vs. 2013. Look for management to make a series of announcements at the upcoming Microsoft Lync Conference and the Mobile World Congress, as the company has readied itself for the cloud. I believe this could lead to explosive growth for the company in 2014 and beyond.
Services: Typically a higher-margin business, services became a bigger part of the revenue mix in 2014 and should now be growing sequentially throughout the full year.
Software: Software is now more encompassed in the company's portfolio of products, setting the stage for what I see as a chance to touch 60-61% gross margins in the 2nd half of 2014.
New Products: Software-based Session Border Controllers (SBC) (70-80% gross margins) with up to 16,000 sessions is bringing new growth to this relatively new product group (2012). This is an area I believe is being overlooked, especially as Acme Packet (SBC player) was acquired for 60 times EPS or 5-6 times revenues.
Gross Margin Expansion:
Make no mistake about it, Wall Street wants to own companies that can generate more cents on every dollar of sales. For the first time in over two years, investors heard just that from AudioCodes' usually super-conservative CEO who said, "We believe that this is a sustainable gross margin range or better, given our transition for better mix of products, among them software solutions and services." I believe gross margin expansion is the key to AudioCodes being acquired, as it'll show that it has strong partnerships, products, R&D and services which can be leveraged by a larger player in the market. This is where investors' sole focus should be on going into Q1 2014, which is usually a seasonally slow quarter.
A pure example of this was played out last week, when RF Micro Devices (RFMD) reported its results, where it missed revenue estimates but beat on gross margins. RF Micro Devices backed its gross margins in the seasonally slow March quarter, and the shares responded by jumping over 10%. RF Micro Devices was rewarded with upgrades and increased price targets post the conference call. This is where AudioCodes sits as its services and new products begin to enter the markets.
Chart: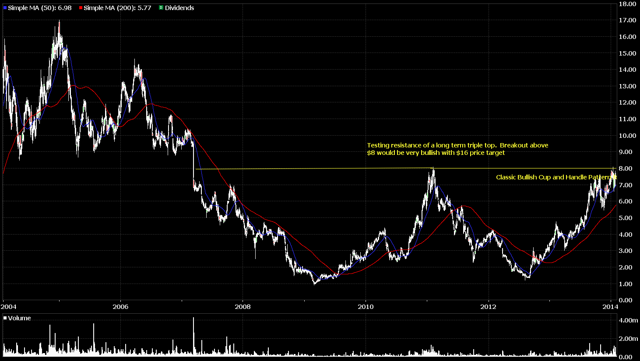 AudioCodes recently found support at the 50-day moving average, and is poised to break out to new highs. A break out above $8.11 from a cup and handle pattern should see a quick run to $10 before we see some digestion of the move. Longer-term, a break out above $8.11 will signal a new leg up and should see AudioCodes make a move to $15 - $16.
Secondary Rumors:
Over the last month, there's been a series of rumors that AudioCodes is doing a secondary offering. The rumors are swirling based on the company updating its registration statement (75 million), which expired in 2013. I can honestly say as a long-term holder, and unlike many short term-minded investors, that a secondary would be a welcoming factor with the position AudioCodes sits in today and the massive market it participates in. Wall Street is not the same as it was in 2000. Research is not paid for by the buy side, so the sell side doesn't just initiate coverage because you have a great story. Brokerages have become niche players, with select, top-notch institutional clients that they know very well. As a result, they selectively hand-pick companies that fit their clients' interest. In my opinion, Needham and William Blair both fit this profile. In fact, over this past year, they've had great success doing secondary offerings and getting these companies noticed. Knowing what AudioCodes possesses, I believe that it could easily handle any offering, and could even be 5 to 6 times oversubscribed if it releases more details on its unrecognized mobility OTT platform (85-90% gross margins).
The CEO and co-founder are the largest shareholders, and if they think it's smart to have a secondary then so should you, as they have more to lose than any of us. I personally believe a secondary will get AudioCodes into the hands of the top institutions, see it garner initiations of coverage and buy ratings by Wall Street research firms and also bring it to the attention of investment bankers to shop it to the likes of Dell, Hewlett-Packard (NYSE:HPQ), IBM (NYSE:IBM), Polycom (NASDAQ:PLCM) and Sonus Networks (NASDAQ:SONS) in the quarters to come as they want to make their top clients a lot of money. It makes sense to me.
As you can see from the table below, AudioCodes' institutional ownership is dwarfed by that of rival Sonus and even newcomer 8x8 Inc. (NASDAQ:EGHT). It is my belief that for AudioCodes shares to make the kind of bull run I envision, it will in part be caused by institutions coming on board. To get the ball rolling and to get institutions on board, a secondary could be the perfect vehicle.
| | | | |
| --- | --- | --- | --- |
| | # of Institutional Holders | Institutional Shares Held | Institutional Ownership |
| AudioCodes | 36 | 6,103,862 | 15.83% |
| 8x8 Inc. | 130 | 36,796,481 | 42.95% |
| Sonus Networks | 150 | 150,197,828 | 54.92% |
In mid-November, 8x8 Inc. did a 14.3 million share offering, so the number of institutional holders is probably more like 150-170 holders (we will find out on February 15th when institutional holdings is reported). The deal was priced at $9.25, and 8x8 Inc. traded as high $11.50 as recently as mid-January.
Valuation/Takeover Valuation
I cannot fathom how an analyst that took the time to write a report after hearing the conference call would maintain a market perform with a $7 target on the shares. AudioCodes has done so much to reenergize and refocus itself - it now possesses very strong knowledge and IP in voice.
In justifying my thesis, one must look not at AudioCodes' valuation at this moment, but look at where it is and where it came from. The Voice market has gone through a lot of different competing technologies making the overall UC market a fragmented one for the past decade. In that span, many companies faced bankruptcies, mergers, takeunders and takeovers due to the numerous false starts faced in the industry. In that long period, AudioCodes stood alone throughout numerous product cycles, which brewed strong intuition, cleverness, acuteness and outside-the-box thinking in a very concentrated specific technology, voice. That myopic approach was stirred by the CEO, who is an engineer by trade. More specifically, he was a voice engineer specializing in digital signal processing (DSP), and behind that skill set was the strong mindset of his cultural roots, which in my mind's eye has created one very strong company or now better viewed as one strong division of what I believe to be a system integrator such as: Dell, AT&T (NYSE:T), Hewlett-Packard, IBM or other key industry players in Sonus or Polycom. Heck, the industry is in the midst of another consolidation run, as Acme Packet and others have been scooped up at tremendously high valuations.
That said, you must look at AudioCodes as being at the top of its game (new products, services growing, software-based offerings) in the heat of the game (UC market is technology-focused). I value AudioCodes on how another company can leverage its core competencies post an acquisition. I put 10% growth on the 2014's $150 million revenue estimate and get $170 million for 2015. I take the $19.5 million of operating expense from 4th quarter 2013, and call for $80 million op ex for 2014 ($20 mill per quarter) and place 5% growth for 2015 or $84 million in operating expenses. I believe an acquiring company could eliminate conservatively $34 million in expenses and make AudioCodes earn over $1 per share in EPS. The company will be sitting on $62 million in cash by year end and zero debt if it keeps up its pace. I believe at $15 -$16 per share, AudioCodes will be acquired at 15 P/E of the S&P average trades today, with over $1 per share in cash. A win-win for both parties.
| | | | |
| --- | --- | --- | --- |
| Estimates | Consensus | 10% Growth | Post-Takeover Operating Model |
| Revenue | $150 MM | $170 MM | $170 MM |
| Gross Profit (60% Margins) | $90 MM | $102 MM | $102 MM |
| Operating Expense | $80 MM | $84 MM | $50 MM |
| Net Profit | $10 MM | $18 MM | $52 MM |
| Shares Outstanding | 39 MM | 45 MM | 45 MM |
| EPS | $0.26 | $0.40 | $1.16 |
Conclusion
On Wall Street, you're always told to "buy when there's blood in the streets" and "do not follow the herd mentality." I think when a company like AudioCodes, a sole soldier left in a consolidating industry with very strong technology, strategy and know-how, delivers extreme confidence on its outlook, one must scratch one's head when the lone analyst gives a raving review but holds off on what seems to be an obvious upgrade of the shares. I say if you own AudioCodes, do not get spooked out of any shares here, and if you don't own it, then you should be a buyer of your position for a bull run to $9-$10 per share in the short term and a potential double to $15-$16 per share by year end. Again, I think it's better viewed as a division of a much larger player than as a small cap voice company fairly priced.
Disclosure: I am long AUDC. I wrote this article myself, and it expresses my own opinions. I am not receiving compensation for it. I have no business relationship with any company whose stock is mentioned in this article.