Starbucks (NASDAQ:SBUX) has one of the strongest and most-recognized brands in the world. We think its brand name is largely responsible for it being able to charge lofty prices on its coffees and drinks, despite significant competition in each of its markets. Starbucks' fiscal first-quarter results (ending December 29, 2013) reminded us of this solid position, which appears to be nearing impregnability given the strong pace of traffic trends and profit improvements.
The coffee giant announced that it experienced 12% revenue growth during its fiscal first quarter thanks to strong holiday sales and solid store traffic, which drove quarterly revenue to a record $4.2 billion. Even though prices for its beverages are set at premium levels, the firm is having little trouble driving increased traffic. Global comparable store sales grew 5%, with 4 percentage points of that growth coming from higher traffic. Americas and U.S. comp growth told a similar story, while EMEA comp growth set the highest pace of expansion in 13 quarters (mostly driven by higher traffic as well). Starbucks' China/Asia Pacific comp growth of 8% was comprised almost entirely of more people in their stores. It's possible that given the rapid pace of traffic expansion, raising prices on its offerings even more would be a net benefit to operating-income dollars.
Starbucks executed well in the period, too. The firm's consolidated operating income advanced 29%, which is remarkable (given that revenue expansion was less than half of operating income growth, and revenue itself was driven more through increased traffic than higher prices). Though the company benefited from lower commodity costs (see image below) and the absence of a few non-routine expenses in the prior-year quarter, the coffee giant may be leveraging its store base and other non-variable costs at present better than at any other time in its history. The 260 basis point increase in its consolidated operating margin, to a record 19.2%, speaks to this enhanced performance, and we believe Starbucks is years away from global store saturation (even as the company ended the period with an eye-opening 20,184 stores).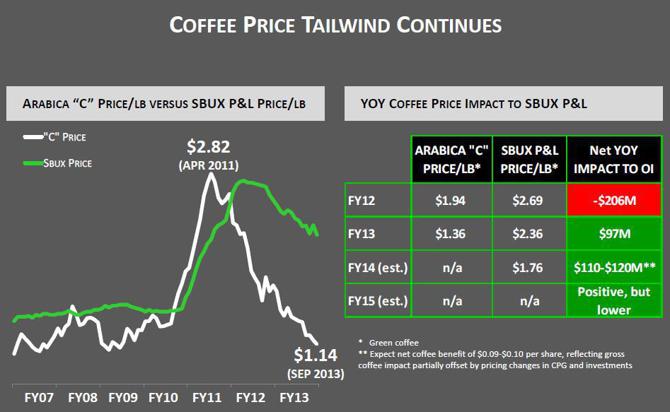 Click to enlarge
Image Source: Starbucks
Looking ahead, the company expects revenue growth of 10% or more in fiscal 2014 (ends September), and global comparable store sales growth in the mid-single-digits, a target the firm has hit consistently for some time (see image below). Starbucks expects to add another 1,500 net new stores during the fiscal year. The firm expects its consolidated operating margin to improve another 150-200 basis points over fiscal 2013, pegging earnings per share in the range of $2.59-$2.67, slightly higher than its previously-issued range of $2.55-$2.65 per share. Our forecast for the year is $2.68 per share, slightly above the high end of the newly-issued range. We're sticking with our above-market estimate.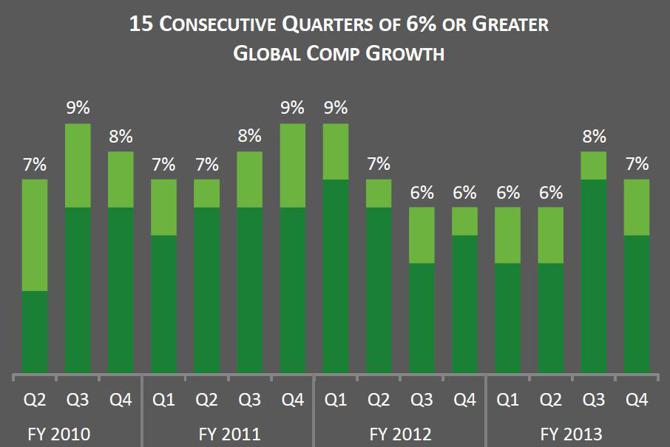 Click to enlarge
Image Source: Starbucks
Valuentum's Take
Consumers seemingly can't get enough of Starbucks. The company's traffic trends are marvelous, and it continues to reap the rewards of lower coffee prices and enhanced fixed-cost leverage across its channels of distribution (retail, CPG, and digital). The firm's return on invested capital signals economic value creation, and management continues to give cash back to shareholders in the form of dividends and share repurchases. Starbucks' cash-flow generation is robust, and its balance sheet is very healthy, offering significant financial flexibility and strength to keep raising its dividend year after year.
Still, shares are not cheap. At nearly 30 times fiscal 2014 earnings, the company is receiving too hefty of a premium, particularly given the variability in its long-term cost structure with respect to coffee prices. Though we expect a modest upward revision to our fair value estimate upon the next update, by no means do we think Starbucks' shares are cheap. The market is pricing Starbucks on purely an "upside" case, where a "base" case considering a normalization of coffee prices and long-term traffic growth is more appropriate. As such, we do not hold shares of Starbucks in the Best Ideas portfolio.
Disclosure: I have no positions in any stocks mentioned, and no plans to initiate any positions within the next 72 hours. I wrote this article myself, and it expresses my own opinions. I am not receiving compensation for it (other than from Seeking Alpha). I have no business relationship with any company whose stock is mentioned in this article.