The last few months have been tough for offshore rig lessors. These companies, whose profits are tied to Brent Crude prices and dayrates for rig leases, have almost uniformly seen their stocks decline by double digits since October. The scare in emerging markets' debt, currencies and economic growth, if anything, has made the situation for the economically sensitive commodities sector that much more volatile.
Offshore rig lessors, which are generally regarded as a bet on consistently high international oil prices, have been hit particularly hard. One of the most noticeable declines have been in SeaDrill (NYSE: SDRL), a large-cap rig lessor. SeaDrill is a Bermuda-based company with mostly Norwegian management. Of all the major drillers, SeaDrill has the youngest fleet and is the most oriented toward deepwater and ultra deepwater, the later of which refers to drilling at depths exceeding 1,500 meters. This, as we will see, is a good thing.
SeaDrill also has the highest rig utilization of all the major operators, and is often a contender for the highest margins and the highest return on invested capital in the offshore rig space. Best of all, SeaDrill's U.S. shares pay a substantial dividend yield of 10.5%, and that is a sustainable dividend. In fact, SeaDrill's yield is only this high because the stock has dropped by over 20% from its October high. It is an "accidentally high yielder," and a value that I believe is worth looking in to right here. This article will look at SeaDrill as a business, look at some of the concerns expressed by financial media, and finally analyze the company's debt and valuation.
Operations
SeaDrill operates a versatile fleet of 69 offshore ships that include drillships, jack-up rigs, semi-submersible rigs and tender rigs for operations in shallow to ultra-deepwater areas in harsh and benign environments. But as a company, SeaDrill is among the youngest and most deepwater-focused of all the offshore lessors. This is a good thing for a few very important reasons. First, a majority of new offshore oil discoveries are now happening at depths exceeding 5,000 feet, so the future of offshore drilling activity will be in deepwater and ultra deepwater.
Second, because supply for deepwater and ultra-deepwater is the most constrained, and because drilling at these depths is very capital intensive, dayrates for these types of rigs are also the highest and carry the greatest profit margins.
Third, the Macondo disaster in 2010 has ushered heightened need for safer, technologically state-of-the-art rigs. As such, operators are putting a premium on newer vessels.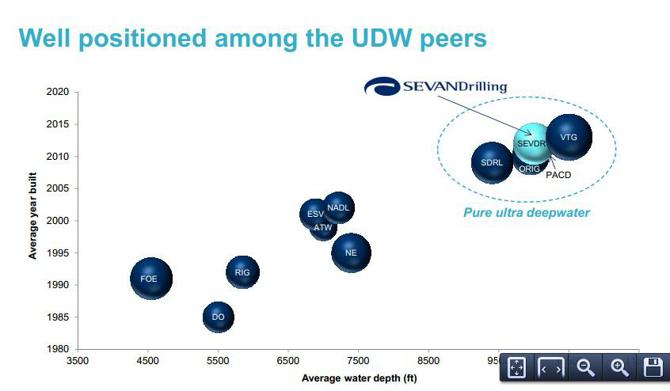 Courtesy of Sevan Drilling Investor Relations
The chart above, courtesy of Sevan Drilling, shows that SeaDrill has among the youngest and most deepwater-focused fleet. A recent article in Barron's cited a downgrade of offshore lessors by Barclays in which an analyst stated the possibility of a drop in day rates to $475,000 from that of $600,000 today due to an abundance of older rigs which operators are less willing to use. If that indeed does happen, with one of the youngest fleets in the business, SeaDrill should have some protection.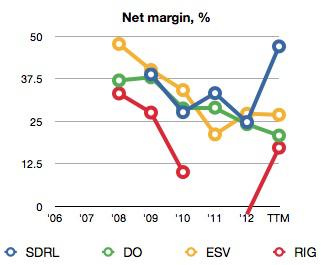 Data by Morningstar
Looking at net margins, we can see the benefits of having one of the youngest fleets. Since 2009 SeaDrill's net margins have been either at or near the highest in its group. And so far this year, SeaDrill has had the highest net margin.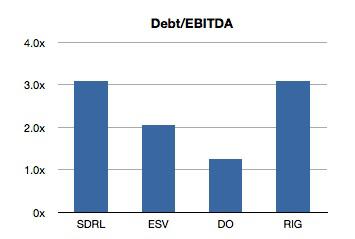 One of the most important things to understand about SeaDrill is its relatively high leverage. The chart above shows that, on a debt to EBITDA ratio, SeaDrill is just about the most indebted amongst its peers. Net debt is over $10 billion. But let's look closer. SeaDrill took on debt when it was inexpensive to do so, and used the proceeds to order a newer, more deepwater-focused fleet that will boost earnings as global deepwater oil activity is forecasted to grow steadily in the future. Most of SeaDrill's $10 billion in debt is fixed and much of which isn't has interest rate swaps which reduce exposure to rate volatility.
This year, according to the latest presentation, just under $1.5 billion in bonds will come due. Management will probably have to refinance that amount. While SeaDrill would be effected by substantially higher rates, I believe that the company's growing EBITDA will help keep the situation under control.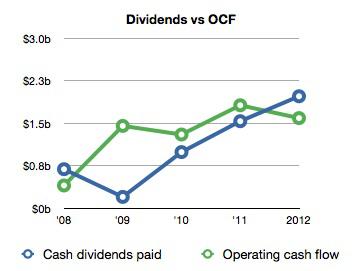 Because of SeaDrill's unusually high dividend yield, the sustainability of its dividend is a big concern of retail investors. A cursory look at the company's balance sheet shows that SeaDrill cannot pay the dividend from cash flow. The reason for this is primarily SeaDrill's capital spending, which in 2012 amounted to over $1.5 billion and is on course to be perhaps over $2 billion in 2013, compared to only $1.59 billion in operating cash flow in 2012. This capital is being spent to expand the company's deepwater fleet which, as we will see, management believes will grow earnings substantially through at least 2016.
But back to that dividend. As long as SeaDrill can manage it's admittedly substantial debt, the company's dividend will be fine as long as earnings grow and continue to grow. In 2012, the company paid $1.97 billion in dividends but took in only $1.59 billion in operating cash flow. This shortfall, however, was due to a $1.4 billion "other non-cash" charge which masked a year of otherwise great results. That charge was in fact due to a decline in mark-to-market value of an unrealized derivative, and there will be no cash transaction until that derivative runs its course and is realized. When considering that charge as only a one-time event, operating cash flows would have been $3.8 billion, compared to a dividend of just under $2 billion.
Barron's Is Worried
An article from Barron's which came out a few days ago cited a Barclays downgrade of deepwater rig lessors. The article warned that because older deepwater rigs are remaining operational these rigs would drag down dayrates overall. The article's author, Ben Levisohn, wrote that SeaDrill could plummet by up to 52%. While I don't believe that SeaDrill is immune to further downside right here, especially if the emerging markets situation continues to deteriorate, a 52% drop is far too steep in my opinion. As one online commenter mentioned, SeaDrill has the newest fleet and most units are already under contract for the next three years. Furthermore, Barron's oversupply concerns just aren't shared by SeaDrill's management, which sees continued strong demand for the newest deepwater and ultra deepwater rigs.
What To Expect From SeaDrill

Thanks to a bevy of brand new, ultra deepwater ships which will come online over the next few years, SeaDrill expects to grow EBITDA from around $3 billion in 2013, to well over $4 billion by 2016. Of course, this could be hurt if day rates plunge and stay low, but I believe much of that fear is unwarranted. As long as the biggest conventional fields remain off limits to international capital and the world's shale oil reserves remain mostly untapped, deepwater operations will be the only supplement to maturing onshore output. Hence, deepwater activity will continue to grow and with a young, deepwater-focused fleet, SeaDrill will be at the forefront.
Valuation and Conclusion

As with many dividend-centered stocks, SeaDrill's stock price often has an inverse relationship, momentum wise, to its dividend yield. By this metric right now and with a dividend yield of over 10.5%, SeaDrill is a compelling buy. Not only that, SeaDrill now trades at only 10.35 times forward earnings.
The market is seriously discounting SeaDrill right now. While there may be some legitimate concern about lower dayrates going forward, I believe that SeaDrill will weather through this because of its young fleet and deepwater and ultra-deepwater focus. And while the company's dividend is not covered by free cash flow, this is because SeaDrill is spending big to expand its fleet and grow earnings through 2016. SeaDrill, in my opinion, is one of the best values on the market right now.
Disclosure: I have no positions in any stocks mentioned, and no plans to initiate any positions within the next 72 hours. I wrote this article myself, and it expresses my own opinions. I am not receiving compensation for it (other than from Seeking Alpha). I have no business relationship with any company whose stock is mentioned in this article.