"Hundreds and hundreds of times" - that is the meaning of Baidu (NASDAQ:BIDU), one of the largest web service companies in China. Their name exhibits their persistence to achieve the highest quality for their company, including both customers and investors.
Baidu is slated to announce 2013 Q4 earnings after the bell on February 4, 2014. After this release, investors will gain a better understanding if Baidu.com's persistence has paid off.
Back in 2013 Q3, Baidu.com announced earnings of $498M on $1.453B in revenue. This represents an increase of 1.2% and 42.3% from 2012 Q3, respectively. This disconnect between the growth of revenue and net income rattled investors, putting Baidu into a week long downward trend, shaving 10% from its market cap.
Since then, shares have increased to the same levels as seen before 2013 Q3. The Q4 earning's release can show investors the continued lack of net income growth, or a turnaround in the makes.
In the most recent quarter, Baidu recorded a shareholder equity of approximately $5.8B, compared to a current market cap of $53.86B. However, analysts are predicting a $40 EPS next year (according to Yahoo!), leaving Baidu at a forward P/E multiple of just about 4.
Several questions come to my mind when I look at these numbers - why is Baidu.com trading at such a discount to its peers, and how will they achieve a 25% year over year expected EPS growth?
The lowest EPS estimate for next year is $33.81, putting it a forward P/E of less than 5. How could this be?

Upon further persistent analysis, I discovered that analysts had left their estimates in RMB, even for a stock that trades in USD . This is perplexing to me, and clearly makes up for Yahoo! Finance's (NASDAQ:YHOO) numbers, stating a forward P/E of just 3.86 and a price target of $1128.96.
When we convert these estimates to USD, they make a lot more sense. An average 2014 EPS estimate of $6.58, forward P/E of approximately 24.25, and a price target of $186.27. After looking at these numbers, we see that Baidu is no longer at a major discount to its peers, but instead valued above market averages. This leads me to my second question: Baidu's evaluation.
Baidu continues to expect close to 50% revenue growth, while there is no indication (in their release) about increasing net revenue growth.
Baidu has acquired several companies, include PPS's online video business for $370M. While initially it looks like a PC play (#1 in Desktop Client Installations), it is also the leader in mobile applications, adding to Baidu's mobile initiative.
Baidu has also recently acquired 91 Wireless for approximately $1.9B, to compete with its rival Qihoo (NYSE:QIHU) 360 Technology in its mobile business. While the price seems excessive for a company with approximately $50M in revenue last year, it shows the price Baidu is willing to pay in order to continue its growth (91 grew its revenues by more than 300% last year). While other companies are trying to target Baidu's PC business, Baidu is expanding into mobile.
It's investment in mobile began to payoff in Q3, with 130M active daily search users. Credit Suisse anticipates a continued growth in these numbers, giving Baidu an Outperform target, with an increase in net income growth (25% for the next two years).
Operating margin began a sudden drop several quarters ago, but now seem to be stabilizing and entering an upwards trend.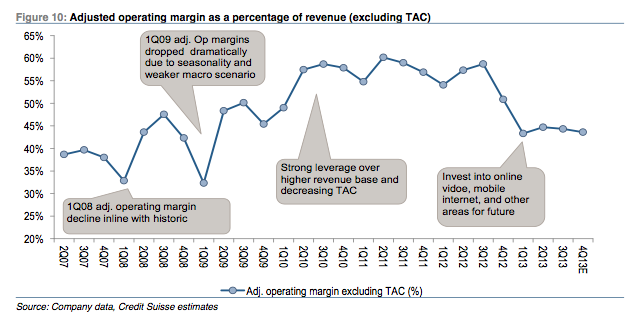 As seen in the chart above, Baidu began taking steps nearly a year ago to invest in its future (mobile), and they should began to payoff in the coming year. The guidance released by Baidu in Q4 should give investors an idea of future margins.
I believe that Baidu already gave several clues in its Q3 conference call including this:

Not only is Baidu growing in several of its recent investments, but its core business remains strong: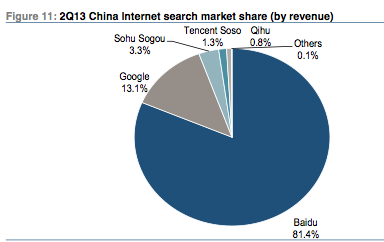 I believe that Baidu's case is similar to Yahoo!'s. As Marissa Mayer, Yahoo!'s CEO says:
"People then products then traffic then revenue..."

-Marissa Mayer, Yahoo! CEO, Q2 2013 Earnings Call
In my Yahoo! article, I analyzed Mayer's idea, and now believe that it is also very comparable to Baidu. Baidu maintains more than an 80% market share in the Chinese search market, as well as several growing initiatives. They have attracted the users, and the revenue (approximately 50% year over year revenue growth).
Now Baidu can turn its attention to its attention to monetizing its web assets. It currently has 35% net margins, down from approximately 48% a year ago.
Analysts predict revenues of approximately $7B next year, up from $5.2B this year. Baidu is expected to earn $1.73B next year (25% margins), though a turnaround seems imminent. As seen previously, Net Margins are beginning to bottom out at approximately 30%, with tremendous upside to previous highs.
Because of previous persistence and preparation, Baidu could earn upwards of $2.5B if margins bottom out with help from its mobile products. With profitability in multiple divisions in the works, it would not be surprising if Baidu beats analyst EPS estimates by upwards of 40% next year. Baidu's persistence may pay off, starting with the Q4 earnings report and peek into the future.
Disclosure: I am long YHOO, BIDU. I wrote this article myself, and it expresses my own opinions. I am not receiving compensation for it (other than from Seeking Alpha). I have no business relationship with any company whose stock is mentioned in this article.