Delta Air Lines Inc. (NYSE:DAL) is a major American airline headquartered in Atlanta, Georgia, home to the world's busiest airport. Hartsfield-Jackson Atlanta International Airport was ranked the world's busiest airport in 2012 in both number of flights, and number of passengers. Hartsfield-Jackson Airport accommodated over 95 million people (more than 250,000 people daily), along with over 950,000 flights (2,600 flights daily). With Delta Air Lines averaging over 1,000 flights a day from Hartsfield-Jackson Atlanta International Airport (accounting for 40% of HJ daily flights) it is clear that Delta is a major presence in contributing to HJ's airport dominance.
Delta Airlines services over 160 million customers every year, and Fortune magazine even named Delta Air Lines "the most admired airline worldwide" in 2013. With over 330 destinations in more than 65 countries and 6 continents, Delta Air Lines offers supreme worldwide service.
Delta's numbers are out of this world, considering their additional unnoticed revenues from various other businesses they own. Delta's cargo transportation business alone brought in over $1 billion in revenue. You may not have noticed, but with Delta promising to return $1 billion to shareholders through dividends and a $500 million share buyback program, this will definitely help make a big dent in their $1 billion investment.
As many may know, the cost of jet fuel has an immense impact on company profits, taking up over 37% of the company's cost alone, totaling a stunning $12 billion. Rest assured, Delta Air Lines has purchased their own refinery to control steep fuel costs. This smart idea is estimated to reduce its annual fuel expense by over $300 million! This efficient budget cut will help not only save the company millions of dollars to fund the company's buyback program, but also it will protect against inflation in gas.
Even more surprising, Delta Air Lines also owns a 49% stake in Virgin Atlantic. Virgin Atlantic is a small United Kingdom airline that carries around 5.4 million passengers a year. They are comprised of some 39 planes with over 34 destinations in 4 different continents.
Although these three businesses are not a fraction of the size of Delta's main airline business, they do have the potential to grow to monstrous sizes and help differentiate Delta's stock. Purchasing Delta is like a BOGO deal, except you are getting three for one! One Delta stock is equal to an oil business, one cargo transportation business, and one and a half airlines. This is a great investment opportunity that comes along with a three business safety blanket leaving Delta no choice but to soar.
Stepping away from the business aspect, and into the consumer aspect, Delta offers many great features other airlines don't. Delta offers on board Wifi along with beautiful HD monitors to make the travelers experience more enjoyable. Complimentary drinks and snacks are also provided on every flight. Delta in addition offers "SkyMiles" to reward frequent customers with points for every mile flown, to later be redeemed for free flights and add-ons. Delta's goal is to make the flight as enjoyable and stress-free as possible, which is clearly executed to perfection. Delta has also just released their latest safety video that encompasses an 80's theme to entertain adults (their target market is adults age 40-60) with a little laughter and recollection of childhood memories.
The Future:
Delta Air Lines has a very nice 11.81 P/E and moderate .78% annual yield. Along with the recent 5% pullback in the Dow Jones due to emerging market worries and weak earnings, I believe this is a good time to purchase a great stock at a clearance price.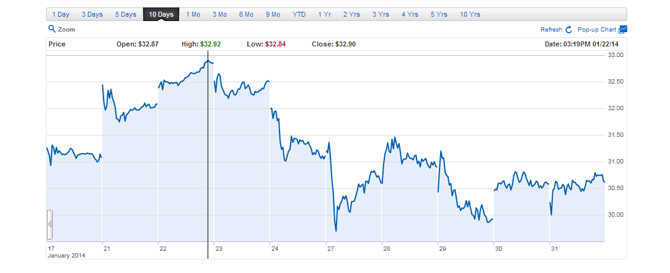 Delta Air Lines was at its 52-week high just days before the big pullback, and I believe it's going to rebound as soon as the market recovers. My target price is $35 a share.
RISKS:
With Delta Air Lines growing over 120% in just the last year, this may be an overvalued stock. With a lousy .78% yield and a potential spike in gas prices, Delta's stock price can surely crash and burn. Delta's three additional businesses may in turn negatively affect Delta, costing Delta billions.
Disclosure: I have no positions in any stocks mentioned, and no plans to initiate any positions within the next 72 hours. I wrote this article myself, and it expresses my own opinions. I am not receiving compensation for it (other than from Seeking Alpha). I have no business relationship with any company whose stock is mentioned in this article.