Since the global equity markets bottomed out in March 2009, the financial sector has been one of the top-performing corners of the U.S. economy. After being hammered as fears of a financial meltdown spread through Wall Street, big banks have recovered to strengthen their balance sheets, begin reporting profits once again, and even pay back big chunks of government bailout funds.
After the passage of a comprehensive health care reform earlier this year, the financial sector appeared to be one of the indirect beneficiaries. With the Obama administration seemingly spending all of its political capital to muscle health care legislation through, many investors expected a long-simmering financial overhaul to lose some of its bite.
But so far, that hasn't been the case. Democrats are pushing ahead with a plan to drastically change the way Wall Street banks trade derivatives, a move that some worry may eat into the bottom line of one of the industry's most profitable segments.
Under the most likely plan, derivatives, which are currently traded in private deals between two parties, would be moved to larger clearinghouses that would force the disclosure of details on derivative pricing and structure. The worry is that this additional disclosure would allow rival institutions to glean details on the nuances of derivatives trading, thereby facilitating more effective competition. "Wall Street giants Goldman Sachs Group Inc. (NYSE:GS), J.P. Morgan Chase & Co. (NYSE:JPM) and Morgan Stanley (NYSE:MS) had been pressing hard in recent days to dilute provisions of the bill that would change the rules for derivatives trading," writes Damian Paletta. "But the Obama administration, which has made this one of its priorities for the financial-regulatory bill, has pushed back hard and appears to be succeeding."
According to the Comptroller of the Currency and industry estimates, the "big five" derivatives traders - Goldman, JPMorgan, Morgan Stanley, Bank of America (NYSE:BAC), and Citigroup (NYSE:C) - generated revenues of about $20 billion in 2009.
Financial ETFs In Focus
Investors who overweighted the financial sector at the start of 2010 have been handsomely rewarded, as this sector has continued to claw its way back to pre-recession levels. But there are now some speed bumps ahead, and regulatory developments unfolding in coming weeks could have a major impact on the future of the industry. Three ETFs that could be in focus as the showdown on Capitol Hill plays out are presented below (see all ETFs in the Financials ETFdb Category).
Financials Select Sector SPDR (NYSEARCA:XLF): This ETF's major holdings include all of the big derivatives traders; the "big five" account for more than 30% of fund assets. XLF has been one of the top performers among the nine sector SPDRs over the last year, and is up nearly 20% in 2010. If the financial overhaul plays out as Democrats are proposing, the earnings of XLF could take a hit. [click to enlarge charts]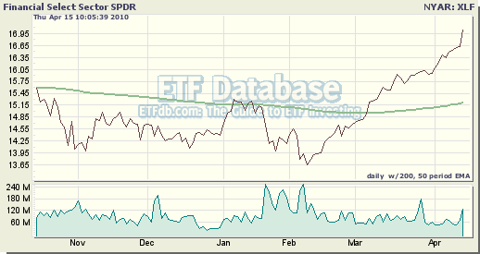 Click to enlarge
iShares Dow Jones U.S. Financials Index Fund (NYSEARCA:IYG): This ETF tracks the performance of the Dow Jones U.S. Financials Index, a benchmark similar to the index underlying XLF. The two primary differences between IYG and XLF are expense ratio (IYG charges 0.48%, while XLF charges 0.21%) and depth of holdings (IYG has 120 holdings while XLF has about 81).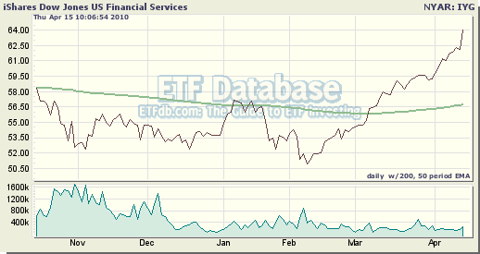 Click to enlarge
Claymore/Beacon Global Exchanges, Brokers & Asset Managers Index ETF (EXB): One of the longer-winded ETFs, EXB tracks an index that includes some of the largest exchanges in the world. If derivatives trading is pushed into the public eye, these companies could be one of the primary beneficiaries. Such a move likely wouldn't have a major impact on EXB, but could give a slight boost.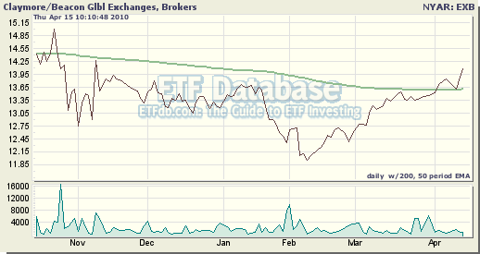 Click to enlarge
Inverse & Leveraged Options
For investors looking to gain inverse exposure to the financial sector, there are a number of ETF options. The ProShares Short Financials (NYSEARCA:SEF) is designed to deliver daily returns equal to the inverse of the daily return on the Dow Jones U.S. Financials Index, while SKF offers 2x leveraged exposure to the same index. For investors looking for even greater volatility, the Direxion Daily Financials Bear 3x Shares (NYSEARCA:FAZ) seeks to deliver daily returns equal to -300% of the daily change in the Russell 1000 Financial Services Index.
Disclosure: No positions at time of writing.