Are continued expansionary policies needed or the Fed needs to continue tapering is probably the most important debate among economists in 2014. This opinion piece argues that the Fed is on the right path and should continue to taper.
One of the primary objectives of expansionary monetary policies (including near-zero interest rates) has been to spur credit growth among consumers. It therefore becomes important to analyze the impact of the policy on credit growth. The total household indebtedness was at $11.28 trillion in Q3'13, which is still 11% lower than the Q3'08 peak of $12.68 trillion. While credit growth has picked some pace, it still remains sluggish considering the fact that interest rates remain at near-zero levels.
The reason, of course, is clear - The policymakers are pushing for increased credit growth at a time when banks have tightened their lending standards. Clear evidence comes from the excess reserves of depository institutions with the Fed, which have increased by $1.8 trillion in the last four years. Banks are therefore satisfied with a 0.25% interest in excess reserves, rather than lending the same in a relatively risky economic environment. This scenario is exactly the opposite of what was witnessed between June 2004 and July 2007. During this period, the Fed tried to tighten lending standards by increasing interest rates from 1% to 5.25%. The banks, on the other hand, had slack lending standards resulting in increasing credit growth along with an increase in interest rates. The point is that the Fed has limited control over credit growth and a risk adverse banking system potentially blunts expansionary monetary policies for economic growth.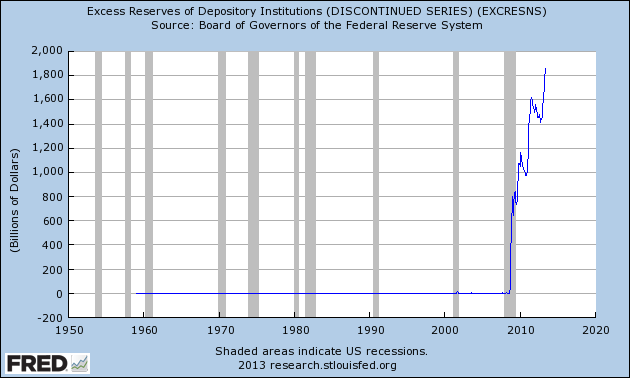 The Fed also does seek solace with the fact that headline unemployment has declined from a peak of 10% in October 2009 to 6.7% currently. This number has been used to establish that expansionary monetary policies are working. I certainly agree that expansionary policies saved the financial system and the economy from a deeper crisis. I am however concerned with some other unemployment numbers (other than the headline unemployment data). The U6 rate remains significantly high at 13.1%, the number of people not in the labor force is at a record high of 92 million and the employment-population ratio is at decades' lows of 58.6%. When all this is combined with the fact that the money velocity is at its lowest since 1960, we know that the core problems have not been solved. The real economic activity remains significantly weak. Can continued expansionary monetary policies address this issue? I have my doubts.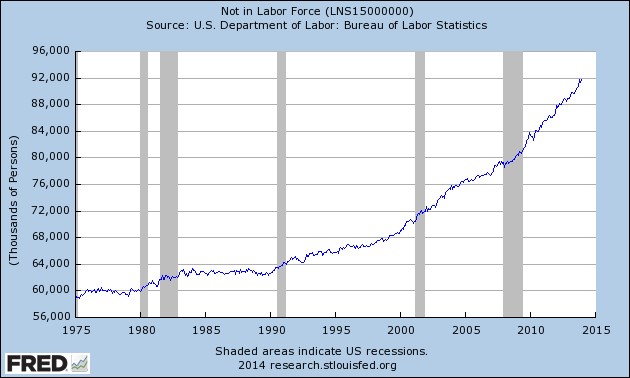 Another disappointing number for the Fed is the way the Treasury bond yields have trended over the last few quarters. Yields have trended higher on the 10-year bond from 1.63% in May 2013 to 2.77% currently. This is noteworthy because one of the objectives of the bond purchase program was to keep yields at relatively low levels. As money seeks higher returns, the Fed is helpless in front of market participants. It is worth mentioning here that the interest rate cycle might finally be on its way up after over 30 years of rates trending down. While we can speak endlessly on interest rate cycles, the key point is that Treasuries' yields might have bottomed out in all probability.
A counter argument against ending an era of expansionary monetary policies and low interest rates would be subdued inflation and potential deflation. This threat will sustain as long as banks keep lending standards tight and consumers refrain from excessive leveraging again. A record low money turnover since 1960 speaks volumes about the real economic confidence that is prevalent. The Fed therefore needs to think beyond the formula of flooding the system with liquidity each time there is an economic concern. I am tempted to suggest that it might be beyond the Fed to solve the current crisis, which is largely a result of economic imbalances.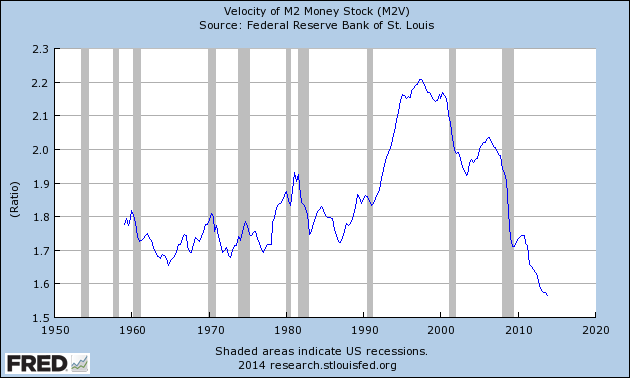 It remains to be seen if Janet Yellen, who is considered more dovish than Bernanke, can embark on a swifter path to ending the record long period of expansionary monetary policies.
Looking at all this from an investment angle, the market is already in the process of a relatively steep correction. Several earnings have been disappointing. Investors can find some refuge in defensive stocks and ETFs.
Johnson & Johnson (NYSE:JNJ): is a good long-term investment option in the defensive sector. I like this highly diversified healthcare company with product as well as regional diversification. JNJ has been a good dividend payer in the past, with a dividend yield of 3.0%. In my opinion, the stock is excellent for a long-term portfolio. It also commands a higher rating than the U.S. sovereign rating.
Procter & Gamble (NYSE:PG) is another good stock in the consumer and personal care segment with a good dividend yield of 3.1%. PG has been an investor-friendly company having returned $88 billion to shareholders through dividends and share repurchase in the last 10 years. In terms of business growth, PG revenue contribution from Asia has increased from 15% in 2009, to 18% in 2012. Going forward, emerging markets will continue to be the growth driver for PG.
Vanguard Long-Term Corporate Bond ETF (NASDAQ:VCLT) - I am suggesting the VCLT as I believe that quality corporate bonds are a relatively better risk free investment compared with government bonds (especially long term). The ETF seeks to provide a high and sustainable level of current income through investment in high-quality (investment-grade) corporate bonds.
Vanguard Health Care ETF (NYSEARCA:VHT) - The ETF seeks to track the performance of a benchmark index that measures the investment return of stocks in the healthcare sector. The ETF has an expense ratio of 0.14%. In terms of sub sector exposure within the healthcare sector, the ETF has 39.6% exposure to the pharmaceuticals segment, a 20.1% exposure to the biotechnology segment, a 15.3% exposure to the healthcare equipment segment, and a 7.1% exposure to managed healthcare.
Disclosure: I have no positions in any stocks mentioned, and no plans to initiate any positions within the next 72 hours. I wrote this article myself, and it expresses my own opinions. I am not receiving compensation for it (other than from Seeking Alpha). I have no business relationship with any company whose stock is mentioned in this article.