Stocks posted another ugly day of trading to start the new week. On Monday, stocks as measured by the S&P 500 Index fell by -2.28%, which represented the largest decline for the broad market average since last summer. Overall, stocks are now down over -5% so far in 2014, and many rattled investors are left wondering how much worse this will get before we finally see a bottom. Fortunately, standing back from the stock market trees to view the broader asset class forest helps provide us with answers.
The recent stock market decline has not been a phenomenon confined to the United States. This has been a global stock market sell-off that has hit nearly all corners of the world. Since the current decline began on January 22, all of the major global stock market indices including the developed market MSCI EAFE Index (NYSEARCA:EFA), the MSCI Emerging Market Index (NYSEARCA:EEM) and the comprehensive MSCI All Country World Index (NASDAQ:ACWI) are all down between -6% and -7%.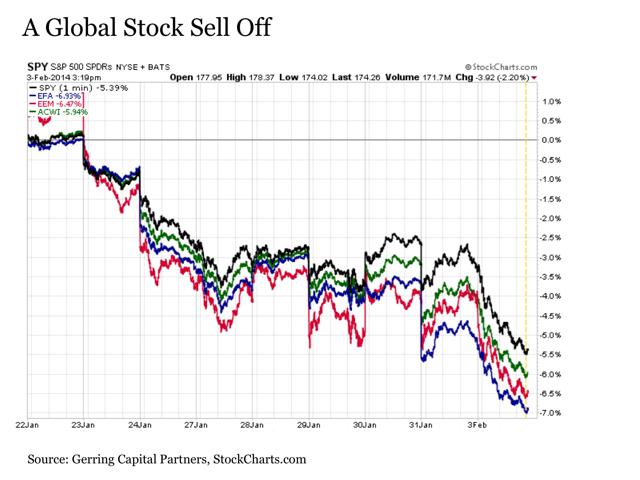 While much of the explanation for the global sell-off to date has been attributed to capital outflows from emerging markets in the wake of the Fed's commitment to wind down its QE3 stimulus program, market evidence suggests that this is not likely at the heart of the problem. For if such emerging market stress was truly the primary driver of the sell-off, one would expect to see severe market stress emanating from emerging markets themselves. But this has not necessarily the case. Sure, the stock markets in selected markets such as Turkey (NYSEARCA:TUR), South Africa (NYSEARCA:EZA) and Brazil (NYSEARCA:EWZ) have performed particularly poorly of late. And the problems facing current account deficit countries such as these should not be overlooked as a meaningful risk to the outlook. But most individual emerging markets are still trading above their lows from last summer. Moreover, signs of stress from emerging debt (NYSEARCA:EMB) (NYSEARCA:PCY) and currency markets (NYSEARCA:CEW) have been limited and generally isolated at best to this point. Thus, while emerging markets have participated in the sell-off, they do not appear to necessarily be the cause.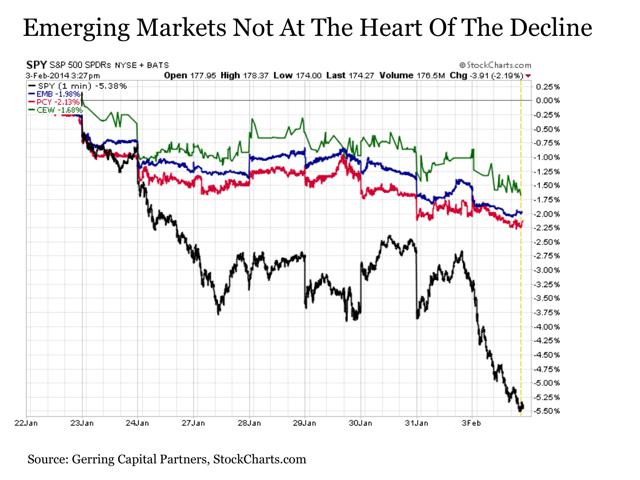 Looking beyond stocks to other major asset classes shows that market conditions appear otherwise calm and orderly.
For example, many of the higher yielding segments of the market that are highly correlated with stocks are holding steady amid the recent stock decline. High yield municipal bonds (NYSEARCA:HYD) are actually up incrementally over this period, while preferred stocks (NYSEARCA:PFF), senior loans (NYSEARCA:BKLN), high yield bonds (NYSEARCA:HYG) and REITs (NYSEARCA:VNQ) are all down less than -2%.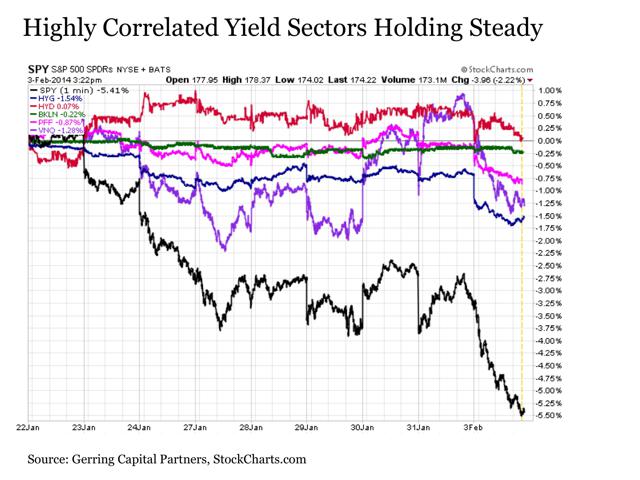 Moving over to the economically sensitive commodities space provides additional signs of stability. Certainly, the industrial metals complex (NYSEARCA:DBB) has suffered in lockstep with the stock market during the current decline. But both agricultural (NYSEARCA:DBA) and energy (NYSEARCA:OIL) commodities have been solidly rising over this same time period.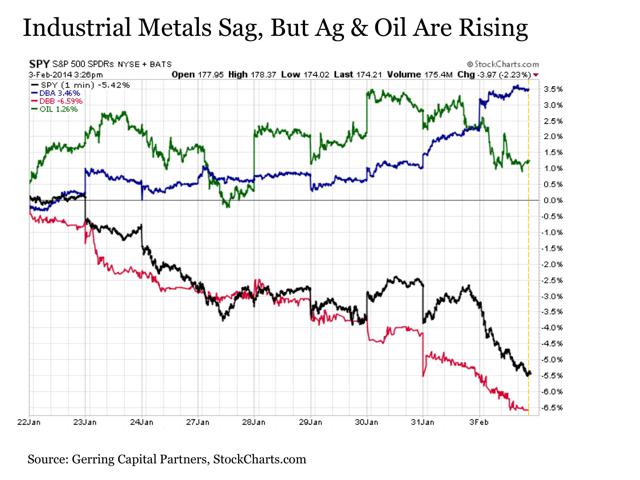 Confirming that the recent stock sell-off is not part of a panicked liquidation phase, the precious metals space has generally held firm with gold (NYSEARCA:GLD) posting solid gains and silver (NYSEARCA:SLV) registering only modest declines. This steady performance is notable given the trading pressure under which metals are forced to overcome on an almost daily basis.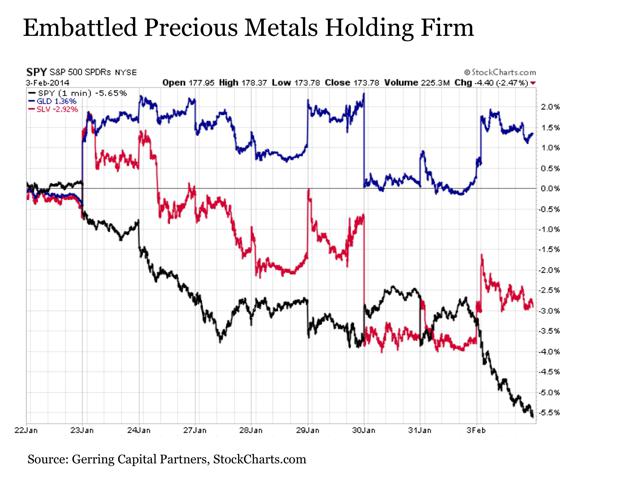 Shifting into the investment grade bond space, no evidence exists of any meaningful credit strains whatsoever. U.S. Treasuries (NYSEARCA:TLT) have risen handsomely during the sell-off, while developed international sovereign bonds (NYSEARCA:BWX) have also performed well. Municipal bonds (NYSEARCA:MUB) have also held steady, and even investment grade corporate bonds (NYSEARCA:LQD) have been steadily advancing in recent days.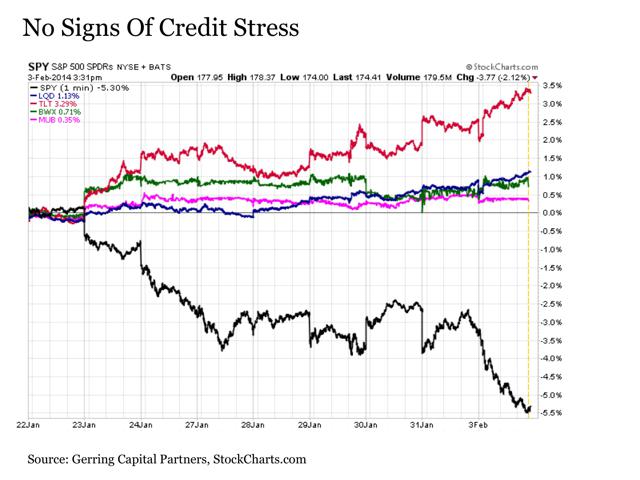 In short, the current correction appears to be nothing more than a stock market centered decline. And it generally looks like a garden variety correction when looking under the surface. Cyclical sectors such as materials (NYSEARCA:XLB), industrials (NYSEARCA:XLI) and consumer discretionary (NYSEARCA:XLY) are driving the move lower as would be expected.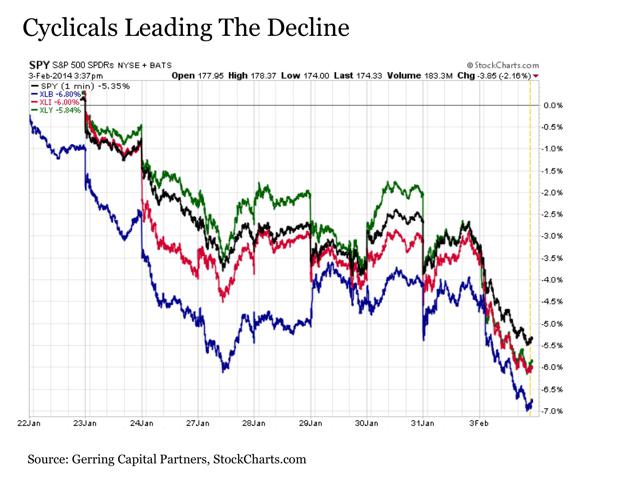 And highly defensive sectors such as utilities have actually moved higher during the recent decline (NYSEARCA:XLU), further reinforcing the idea that this is not a chaotic sell-off but instead a fairly orderly and rational pullback with capital reallocating both within and outside the stock market.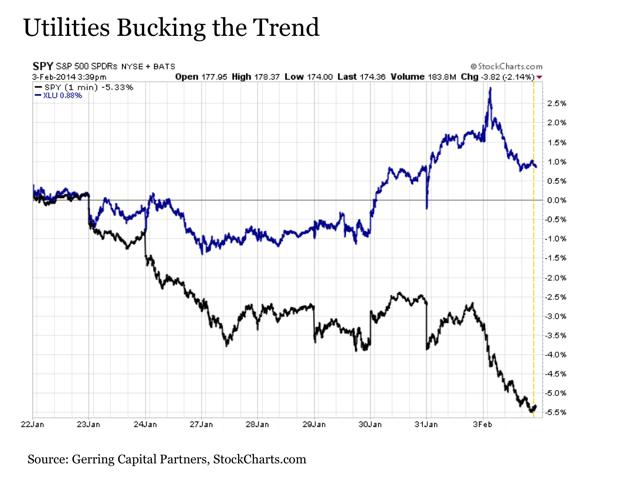 Following a year in 2013 when U.S. stocks rose by roughly +30% with every other major asset class either flat at best or in double-digit decline at worst, it is not at all surprising to see stocks let off some steam to start the New Year. As a result, the recent stock market decline should be viewed for what it is at this point, which is nothing more than a standard pullback at least to this point.
With all of this being said, risks remain high for stocks to move further to the downside in the days, weeks and months ahead. Stocks have risen by nearly +50% over the last two years on virtually no revenue or earnings growth and almost exclusively on the adrenaline of extraordinarily aggressive monetary stimulus from the U.S. Federal Reserve. In short, stocks are grossly overinflated at this point and are trading well above their fair value. And with the Fed's support slowly going away, it may become increasingly challenging for stocks to maintain their lofty perch.
So while current market conditions suggest that the recent stock market decline has been relatively orderly to this point, it does not mean that it could not eventually disintegrate into a more chaotic and disorderly episode. As a result, investors are best served to remain cautious and maintain a close eye that risk indicators do not begin to elevate moving forward.
The more likely situation at present is that the stock market has begun a long overdue topping phase that may continue over the next several months. When bull markets end, they almost never stop on a dime and turn sharply lower. Instead, they typically thrash back and forth over the course of several months with sharp declines followed by equally swift rallies as stocks struggle in vain to break out to new highs. Eventually the bull relents and a new bear market begins in earnest, but we likely have a few months of the battle being joined before we enter into a sustained decline phase. So barring some unforeseen shock, if we are indeed entering a new bear market phase, at least one more rally toward the 1815 range on the S&P 500 Index at minimum should be expected in the coming months before it is all said and done. Of course, this assumes the current market pullback remains orderly, which makes the markets worth watching closely in the days ahead.
Disclosure: This article is for information purposes only. There are risks involved with investing including loss of principal. Gerring Capital Partners makes no explicit or implicit guarantee with respect to performance or the outcome of any investment or projections made. There is no guarantee that the goals of the strategies discussed by Gerring Capital Partners will be met.
Disclosure: I am long XLU, PFF. I wrote this article myself, and it expresses my own opinions. I am not receiving compensation for it (other than from Seeking Alpha). I have no business relationship with any company whose stock is mentioned in this article.
Additional disclosure: I am long SPLV as well as selected individual stocks.