Mr. Market's abrupt change in mood from manic last year to depressive this year was reflected by the January behaviors of the nine S&P 500-based Select Sector SPDR exchange-traded funds, as the month's best performer in 2013 was the high-beta Energy ETF (NYSEARCA:XLE) and its best performer in 2014 was the low-beta Utilities ETF (NYSEARCA:XLU). This behavioral difference indicates equity-market participants were more in risk-on mode during January last year and more in risk-off mode over the same month this year.
As concerns the Select Sector SPDR ETFs, beta is a gauge of the volatility of each fund in comparison to the market as a whole. According to data available via the Select Sector SPDRs online site and current as of Dec. 31, the betas for the Energy and Utilities ETFs were 1.50 and 0.23, in that order. The former was the highest and the latter was the lowest among the nine SPDR funds.
The other Select Sector SPDR ETFs and their betas are as follow (from higher to lower):
• Financial (NYSEARCA:XLF), 1.40.
• Materials (NYSEARCA:XLB), 1.40.
• Industrial (NYSEARCA:XLI), 1.20.
• Consumer Discretionary (NYSEARCA:XLY), 1.00.
• Technology (NYSEARCA:XLK), 0.92.
• Health Care (NYSEARCA:XLV), 0.76.
• Consumer Staples (NYSEARCA:XLP), 0.50.
With the exception of the Consumer Staples and Consumer Discretionary SPDR ETFs, the lower-beta funds behaved better than the higher-beta funds did last month, as shown by the below charts comparing the performances of all nine of them in January 2013 and January 2014.
Figure 1: Absolutely Speaking, XLU Was Hot And XLY Was Not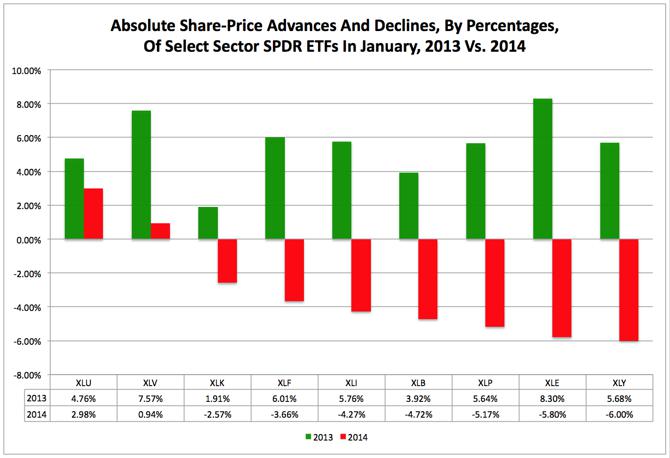 Source: This chart is based on analyses of SPDR ETF share-price data at Yahoo Finance.
The Utilities ETF was No. 1, with an advance of 2.98 percent, and the Consumer Discretionary ETF was No. 9, with a decline of 6.00 percent, among the SPDR funds this January. Overall, two booked gains and seven recorded losses last month, a stark contrast to their behavior in the same period a year ago, when all posted positive returns.
Figure 2: Relatively Speaking, XLE Appeared To Be Out Of Gas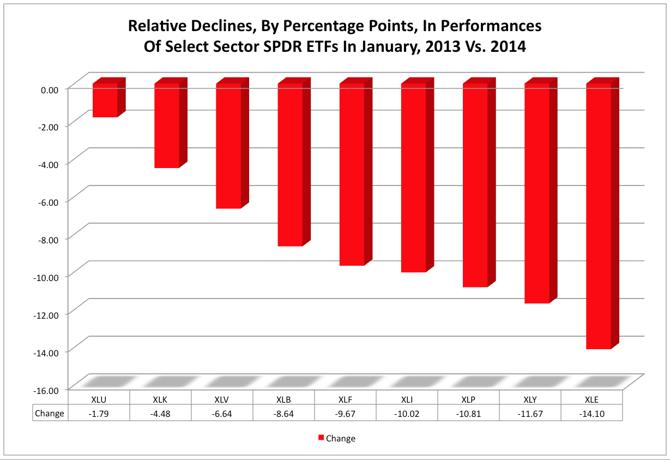 Source: This chart is based on analyses of SPDR ETF share-price data at Yahoo Finance.
Comparing the Energy SPDR ETF's gain of 8.30 percent in January last year with its loss of 5.80 percent in the same month this year shows a dip in performance of 14.10 percentage points over the two periods. This drop suggests one of my favorite sectors may be getting into a nice position for the stock market's next bounce, which I anticipate will come despite the conditions described in "NYSE Margin Debt Hits Record $444.93 Billion In December: Risk Rank At No. 1" at Seeking Alpha. I expect the derisking implied by the move to tighter from looser monetary policies at the U.S. Federal Reserve and other central banks around the world will continue to have effects on the prices of financial assets, but it seems unlikely to happen all at once.
Disclaimer: The opinions expressed herein by the author do not constitute an investment recommendation, and they are unsuitable for employment in the making of investment decisions. The opinions expressed herein address only certain aspects of potential investment in any securities and cannot substitute for comprehensive investment analysis. The opinions expressed herein are based on an incomplete set of information, illustrative in nature, and limited in scope. In addition, the opinions expressed herein reflect the author's best judgment as of the date of publication, and they are subject to change without notice.
Disclosure: I have no positions in any stocks mentioned, and no plans to initiate any positions within the next 72 hours. I wrote this article myself, and it expresses my own opinions. I am not receiving compensation for it (other than from Seeking Alpha). I have no business relationship with any company whose stock is mentioned in this article.