By Sumit Roy
Market expectations dictate how prices go.
Natural gas demand has surged over the past several weeks, boosted by the coldest U.S. winter in decades. In turn, inventories have plummeted and prices have surged. But while prices have risen significantly-up close to 50 percent from the trough in November and 17 percent since the start of the year-these are far from "high" prices.
Granted, "high" is relative. Compared with the low of $1.90/mmbtu in 2012, current prices near $5 are extraordinarily expensive. But the low from 2012 is far from ordinary, and one need only go back to the 2010-2011 time frame to see natural gas trading where it is now.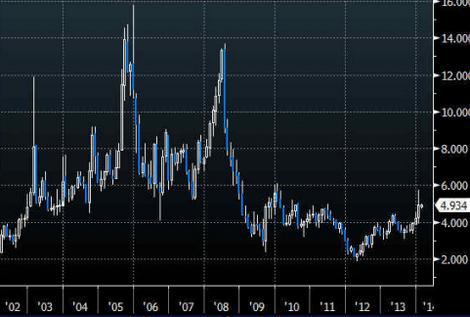 Current price levels are a far cry from where natural gas traded between 2003 and 2008, during the last natural gas bull market. Prices were just as volatile back then, but they fluctuated in a higher range between $4 and $8, with spikes to $15 during periods of intense market stress (such as during Hurricane Katrina).
One can speculate that if we saw this year's arctic temperatures back in the 2003-2008 period, prices would be in the double-digit range right now.
The difference, in our view, comes down to market expectations about how easily production can be grown. In the pre-2008 era-before the shale revolution really took off-it was seen as difficult to grow output. Gulf of Mexico production, which was a substantial portion of supply, was inextricably declining, and the rig count had to climb ever higher to grow expensive, conventional sources of natural gas production.
That's all changed now, of course. Shale gas fields such as the Marcellus and associated natural gas from furious oil drilling have made it easier than ever for natural gas production to grow. According to the Energy Information Administration's latest survey of producers, output hit a record 76 billion cubic feet per day in November. That came ahead of the most recent spike in prices. Certainly, higher prices will only incentivize production to increase further.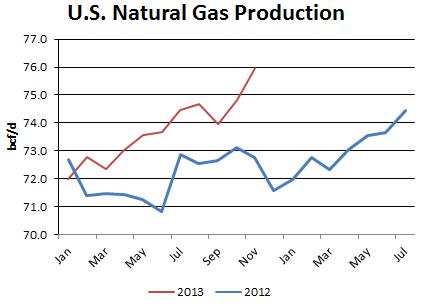 The market's confidence that production can grow, and in turn, inventories can be refilled from their low levels before the next winter, is why natural gas hasn't spiked even more. Of course, should there be trouble refilling inventories over the course of the year-either due to a spike in demand amid a hot summer or an unexpected turn in output levels-prices may rally to higher levels above $6, $7 or $8.