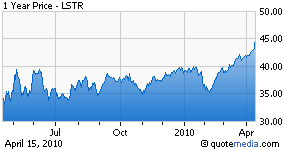 Landstar System Inc. (LSTR) posted 2010 first-quarter results after the closing bell yesterday. The company's net income recorded growth of 23.7% to $17.2 million, from $13.9 million in the year-ago quarter. Earnings per share of 34 cents was above the year-ago result of 27 cents as well as the Zacks Consensus Estimate of 32 cents.
Landstar is a non-asset-based provider of integrated supply chain solutions. The company offers safe, specialized transportation, warehousing and logistics services through a worldwide network of more than 1,000 independent sales agents, 8,000 business capacity owners and 25,000 contract carriers and warehouse capacity owners.
Quarterly revenues rose by 16.8% to $548.1 million, compared to $469.2 million in the year-ago period as the company benefited from continued improvement in the freight environment. Revenues from third-party truck capacity providers, which contributed 92% to total revenues, grew by 18.7% year-over-year to $505.9 million. However, Landstar's overall revenue was partially offset by a 15.2% decrease in revenue from rail, air and ocean cargo carriers to $28.5 million.
Gross margin, which is revenues less purchased transportation and commissions to agents, dipped 50 basis points year-over-year to 16.5%. The decline was primarily attributable to unfavorable revenue mix, coupled with higher rates paid to third-party truck brokerage carriers. However, strong revenue growth led to a 19.3% year-over-year expansion in Landstar's operating income to $28.3 million, from $23.7 million recorded in the year-ago quarter.
Landstar ended the quarter with cash and cash equivalents of $82.5 million, compared to $130.4 million in the year-ago period. During the quarter, the company bought back 120,171 shares for a total cost of $4.5 million. Landstar currently has a total of 1.26 million shares left under its common stock buy-back program.
Looking ahead, management expects the second quarter of 2010 to benefit from improving conditions in the freight industry. The company anticipates earnings per share to be in the range of 44 cents to 49 cents, which is in-line with the Zacks Consensus Estimate of 45 cents per share derived from 4 covering analysts.
For entire 2010, the Zacks Consensus Estimate on Landstar's earnings is currently pegged at $1.70 per share, which moved up a penny over the past week as 1 of 19 covering analysts raised expectation. The most accurate estimate is even bullish at $1.71 per share indicating a slight upside potential of 0.6% over the Zacks Consensus Estimate.