January 2014 closed out with a -3.5% drop in the S&P 500 index (NYSEARCA:SPY). From all indications, it appears that this year will make up for last year's gain by being flat to down. With this in mind, I decided to see what investments have been growing recently. Bespoke Investment Group wrote a recent article on 2014's Slow Start Sliced By Industry. I note from that article that Health Care is up 2.33% YTD leading all other sectors.
My personal portfolio holds Vanguard's Health Care Adm (MUTF:VGHAX) mutual fund, because I invested in it while working in the 1990s in anticipation of retirement in 2000 (before ETFs were born). It has served me well in my current retirement and handled unexpected expenses from my daughter's business. Since 2004, Vanguard has produced Vanguard Health Care ETF (NYSEARCA:VHT) which has more than doubled in price since that time. In fact, the 10 year performance has been 9.02% per year, while the 5 year performance has been 20.11% per year and last year's performance was 35.11%. This performance is similar to the average health fund and demonstrates the across the board increase in demand for health services.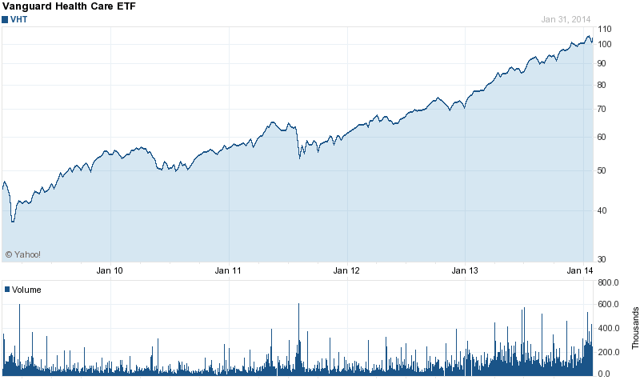 We live in an aging society, with Obamacare actively recruiting citizens to sign up for health insurance. The demand caused by this trend will assure growth in the health care sector. Investing in Health Care Exchange Traded Funds is one article that touches on this situation.
VHT has an expense ratio of 0.14% which is 90% lower than the average expense ratio of funds with similar holdings. The 10 largest holdings (46.6% of total net assets) as of 12/31/2013 were:
1 Johnson & Johnson (NYSE:JNJ)
2 Pfizer Inc. (NYSE:PFE)
3 Merck & Co. Inc. (NYSE:MRK)
4 Gilead Sciences Inc. (NASDAQ:GILD)
5 Bristol-Myers Squibb Co. (NYSE:BMY)
6 Amgen Inc. (NASDAQ:AMGN)
7 AbbVie Inc. (NYSE:ABBV)
8 UnitedHealth Group Inc. (NYSE:UNH)
9 Celgene Corp. (NASDAQ:CELG)
10 Biogen Idec Inc. (NASDAQ:BIIB)
I am a member of the sandwich generation (The Silent Generation) and need to cover my own retirement as well as aid my daughter in saving for hers, while helping with the education of my extended family. In an earlier article Retirement Investment for Those Without A Plan: Vanguard Mid-Cap ETF (NYSE:V)) I explained one of the two pillars of my wife's retirement. The second pillar is VGHAX. For my daughter's plan, I advised her to use VHT. With the rapid rise in health care stocks, this sector's performance has exceeded Vanguard Mid-Cap. VO had 9.55% average annual 10 year performance; 23.25% 5 year performance and 23.73% one year performance. Still, they are close and continue to justify these two funds becoming part of her retirement plan.
It is difficult for those, like my daughter to save for retirement while raising children during the Great Recession. I have advised her to mimic the SPY in her sector allocations, starting with VHT for her health care sector allocation. The economy seems to be improving and with time, she will be able to allocate to the other sectors of SPY.
Conclusion: The health care sector should do well in 2014, despite the flat to down business cycle.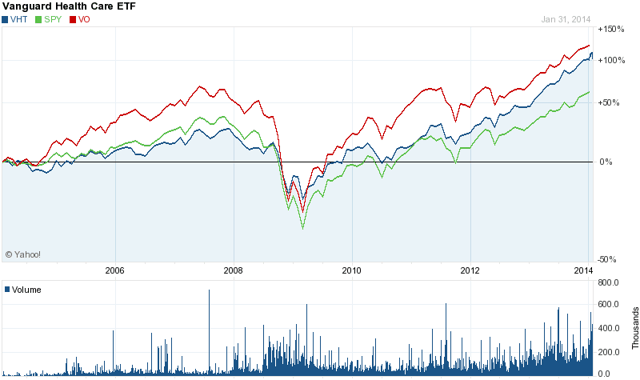 If you are leery of the volatility this year, VHT can provide good returns with significant diversification in the sector. If you have a long investment horizon, you can supplement this ETF with other sectors when the market is more stable. If you don't have time to worry with the market's gyrations, VHT could provide you with the start of a retirement plan.
It is critical that one should know what they are investing in before they make the purchase. If you don't feel comfortable with making investment decisions, see a registered investment advisor.
Disclosure: I have no positions in any stocks mentioned, and no plans to initiate any positions within the next 72 hours. I wrote this article myself, and it expresses my own opinions. I am not receiving compensation for it. I have no business relationship with any company whose stock is mentioned in this article.
Additional disclosure: I am long VGHAX and VIMAX Vanguard's mutual funds. These funds have ETF share classes of VHT and VO.