Back in November, I suggested that a spin-off might be in the cards for Microsoft (NASDAQ:MSFT) regardless of who ultimately got the nod to replace Steve Ballmer as CEO of the company, "the knives are out for Bill Gates".
Cut to Thursday, January 30th, when a Bloomberg article suddenly appeared confirming my suspicion that Microsoft's board is at the very least weighing the idea of jettisoning the old guard. Replacing Bill Gates as Chairman with John Thomson may be the key to unlock billions in additional value from the company; the Ballmer-Gates faction may now be too weak to avoid being turned out by the Young Turks: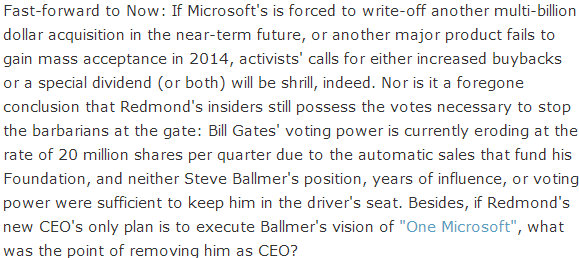 A New Microsoft Would Compel A Rethink
The thinking behind a coup d'etat appears to be that with the old guard out, Wall Street will give the tech giant a fresh look and find plenty to like about The New Microsoft. The insurgents' logic is sound. The fact that we're even talking about what the result of replacing Bill Gates as Microsoft's Chairman would be is a strong argument in favor of a potential windfall if Bloomberg's source is accurate.
Eleven months ago, the very notion that Bill Gates could be ousted as Chairman was considered absurd on its face. Consider the following quote from an article I wrote on the subject back in February titled: "If Bill Gates Wouldn't Invest In Microsoft, Why Should You?"
Fig. 1: Microsoft's Top Institutional Holders

(Source: Yahoo! Finance)
Ripe For The Plucking
Such a drastic reshuffle would by the very nature of the situation, force analysts to reconsider Microsoft's value proposition and revise its estimates accordingly. Microsoft is the golden goose of a lifetime. Windows OS, Microsoft Office and Internet Explorer still dominate both PC and Office/Enterprise level systems. Internet Explorer is equally dominating in the browser arena.
Fig. 2: Desktop And Enterprise OS Market Share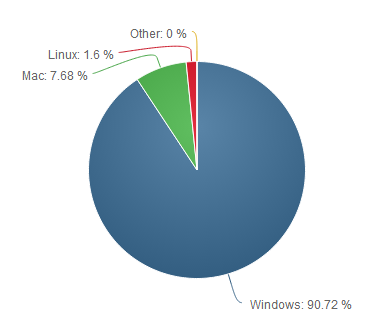 (Source: Netmarketshare)
Fig. 2: Internet Explorer Share Of The Browser Market

Microsoft's Q4 revenue of $24.52 billion handily beat analyst estimates of $23.68 billion and knocked it out of the park on earnings, returning $0.78 versus analyst estimates of $0.68. Office 365 usage grew by triple digits last quarter. All of this adds up to the most attractive single opportunity for extracting value via spin-offs since RJR Nabisco. Tapping Microsoft's cash hoard alone would all but guarantee a windfall for investors.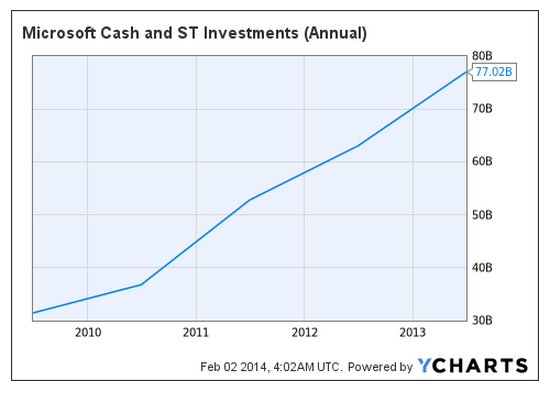 MSFT Cash and ST Investments (Annual) data by YCharts
Moreover, there's comparatively little to recommend the retention of Chairman Gates, who came to be viewed as an absentee landlord whose principle loyalty was to his philanthropic Foundation and his old friend Steve Ballmer rather than Microsoft shareholders. That this characterization is more accurate than not isn't helping Gates' clique any.
Again, from February:

Jim Thompson has been an openly skeptical and unusually vocal critic of Steve Ballmer's policies since he was appointed to board in 2012.
Microsoft Board Member John Thompson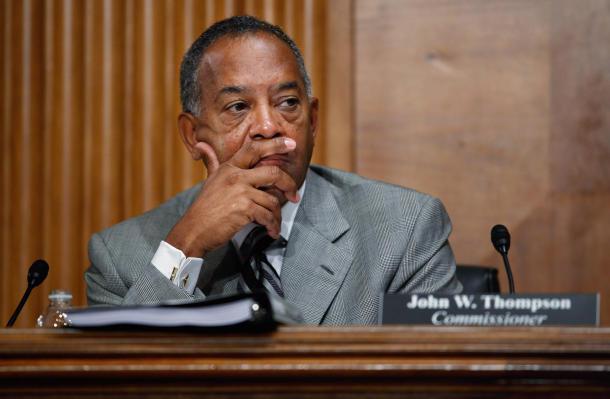 Conclusion
Microsoft's next CEO will ultimately have to make it rain for Microsoft investors, and there are few sure fire options for getting the stock up apart from spinning off a few of the company's divisions or repatriating profits. A few game changing products would definitely help Nadella's credentials with investors, but that's more of a long term thing. The sure-fire way to get the stock up as of right now would simply be for Gates to step down as Chairman and assume an advisory position; and as the financial universe tends to follow the path of maximum profit with the least resistance, that's what I predict will happen. I'm therefore revising my recommendation on Microsoft from a cautiously optimistic "market outperform" to STRONG BUY with a PT of $42.50.
Disclosure: I am long MSFT. I wrote this article myself, and it expresses my own opinions. I am not receiving compensation for it (other than from Seeking Alpha). I have no business relationship with any company whose stock is mentioned in this article.