By Jeffrey P. Snider
The persistence of frozen precipitations and the attendant temperatures that accompany them have somehow become an economic variable. I suppose it will be official once the Federal Reserve announces that it has updated all its DSGE models to include a snow gauge, rendering them truly dynamic in more than one sense. The "unexpected" reappearance of "unexpected" weakness is never pinned as economic in nature, though I just don't understand the appeal of appealing to coldness.
If the second weekend in January is besieged, nationwide, by weather events (or singular polar non-science nonsense), why would that reduce sales results? I understand that traffic will be affected by the inability or unwillingness of the marginal consumer to consume at that point in time, but that does not change the need or desire that would have created a sale in the first place absent weather. If I can't get to the car dealership because it's too cold or snowy this weekend, am I going to just give up buying a car altogether? Or is it more likely that I will postpone satisfying that need until a more favorable weather alternative? Nobody says, "I was going to buy a car this week, but the weather is horrible today so I'll wait another twelve months."
In the context of some really bad auto sales figures (flat Y/Y is not good in the one segment that is actually, and artificially, propping up a good deal of the "good side" of the bifurcated economy) for January, the weather is being used as the primary culprit. But looking back to December, particularly the week after Christmas, it was clear then that consumers were having a tough time. Auto sales never materialized in the back end of the holiday shopping period, even when prices were so heavily discounted. There is a lot of that factor inferred from this quote (once unpacked from the weathered cloak):
"There were a few days where no one outside of employees walked through the front doors," said George Waikem II, who manages Nissan, Kia and Ford dealerships in Northeast Ohio. "We did see a slight spike in our Web traffic, but it didn't seem to generate into physical visits. Anyone brave enough to visit us pretty much drove away in a new or new to them vehicle. They obviously weren't out just kicking tires but fulfilling a real need."
The people that wanted to buy actually did, but those that didn't simply stayed away altogether. That sounds more like economy than temperature, though retailers are often married to the idea of foot traffic.
The slowdown in the pace of sales for January contributed to a swelling inventory of vehicles on dealer lots. GM said its inventory ballooned to 114 days' supply. Fiat Chrysler said its inventory amounted to 105 days worth of vehicles at January's sales pace, up from 79 days in December. Ford's inventory rose to 111 days.
That is exactly the inventory problem that has been lurking in other retail segments. And there is little doubt that was captured in the dramatic slide in the manufacturing ISM index for January 2014. In fact, the new orders segment fell 13.2 points, to 51.2. That is the largest monthly decline going back to December 1980 (which, incidentally, occurred in an economy caught up in an inventory cycle heading into the double dip recession that hit a few months later in 1981). The drop in the overall index in January 2014 (-5.2) was the biggest since October 2008 (-5.9).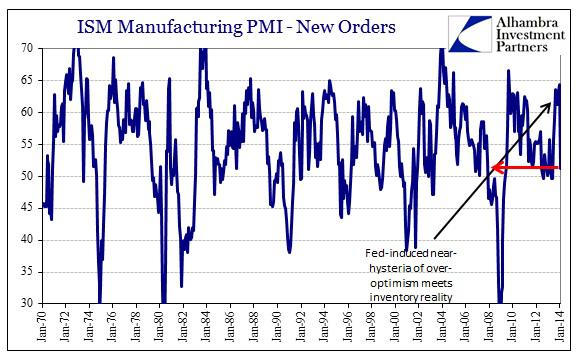 This is a shock to economists because they believe the ISM index is indicative of the absolute level of economic activity, however the ISM only tells us relative changes because of more mistaken correlations. In other words, it is meaningless without wider context.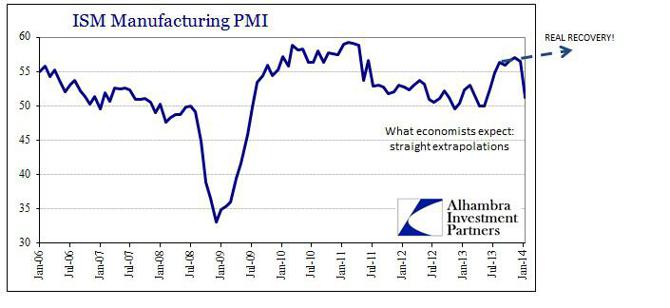 That context is obvious to anyone not conjuring straight line expectations. Whether empirical or anecdotal, inventory has been the primary factor in marginal "expansion" since the middle of 2012 when the economy clearly downshifted. It was a huge drag after the 2012 holiday shopping season, and is becoming so again.
Unlike 2012, though, the current inventory cycle lasted well into the fourth quarter, meaning it should begin to unwind right around now. If that fact was not plain enough, one only need visit the inventory portion of the last two GDP reports.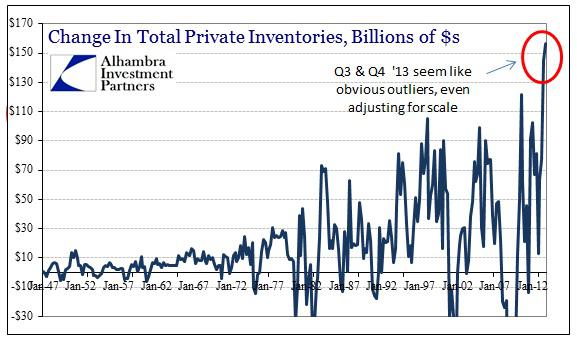 We have never seen anything like this size of inventory building. In fact, the scale of inventory changes in the last half of 2013 were even much greater than what you normally see after a recession/inventory drawdown cycle has just completed. There is simply no historical comparison to this period of inventory accumulation, and, given recent sales, that is a horrible position for economic agents to find themselves (thanks to QE psychology!).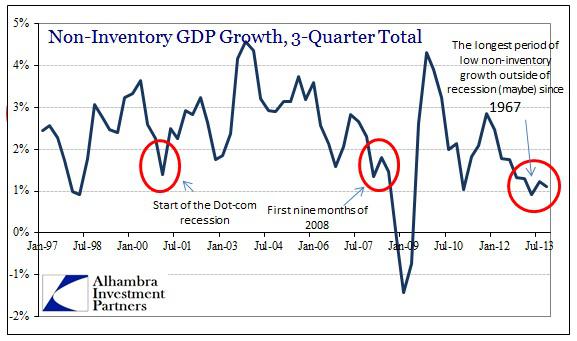 What that means is GDP growth overall has been decidedly bad since late 2012 outside of inventories. The levels of non-inventory growth are, once again, consistent with recession rather than recovery or growth. If weather is a primary factor, then it has been been snowing heavily and steadily since April or May 2012.
There are no coincidences here, only Occam's Razor writ large. There is a very good reason that the ISM tanked in the same month as China's PMI's registered lows, which is the same reason why they were "soaring" in the middle of 2013: the charts immediately above. As for the lack of real sales growth, that one is just as easy to figure: