The share price of Amazon (NASDAQ:AMZN) plummeted by 14% after the company reported below-expectation Q4 2013 results. To me, the plunge has presented a compelling buying opportunity as I believe the price uptrend is nowhere near the end and should continue to be supported by the following expectations.
Amazon's Q4 2013 revenue grew by 20.2% year-on-year, compared to an 11% quarterly growth in the US ecommerce sector estimated by comScore (NASDAQ:SCOR), suggesting that Amazon continued to gain market share in the US ecommerce space. Given Amazon's competitive advantages especially its infrastructure advantage which enables the company to offer shoppers next-day and same-day delivery services and is extremely difficult to be emulated by other competitors due to the significant scale, I believe the company is well positioned to continue seizing additional market share going forward.
Management has been continuously taking on initiatives to drive incremental revenue growth. It is expected that Amazon's future revenue growth will be fueled by meaningful incremental revenue generated from the company's third-party transaction services and Amazon Web Services ("AWS") cloud computing platform as these recent rollouts gain traction over time. According to Gartner, AWS platform now has more than 5 times the combined capacity of the company's next 14 rivals in the cloud services market, and this leading market position should give Amazon an edge to maintain high revenue growth and facilitate new product offerings.
On the margin front, I expect Amazon's near-term profitability to be weighed by management's continued effort to build additional fulfillment centers and make investments in other areas such as buying video contents to expand the offerings of Amazon Instant Videos. However, my view is that profitability margins (especially gross margin) should start to rise given that:
Amazon's ongoing shift to higher-margin businesses (e.g. AWS cloud computing platform and third-party transactions) should help boosting the overall margin;
Continued growth in sales volumes and operating scale should enable Amazon to negotiate better terms from vendors;
The increasing volumes and scale should also allow the company to benefit from significant operating leverage owing to a fair amount of fixed operating costs; and
Management's plan to increase Prime membership fee as a result of recent strong membership sign-ups should help bolster near-term margins.
Amazon's 2015E forward P/E multiple of 85.5x is overwhelmingly above the same multiple of 15.0x from S&P 500 Index. However, after considering Amazon's superior growth potential, the stock's valuation does not appear to be exaggerated as many investors would think. Amazon's consensus long-term earnings estimate currently stands at 48%, compared to the average estimate of 8.5% for S&P 500 companies. This makes Amazon's long-term PEG of 1.78x to be very much in line with the PEG of S&P 500 Index at 1.76x. In addition, the recent price plunge has driven down the stock's trailing EV/EBITDA multiple to 38.0x, which is very close to its 3-year low (see chart below).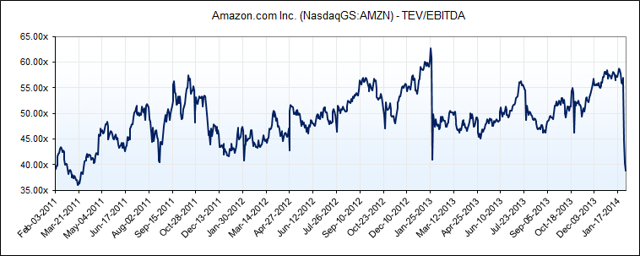 Despite the disappointed Q4 2013 results, market sentiment on the stock remains very positive. The percentage of total strong buy or buy analyst ratings has increased from 70% to 75% over the past 6 months and analysts' consensus long-term earnings growth estimate also increased from 42% to 48% during the same period (see chart below).

In summary, despite the Q4 hiccup, Amazon's compelling growth prospects remain intact. As valuation has recently been driven down considerably, I encourage investors to take on this opportunity to load up shares.
All charts are created by the author except for the consensus estimate tables, which are sourced from S&P Capital IQ, and all financial data used in the article and the charts is sourced from S&P Capital IQ unless otherwise specified.
Disclosure: I am long AMZN. I wrote this article myself, and it expresses my own opinions. I am not receiving compensation for it (other than from Seeking Alpha). I have no business relationship with any company whose stock is mentioned in this article.