Notwithstanding the importance of good science, it is vital – by which I mean life giving – to oil & gas exploration that lay investors and bankers perform the essential duty of financial due diligence.
Reserves are easy to fudge. In the wake of Shell's (NYSE:RDS.A) 2004 reserves fraud, lawyers Akin Gump posted an alert to other companies who might be exaggerating how much 'oil in place' is recoverable:
Possible 'red flags' include:

* lack of third-party or independent internal review of proved reserves estimates

* management bonuses directly or indirectly linked to proved reserves

* reserves conflicting with other companies reporting reserves in the same property

* significant proved reserves booked in deepwater fields or based on advanced technology
This assumes you have some expertise in deciphering SEC documents and geology reports. In my experience, third party 'competent person' reserves estimates are always exaggerated and misleading. They get paid to make their clients look good.
What investors and bankers need is a simple, robust Valuation Model based on easy-to-find financial information and reliable geoscience. In the next section, we'll walk through an example case and describe a relatively painless methodology for valuing oil & gas exploration.
Present Value of Tullow Oil plc (TLW.L) (OTCPK:TUWOY)
Tullow's 2009 results show that South America is dead (spun off in a deal with Shell and Total (NYSE:TOT)), Asia is unimportant strategically, and their North Sea gas fields are a money-losing legacy asset.
click to enlarge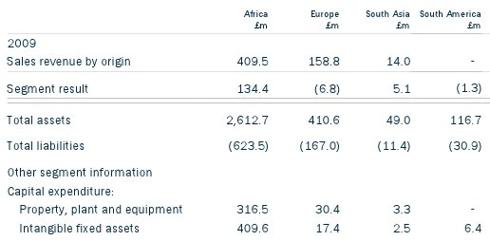 Everything depends on Africa. Let's consider Uganda first.
Tullow did a great job of exploration and manipulation. They shoved Heritage out of the way and are negotiating a deal with Total and CNOOC (NYSE:CEO) to build a gas-fired power plant for the locals, an oil export pipeline, and further development of Uganda's oil & gas fields.
Partnership with French and Chinese majors makes perfect sense, because they can ameliorate security risk with mercenaries and graft that UK-listed Tullow can't afford to get caught doing.
Present value of Tullow's Uganda assets: zero. They'll be lucky to get out with their skins when Museveni dies, abdicates, or is overthrown.
GHANA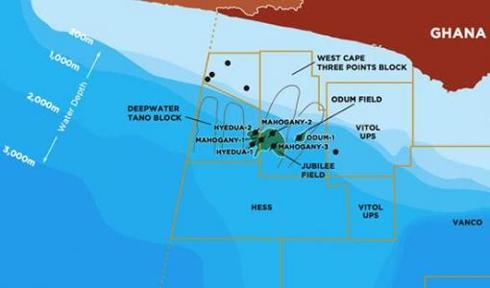 The Jubilee field, recently discovered offshore Ghana, is one of West Africa's biggest oil finds in recent years. The oil and gas field is estimated to contain recoverable reserves in the amount of 1.2 Bboe.

Located on two licenses, Deepwater Tano and West Cape Three Points, Jubilee is situated in a water depth of 3,609 feet (1,100 meters) and is operated by Tullow (49.5%). Other partners on the Deepwater Tano license and Jubilee field include Kosmos Energy (18%), Anadarko Petroleum (NYSE:APC) (18%), Sabre Oil & Gas (4.05%), and the Ghana National Petroleum Corporation (10%).

The West Cape Three Points license is operated by Kosmos Energy (30.88%). Partners on the license include Tullow Oil (22.9%), Anadarko Petroleum (30.87%), the E.O. Group (3.5%), Sabre Oil & Gas (1.85%), and the Ghana National Petroleum Corporation (10%).

[Rigzone/Subsea IQ]
Confused? Me, too. Tullow is the Jubilee operator, but...
Kosmos is the technical operator for development, which includes putting together the plan of development and managing the integrated project team that will design, construct and install the surface and subsea facilities. Kosmos leads an integrated project team with secondees from Anadarko, Tullow and GNPC."

[Offshore Engineer, March 23, 2009]
I put a lot of effort into untangling who owns what in Ghana. Kosmos and E.O. Group (cronies of former President Kufour) made a deal with GNPC in 2004 that was almost certainly corrupt, which is the reason Kosmos was prevented from selling its stake to Exxon (NYSE:XOM).
The Ghanaian government, according to letters it sent to Kosmos, also delayed the U.S. company's ability to obtain $750 million in loans to help fund its $850 million share of the $3.2 billion project costs to put Jubilee Field into production. [Washington Times]
Sabre Oil & Gas? – no idea. They have a mail drop in Houston.
Anadarko was recruited by Kosmos to drill the first Jubilee well. They had a deepwater rig available. According to some sources, Anadarko is unhappy with Tullow's operatorship of Jubilee. As an inducement to play ball and get Jubilee into production, Anadarko was promised fast track approval to explore another Ghanaian offshore block (Vanco's relinquished South Tano). The license was later awarded to Aker.
For 20 years, GNPC was the personal fiefdom of Tsatsu Tsikata, who was put in prison and tried for causing financial loss to the state when Kufour came to power in 2000. His trial lasted eight years and Tsikata was pronounced guilty, then pardoned when John Atta Mills won the 2009 presidential runoff. Tsikata was immediately appointed special adviser to Mills, flew to Houston, and visited Anadarko to pick up their Corrupt Foreign Practices file on E.O. and Kosmos. Tsikata then flew to New York and retained Morgan Stanley (NYSE:MS) as financial advisors. Next on the agenda was a $10 billion line of credit from China. In the past year, Tsikata flew to China six times, negotiating a deal with CNOOC.
What does any of this have to do with Tullow?

Apparently nothing, as far as the LSE is concerned. Tullow market cap is $11.7 billion, tripled in value since Jubilee was discovered. I wish I could explain how Tullow ended up with 49% ownership plus operator of Jubilee – but I can't find any public records that explain anything.
Let's start over. Due diligence on "land and legal" is impossible. If you're curious about the Kosmos drama, I wrote an article for Alrroya here.
TULLOW GEOSCIENCE - JUBILEE FIELD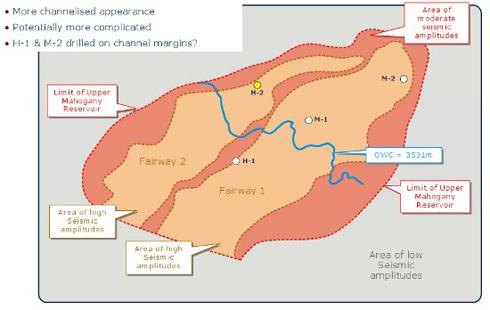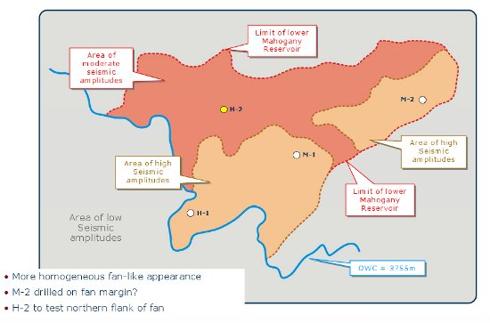 Tullow did a splendid job of mapping the two Jubilee reservoirs. They shot a "postage stamp" 3D seismic survey over the field, tied the wells, identified the OWC, and had the good sense to estimate a reasonable recovery factor (600 million barrels).
Their Jubilee Phase One development is logical and efficient.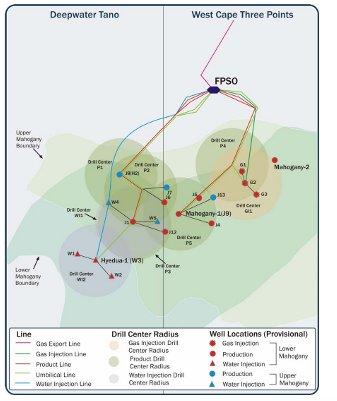 The FPSO ordered from MODEC is nearing completion, and it seems certain Tullow will have first oil this year, right on schedule.
Produced water will be reinjected to maintain pressure in a classic "water drive" production regime.
Associated gas will be piped onshore to produce electricity for Ghana.
Tullow is committed to employing Ghanaians, approximately 80% of their local workforce at present, with excellent training and the HSE program already in operation.
Political Risk is reasonably low. Jubilee solves a lot of problems for the government of Ghana. They get natural gas to generate electricity, and won't have to depend on gas supplies from Nigeria. They also get royalty revenue from oil exports, local employment and training (including a professional career development program with GNPC that sends people to study at British universities), and a greater sense of national unity. The U.S. and Great Britain have made a concerted effort to strengthen democracy. Political and ethnic divisions remain, but Ghana has an excellent chance of economic development and social progress, under the rule of law. Tullow's position is secured by defacto settlement and positive contribution to Ghana's political economy.
Present Value of Tullow's Ghana Asset
600 million barrels of oil @ $80 $ 48 billion
less
Drilling, FPSO, subsea systems, pipeline 5 billion
Taxes, royalties, onshore infrastructure 10 billion
Lifting costs & marine operations 2 billion
Debt service, overheads, upfront G&G 1 billion
Jubilee net revenues 30 billion
less
Share accruing to partners (65%) 20 billion
Present value of Tullow's asset $ 10 billion
Assumptions
Nothing goes wrong. No disasters, pirates, coup d'etat, war.
Government of Ghana takes its cut off the top, imposes additional cost but no nationalization or unreasonable interference. Includes gas supply and development of thermal power, plus a fudge factor for uncertainty.
Five years to lift and ship 600 million barrels. Development plan calls for 17 wells in total. There is a possibility of Odum tie-in, but I don't see it as a net gain. Upside of "reserves growth" not considered proved.
Average price of $80 a barrel seems reasonable to me, assuming soft demand and steady supply from OPEC (Saudi Arabia) and Russia. Oil is a proxy for world GDP. I don't see growth as a likely scenario. Inflation seems distant.
Other factors in valuing Tullow
Right off the bat, I'd give them $1 billion for a great exploration team and excellent management.
Although I marked their Ugandan venture at zero, it seems reasonable that they can pull out some cash before everything goes pear-shaped.
Tullow has 38,000 boepd production in Africa (excluding Jubilee) with interests in Equatorial Guinea, Gabon, Côte d'Ivoire, Congo-Brazzaville, Senegal, Mauritania, Tanzania and Namibia.
There is potential to expand in Netherlands, UK, Bangladesh, Pakistan, French Guiana, Guyana, and Suriname.
The company is profitable. Book assets ₤3.2 billion (net ₤1.5 billion)
Valuation Recap
Going concern $ 1 billion
Current production 2 billion
Ghana (Jubilee) 10 billion
Rest of world 2 billion
Total $ 15 billion
Tullow's market cap (4/12/10) is $11.7 billion, so they are undervalued at present, and I expect shares to rise sharply when Jubilee produces the first oil as scheduled in Q4.
Problems in Ghana would be a sell signal.
There has been some chatter about a takeover bid by Exxon. Tullow's management insist they want to remain independent, but money talks, and it's certainly possible Exxon might offer a 33% premium, in which case Tullow's value would be $20+ billion.
Jeep was kind enough to make some comments by email:
Is the assumption that it will take only 5 years to lift and ship 600 million bbls reasonable? That's around 350,000 bbls a day, which I think would probably take 3 FPSO's instead of just one.
Quite right. I allowed $5 billion for drilling, FPSOs, and subsea iron. Might cost more. My major premise was the need to produce it as quickly as possible to mitigate the not insignificant political risk of operating in Ghana.
Second, doesn't a discount to present value need to be taken in your numbers because otherwise they assume that both the cash and the expenses are current? (If so, I think that the discount could be performed on the net revenue number using the midpoint of the estimated time to extract).
Yes, to figure net present value. The time value of money is important, although in a deflationary environment I'm not certain how to apply the NPV rule. I suggested that oil is a proxy for GDP, gaining value proportionately with demand.
Third, should there be a valuation upside for the Tweenboa reservoir as well as the possibilities from other formations (it is not clear to me, for example, whether Mission Deep is included in the Jubilee numbers)?
Good point. However, I was uncertain whether the maritime boundary dispute between Ghana and Ivory Coast will be settled amicably. If the block was located in an Anglo rule of law jurisdiction, all opportunities could be explored and developed in a more leisurely and predictable manner.
Value of Tullow as a whole. Since this is a sum-of-the-parts analysis I assume that net debt should be subtracted. Is that already accounted for in the "going concern number?"
Er, no. It was a mistake not to deduct Tullow's debt, about $2 billion.
Disclosure: No position in TLW or any other oil company.