One problem with stock market rallies that are characterized by steep and uninterrupted ascents, such as the one experienced during 2013, is that once a sell-off commences it becomes difficult to pinpoint price levels at which the declines in broad equity indices such as the S&P 500 (NYSEARCA:SPY) may run their course.
In this article, I will briefly review the factors that could re-kindle broad demand for stocks while I attempt to identify specific price levels where this support might manifest to a degree that is sufficient to arrest the current cascading sell-off in equity prices.
Fundamentals Offer Little Support
Fundamentals did not primarily drive stock prices higher in 2013: US equity valuations surged significantly above their historical averages at the same time that US GDP and corporate earnings grew at rates that significantly underperformed their historical trends. This sort of apparent inconsistency could easily manifest itself in reverse during 2014: Improving fundamentals may not, in and of themselves be sufficient to prevent further declines in stock prices.
Keeping these limitations in mind, let us review some of the fundamental factors that might influence demand for stocks at a given price in the coming weeks.
Macroeconomic trends. Given the extraordinarily disruptive winter weather that has been affecting economic data for the month of January, it seems unlikely that there will be much positive macroeconomic news flow to support the stock market in the next few weeks. Investors will be left to deal with the uncertainty regarding whether the recent economic weakness reflected in reported data is merely a weather-related blip, or if it is the start of something more serious.
Corporate earnings. The corporate earnings season, which has provided the stock market with positive catalysts for most of the past couple of years, has mostly come and gone. Therefore earnings-related factors cannot be counted on to provide much support for the market in the next couple of months. To the contrary, far from providing a positive impetus, disappointing earnings and guidance from major bellwether stocks such as Apple (NASDAQ:AAPL), Amazon (NASDAQ:AMZN) and Wal-Mart (NYSE:WMT) have left a bad aftertaste that is likely to linger in the market for the next few weeks.
Valuation. The valuation of the S&P 500 is within one standard deviation most of the valuation measures that I consider to be the most relevant for forecasting stock prices on a 12-month time horizon. Therefore, although I do not believe that stocks are dangerously overvalued, it is also clear that current valuations do not offer any special support for the equity market at current levels.
In sum, fundamental factors appear unlikely to offer much support for the stock market in the next few weeks.
Technical Analysis Offers Little Support
In the absence of fundamental factors that generate substantial short-term demand, technical analysis becomes one of the only means for identifying potential support for stock prices. Through the analysis of price patterns, a skilled technical analyst will attempt to identify price ranges where it appears that the current cascade of supply may be met by enough demand such that the current decline in stock prices will be arrested.
__________________________________________________________
Figure 1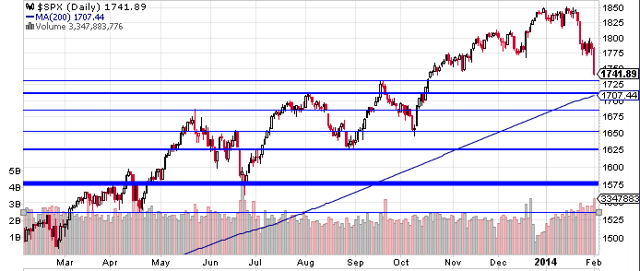 Source: Stockcharts and JK Consulting Services.
_________________________________________________________
Unfortunately, as can be appreciated in Figure 1 above, given the steep ascent of the 2013 rally and the lack of back-fill action, there is very little by way of horizontal technical support for the market where prior accumulations and/or price reversals indicate levels of potential demand. Aside from some thin technical support at around the 1730 level, the next area of significant support for the S&P 500 comes at around 1,707, marking the convergence of the 200-day moving average and a horizontal support line that stretches back to August of 2013.
If the aforementioned support zone is violated, there are two relatively minor support lines at around 1,687 and 1,646. More substantial support is not found until 1,629.
The problem with all of the technical levels listed above is that there is precious little by way of volume accumulation to support them. Volume statistics are critical in the analysis of support lines because they confirm whether there has been substantial demand absorbing supply at given levels in the past.
Unfortunately the only volume-backed horizontal support line in the chart is found in the 1,560-1,580 range -- a level which is made somewhat more significant by the convergence of a trend line that connects the lows after the two previous breaks of the 200-day moving average in June and November of 2012.
_________________________________________________________
Figure 2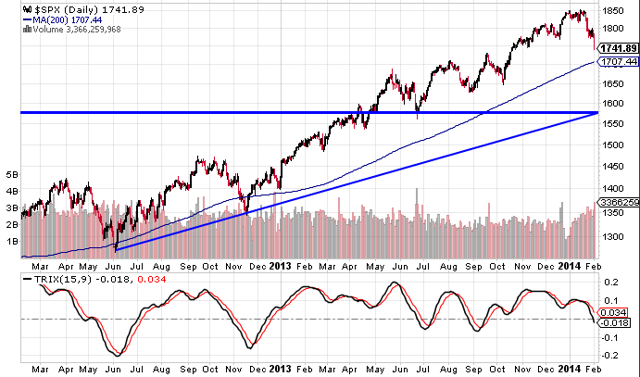 Source: Stockcharts and JK Consulting Serivces.
_________________________________________________________
In sum, technical analysis suggests only weak layered support for the S&P 500 index between 1,730 and 1,629. Strong volume-backed support does not appear until the 1,560-1,580 level.
Sentiment Indicators Offer Little Short-Term Support
Virtually all short-term indicators registered extremely high bullish sentiment and extremely low bearish sentiment in the months preceding the current decline. This suggests that the current sell-off has caught many investors and traders wrong-footed.
Many short-term indicators of sentiment such as the AAII survey and the Volatility S&P 500 (VIX) have recently reversed course and are now flashing high levels of caution compared to the extraordinarily high levels of optimism and complacency that were registered in the months prior to the current decline. However, there is generally a time lag between thought and action, and it should therefore take several weeks for the normalization of excessive levels of bullishness to become fully reflected in new portfolio allocations.
Therefore, an analysis of sentiment indicators suggests little short-term support from psychological factors, except on an extremely short-term basis (1-3 days).
Conclusion
The present sell-off has caught many investors and traders wrong-footed. It should take several weeks for the market to find the price level at which new sources of demand will equilibrate supply and provide solid support for the stock market.
In terms of identifying a specific price level at which stock prices will be stabilized, the swiftness with which important trend-lines and horizontal support lines have recently been violated suggests to me that the 200-day moving average line, which is currently at 1,707, could be tested and ultimately broken in the next couple of weeks. If this occurs, I believe the area between 1,629 and 1,650 is the most likely area where substantial support will appear.
I highlight this 1,629-1,650 area for two converging reasons. First, there is a relatively important horizontal support line in this area. Second, this area marks the psychologically important 10% correction threshold. I believe substantial pent-up demand for equities, fueled in part by enormous accumulations of cash by households and businesses, will manifest at this psychologically significant "correction" level. Buying stocks after a 10% decline will feel like a "gift" to many households and businesses that are holding more cash than they feel they need.
If support were not to hold at around the 1,629 level, I would expect the 1,560-1,580 area to mark the lower-bound risk area for the market. A decline to this region implies a correction of roughly 15%. Unless there are major exogenous shocks that fundamentally change the perspectives for the US economy and corporate earnings, I believe that a deeper decline that puts a cyclical bear market (-20%) into play is unlikely.
Please note that in the next couple of weeks I will publish my full 2014 Investment Outlook, which I will make available to my readers here. This broader analysis will place the ongoing pullback within a larger overall analytical context and highlight specific investment opportunities that are developing.
Disclosure: I have no positions in any stocks mentioned, and no plans to initiate any positions within the next 72 hours. I wrote this article myself, and it expresses my own opinions. I am not receiving compensation for it (other than from Seeking Alpha). I have no business relationship with any company whose stock is mentioned in this article.