What a start into the week for equities. All major indices were down sharply yesterday, and the sell-off comes after an already weak stock market performance last week. A confusing cocktail of economic data pushed the Dow Jones Industrial Index down 326 points to 15,372.80: Sluggish US growth, weak manufacturing data and construction spending all contributed to forcefully falling stock prices. The S&P 500 allegedly had its worst single-day drop in the last seven months: The index lost 2.3% and closed at 1,741.89. The Japanese Nikkei 225 stock average also fell 3%, and the Japanese stock market is now marking one of the worst performances of any developed stock market.
Stock market turmoil increases select opportunity set
The slide in stock prices is clearly a good thing for long-term oriented shareholders who intend to take advantage of lower stock prices and act opportunistically. I generally believe that the adoption of a long-term investment philosophy serves investors the best, which is why I welcome broad-based and indiscriminate market sell-offs. Short-term thinking usually leads to emotional decision-making, herding behavior and sub-par investment choices. While investors were looking for some time for a reason to sell their shares and take profits which have accrued nicely over the last few years, the decline in share prices has made a variety of quality companies much cheaper. The opportunity set is now much larger than just a few weeks ago, and the valuations of some companies have been driven down (again) to bargain basement territory.
One such company is BlackBerry (NASDAQ:BBRY). The company went through notable transformational change with its business model, and the stock has been quite volatile as a result in the last two months. BlackBerry polarizes investors: Either they love the company or they hate it, with only little ground left in the middle.
The telecommunication and wireless equipment company has fallen on hard times, which have been widely publicized: Unappealing phones, falling market share, unsuccessful product launches and restructuring efforts, inventory write-offs and whopping quarterly losses have tested investors' nerves over the last years. The recent house-cleaning action resulting in a massive quarterly loss of $4.4 billion, however, could be a meaningful inflection point and the company tries to pull itself out of the ditch.
The positive clearly outweighs the bad
As a contrarian investor, there are a couple of things I like about the current BlackBerry situation: First, the company is still largely misunderstood, and bringing up BlackBerry's handset business almost incites allergic reactions from investors. The hardware unit is deeply loss-making but determines the perception of the company and clouds the true underlying value of the company. Investors equate BlackBerry with their understanding of the company as a device maker, while the company is eagerly transforming its business to become an enterprise software company.
Secondly, BlackBerry's shares have reflected investors' worries about faltering sales and, consequently, are down 85% over the last five years. It appears that this value destruction is exaggerated: I conservatively estimate that BlackBerry holds about $3.0 billion in cash and short-term securities on its balance sheet at the end of the quarter. With 526 million shares outstanding, this translates into approximately $5.70 per share in cash- and short-term securities value. In other words: 63% of BlackBerry's current market capitalization consists of cash and short-term securities, while the company remains all the upside from its enterprise segment.
Third, while the Fairfax transaction fell through, Prem Watsa is still upbeat about BlackBerry: On January 16, 2014, it was announced that Fairfax Financial purchased an additional U.S. $250 million principal amount of 6% unsecured subordinated convertible debentures of BlackBerry. Purchasing a sizable chunk of unsecured debt signals that Fairfax Financial is optimistic about BlackBerry's future earnings potential.
Fourth, BlackBerry proactively creates catalysts for itself: Both the partnership with Foxconn (OTC:FXCOF) to control production costs as well as its intention to engage in real estate sale-leaseback transaction shows that the company is driven to create value for shareholders and turn BlackBerry around.
Fifth, Lenovo (OTCPK:LNVGY), the Chinese technology company that was rumoured to be interested in purchasing BlackBerry or parts of BlackBerry and which was in the process of conducting buy-side due diligence in October 2013, now bought Motorola Mobility from Google (NASDAQ:GOOG) for $2.9 billion. While Lenovo didn't buy BlackBerry or launched a competing bid to Fairfax Financials' $9 per share buyout offer, the transaction goes to show that loss-making device businesses indeed can be sold in the marketplace. A potential sale of BlackBerry's device unit would be a major catalyst for the stock, and the clearest signal to investors that the company is changing.
Sixth, BlackBerry's short interest has literally been collapsing over the last six months: To contrarians, this signals that a potential bottom has been found.
What happens when investors change their perception
Investor perception can change quickly, as the chart below reveals. Both Alcatel-Lucent (ALU) and Nokia (NYSE:NOK) were struggling with their hardware businesses and both companies went through transformational change that included a new business direction. However, the change wasn't fully understood by the marketplace. In the case of Nokia, for instance, the sale of its device unit to Microsoft (NASDAQ:MSFT) fundamentally changed how investors thought about the company. The sale of its device business was a major catalyst for the stock, and also allowed the company to move forward with its plan to change its business model to become a wireless infrastructure provider and focus on its location-based service segment.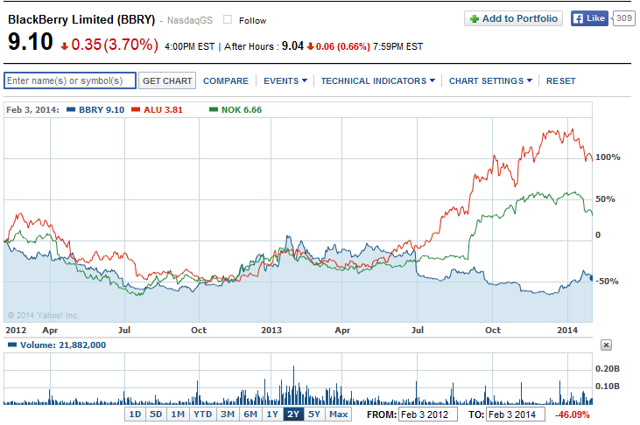 Conclusion
The recent market sell-off has hit BlackBerry extraordinarily hard, which makes a contrarian investment so much more attractive. Since January 22, 2014, shares of the telecommunications company have corrected a hefty 16%. Despite the decline in share price and the surrounding negativity, BlackBerry could be a good deal for contrarian investors in 2014. I have previously voiced my conviction that BlackBerry is a textbook turnaround investment with a potential target price of $17 based on a sum-of-parts analysis, and I am standing firmly by that assertion. In addition, Citron Research (an outspoken shortseller) issued a minimum price target of $15 for shares of BlackBerry in its research report from January 17, 2014. BlackBerry, just like Nokia, is still misunderstood and it will take time to adjust the false perceptions of BlackBerry being a phone manufacturer. Selling the device unit could be a major catalyst for BlackBerry's share price, and I will use any major setbacks to add to my existing position in the company. BlackBerry's high cash- and short-term securities value as percent of its market capitalization also limits downside risk for investors, while I think fears of high cash burn rates have no basis in reality. Consistently high cash- and investment balances speak to the contrary. Strong, contrarian long-term BUY, with a price target of $17.
Disclosure: I am long BBRY, NOK. I wrote this article myself, and it expresses my own opinions. I am not receiving compensation for it (other than from Seeking Alpha). I have no business relationship with any company whose stock is mentioned in this article.