Since 1996, I have tripled my money every three years or so, on average. In 2009, I started sharing my Wall Street expertise with Main Street investors via my popular "Poised To Triple" series on Seeking Alpha, along with my free PTT Insider newsletter. In 2013, I founded PTT Research to deliver investment wisdom and my very best picks to a large and growing subscriber base.
One key to our success is the large base of industry experts we hire under contract. They help us to fully-understand a company's products, its customers, and future market demand. Recently, we spoke to several industry experts regarding the prospects for Pixelworks (NASDAQ:PXLW). Here's our assessment:
Industry Assessment
Clearly, the last television purchasing cycle was very strong. Flat panels, HD, and new homes all contributed to strong TV demand. Of course, the bigger they are, the harder they fall. A harsh and prolonged economic recession hit the industry hard. Over the past several years, consumers haven't needed (or couldn't afford) new TVs. But now, the last generation of TVs is so old that they are no longer viable. They need to be replaced. The last cycle ran from about 2002-2007. The typical cycle lasts 7-10 years, so a new cycle is past due to begin.
We spoke to industry experts who have done research into video consumption and preferred devices. One of them has created focus groups worldwide (China, Japan, Europe, and more). To this expert, it's clear that people want new TVs, though the way they consume content is different than 10 years ago.
There's a growing trend to do social networking while watching TV. This is interesting because a lot of new TVs come with things like Twitter, Facebook built in. However, people don't know how to use these applications on their TVs. They want to use their mobile device for socializing and TV for programs (mainly premium content, like movies).
Another trend is the demand coming from emerging markets -- China, Brazil, Russia, India and others are expanding. They can buy big TVs because prices have gotten so low. Also, there's a skew toward bigger TVs (with a lean toward smart TVs). One analyst forecasts that by 2017 80% of all manufactured TVs will be smart or connected TVs.
Price competition for existing models remains intense though. Traditional companies like Samsung (OTC:SSNLF), Sony (NYSE:SNE), Panasonic (OTCPK:PCRFY), etc. are all adding technology without pushing up price. Of course, the technology vendors (like Pixelworks) have been experiencing price pressure from customers for several years, as the current cycle has persisted for much longer than normal.
As the transition to UltraHD ramps up, these vendors will benefit. Specific to PXLW, they have focused on the projector market. It will come as a surprise to many to learn that projectors are building traction in homes, especially in international markets. The replacement for big TVs is to go for smart projectors. Of course, this is a small market compared to big TVs, but relative to PXLW's size, it's a good place for them to be. Soon, they will enable smart projectors.
They have a good list of partners and the prospect list is growing. For example, this is from a Panasonic 60 inch HDTV schematic: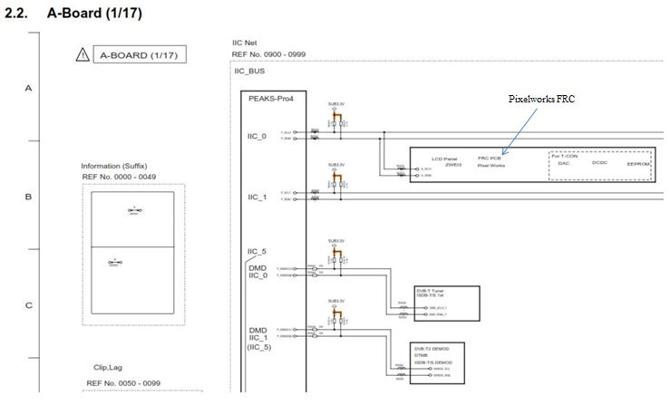 Also, LG has been a particularly good customer and says they will invest $750 million in small and medium sized displays (smart phones and tablets).
With MediaTek acquiring Mstar, the combination now dominates the overall market for processors. However, Pixelworks has much better solutions for next-generation TVs. MediaTek is not leading-edge in this area.
Further, because of the merger, our consultants tell us that customers are concerned about the combined entity's market share. They don't want MediaTek to gain too much power in the marketplace. Thus, they are looking to give some of their business to vendors like PXLW or SIGM. Of course, they will have to be competitive on price, but profitable business is good business.
This increases the possibility of a larger vendor acquiring Pixelworks and/or Sigma (NASDAQ:SIGM). Both have IP (patents), so that can combine with economies of scale to create an accretive value proposition.
There also seems to be a trend for tertiary TV manufacturers to outsource technology more than before. PXLW and SIGM have both said that they see a larger pipeline of licensing prospects than ever because of this. Rather than spending money on R&D in-house, manufacturers can pay PXLW or SIGM less and get access to same technology to drive down costs.
From what we have found, few offer better technology than PXLW. This validates what PXLW management has been saying for some time now:
"During 2011 we penetrated several additional Top 5/Tier 1 TV OEMs for our PA series products. Continuing to penetrating the Top Tier customer base, validates Pixelworks' leading innovative solutions in video processing.
In 1H 2012 we will introduce the PA168 which is the next generation of video processing performance with advanced 4Kx2K support. This product puts Pixelworks in a leadership position at the high end of the market and sets the stage for further Tier 1 customer penetration in 2012."
In short, we're early in the next-generation TV cycle, but we're seeing good progress there. Further, the proliferation of video on mobile devices is exploding as we speak.
I don't know about you, but I'm tired of the poor quality of video that I'm getting from services like NFL Mobile. The picture clarity is inconsistent and the jutter is well-below acceptable levels. Yet, this is one of the key ways I want to consume video, so the competing vendors will have to fight to provide better picture quality if they want to keep my business.
Earnings Preview
Looking at PXLW's earnings estimates, we feel that Q4's numbers are quite doable. We believe management has more visibility into its business than usual, which should assist greatly. Estimates of $15M in revenue and 6-cents in EPS will compare (as known on Wall Street as a "comp") nicely against last year's $13.6M and 16-cent loss. It'll be their first time showing year-over-year growth in revenue and earnings in a long time.
The comps for the start of 2014 look good too. In Q1, the comp will be the $8.3M and a 23-cent loss they delivered in March 2013. Q2 will face a $9.6M and -$0.14 comp. Both Q1 and Q2 were impacted by customers who have been cutting back on inventory. On the Q2 earnings call, management told us that this process appeared to be complete. In Q3, they proved it by reporting that those revenues had stopped declining. With a little luck, they may be back to business as usual in Q1 / Q2.
Disclosure: I am long PXLW. I wrote this article myself, and it expresses my own opinions. I am not receiving compensation for it. I have no business relationship with any company whose stock is mentioned in this article.
Additional disclosure: Mr. Gomes' investment Methodology is the basis of his selection process, as well as his asset allocation and trading decisions. Investors who seek to act on his research should first read his Methodology at PoisedToTriple.com.