After the bell on Monday, Prospect Capital (NASDAQ:PSEC) reported quarterly results that roughly met Wall Street expectations (press release available here). Earlier in the day, the company declared dividends through September of roughly $0.11 (press release available here). With its high quality portfolio of debt, PSEC has excellent cash flow visibility, which is why it can declare dividends out two quarters in advance. Moreover, it is a reason why the company tends to report numbers pretty close to expectations. With a strong portfolio and yield in excess of 12%, Prospect Capital continues to be one of the best business development companies ("BDC") to invest in.
For the uninitiated investor, a BDC passes through its income to shareholders and must return 90% via distributions, similar to the structure of a REIT. These firms are mid-market lenders who under tax law have to focus their lending and investing on firms with less than $250 million in revenue. Within the BDC universe, PSEC has been an exceptional performer. It has not initiated a non-accruing loan in the past six years while others were hamstrung by loans to companies that went bankrupt. In its entire history, only 0.3% of assets have gone on non-accrual status. In its 25-year history (10 as a public company), it has a history of originating low risk loans and increasing current income.
Now because the company does not retain earnings, the primary form of shareholder returns are the dividends. As mentioned above, PSEC currently yields 12.2%, which suggests a solid long-term return. At the end of the quarter, PSEC had a book value of $10.73, which is right where shares were trading at the close on Monday. Historically, PSEC has traded at a premium to book value thanks to the strong performance and high yield of its loans. At current prices, investors can buy PSEC at net asset value and pick up a solid 12.2%.
Now when investing in a stock primarily for its dividend, it is important to consider the sustainability of that dividend. In the last quarter, PSEC generated $0.32 on net investment income ("NII"), which was in-line with analyst expectations. However, the company paid out $0.33 in the quarter. In the long run, it is obviously unsustainable for a company to pay out more than it brings in. However last year, the company earned $0.26 more than it paid out and is looking to payout slightly more than it earns to reduce this excess cash. Over a three year period, this distribution has been easily sustainable.
It is also important to note that the company's balance sheet remains pristine with improving fundamentals. The company's debt to equity ratio stands at 48%, which is down from 53.7% the previous quarter and 55.7% at the end of fiscal 2013. Along with a better balance sheet, the company continues to lend aggressively with new investments totaling $607.66 million, which brings total investments to $4.976 billion. While Prospect continues to grow its investment base, it is not doing so through the issuance of too much debt. Prospect funds these new businesses through the issuance of debt and equity through an ATM program where it sells some shares daily. As long as these loans are generating income in excess of the cost of additional equity (via dividends) and debt (via interest expense), they are accretive to the distribution.
In the fourth quarter thanks to a share price that traded at a premium to book value, Prospect clearly focused more on issuing equity than debt, which is why its debt to equity ratio fell. PSEC has increased the size of its credit facility to $1 billion and has a high investment grade crediting rating of Aa3 from Moody's. This facility only costs 275bp plus LIBOR, so it is far less costly than equity. In the coming quarters, I expect PSEC to fund new investments with a higher mix of debt than equity to bring debt to equity back into the 51-55% range, which will increase NII. While Prospect may pay out more than it brings in this upcoming quarter, that trend should reverse in its fiscal fourth quarter and 2015 thanks to a growing portfolio and higher debt apportionment.
Now, Prospect Capital's long-term health will be tied to the health of its investments. Its track record speaks for itself with no non-accrual loans over the past six years; however, that can always change. With a period of low interest rates, some companies have been "reaching for yield." In other words, they lend to lower quality companies to get a more acceptable interest rate. Prospect has refused this temptation. At the end of the quarter, virtually all of its loans were secured, and 75% of its portfolio was secured, which ensures a high (often 100%) recovery rate even if the borrower were to go bankrupt. Here is a breakdown of the portfolio: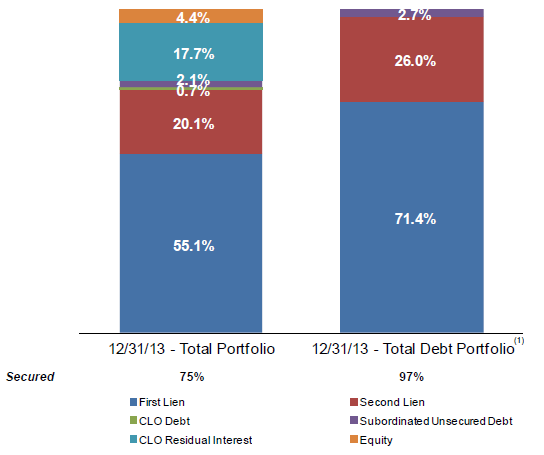 As you can see, Prospect maintains a secure portfolio, which minimizes the potential of losses that would erode book value. Finally looking out over three years, it must be noted that Prospect mostly lends at a floating rate (about 90% is floating) while it borrows at a fixed rate (over 90% is fixed). As a consequence, its NII will increase as short term rates increase. Every 1% increase in LIBOR beyond 3% will likely add about $0.10 to the annual payout. As a consequence, PSEC provides solid current income while providing a hedge against higher interest rates.
Therefore, Prospect Capital delivered another strong quarter. The company originated another $600 million in loans while maintaining a strong balance with a relatively low debt to equity ratio. Finally, Prospect has not cut its credit standards to garner a better yield, which will protect book value in the event of a recession. After this quarter, I remain confident that PSEC will be able to meet its distribution and will be able to earn NII in excess of the current distribution in 2015. For the income oriented investor, Prospect Capital remains a top choice.
Disclosure: I am long PSEC. I wrote this article myself, and it expresses my own opinions. I am not receiving compensation for it (other than from Seeking Alpha). I have no business relationship with any company whose stock is mentioned in this article.