Suncor Energy (NYSE:SU) reported weaker than expected financial results for the 4th quarter of 2013. Despite the headline miss, I'm still confident that the company can deliver long-term value for shareholders. The CEO is continuing his strategy of maintaining capital discipline and returning excessive capital back to shareholders. I will review a couple of the positives and negatives in the latest Q4 earnings report and update readers on my investment thesis in the company.
Negative #1: Headline Miss
The headline numbers missed expectations. Sell-side analysts were looking for an operating EPS of $0.78/share vs. the $0.66/share reported. The headline EPS of $0.30/share was also weak.
The earnings miss was mainly attributable to:
Lower-than-expected production from its International E&P operations (See Negative #2 below)
Higher costs (See Negative #3 below)
An after-tax impairment charge of $340 million relating to its Syrian assets
An FX charge of $259 million relating to its US denominated debt. Because Suncor's reporting currency is the Canadian Dollar, the weakening of the Canadian Dollar (vs. US dollar) forces Suncor to recognize any losses due to debt re-pricing as a financing expense on its Income Statement.
Graph 1: Suncor's Quarterly Results (in Millions of Canadian Dollars)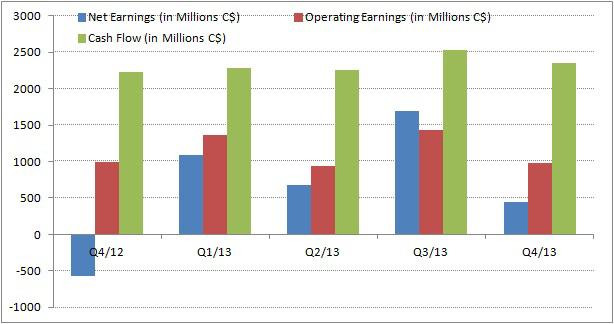 Source: Suncor Q4 Report
Graph 2: Suncor's Quarterly Upstream Production (in Thousands of Barrels per Day)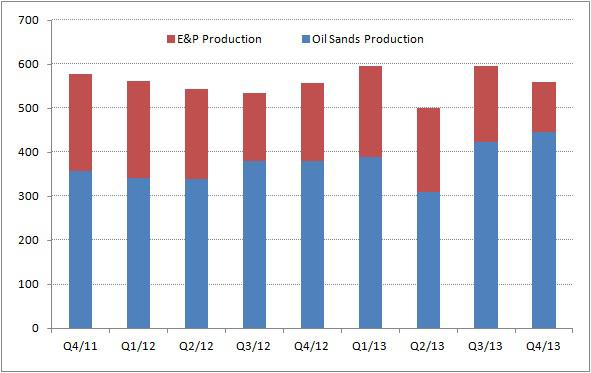 Source: Suncor Q4 Report
Negative #2: International E&P
The results from its International E&P division has been quite volatile since 2011 due to its exposure to Syria and Libya. Suncor already faced challenges in bringing production back online in Libya. The company has cut its 2014 production guidance for its International E&P division to 40,000-46,000 barrels of oil equivalent per day (boe/d), a decrease of 40,000 boe/d from the prior estimate. The impact of Libya and Syria should be fully reflected in the new guidance. The International E&P segment includes approximately 40,000 boe/d from the Buzzard field in the North Sea. Therefore, further production guidance cuts are unlikely in the future especially given the strong growth in oil sands production (see graph 2 above).
Negative #3: Cost Inflation Is Still Evident
Suncor still needs to improve its cost structure. In Q3/2013, management was able to bring the cash costs in its oil sands segment down to $32.65/barrel, the lowest in 3 years. However, Q4/2013 saw cash costs creeping up to $36.85/barrel. For the fiscal year 2013, cash costs was $37.00/barrel, much higher than the forecasted range of $33.50-$36.50 but slightly lower than the $37.05/barrel in 2012. The increased costs in Q4 was due to higher operating costs in its mining operations and higher costs in its in-situ oil sands operations because of higher natural gas prices.
Despite higher costs reported in Q4/2013, I believe Suncor can bring them down in the next few quarters. First of all, most of Suncor's costs are fixed in nature. Higher costs are needed for the ramp-up of production but the cost per barrel will decrease as soon as production increases. Furthermore, the higher costs in Q4 was partially due to higher input costs in its in-situ operations because of higher natural gas prices. Despite higher gas prices in the short term, the long-term price will be much lower because of the shale gas boom in North America. Hence, in the long run, Suncor will experience lower feedstock costs compared to Q4/2013 and investors shouldn't be worried about near-term cost increases. Management seems to agree with my assessment given that it did not increase its guidance for cash costs despite a high number for Q4/2013. The cash cost guidance for 2014 is $31.50-$34.50, much lower than the $37.00 reported for fiscal 2013.
Positive #1: A 15% Dividend Hike and Larger Share Repurchases
In my article after Suncor's Q3/2013 results, I predicted a dividend hike of 10-15% (a 2-3 cents increase in its quarterly payout) when it reports Q4 results. As announced via a press release, Suncor raised its dividend by 15%, which represents the upper end of my prior estimate. A quarterly dividend of $0.23/share equates to approximately $1.36 billion in dividend payment per year. Given Suncor generated $3.3 billion in free cash flow last year, it can easily cover the $1.36 billion dividend payments. I expect a further 9% increase (quarterly dividend increase from $0.23 to $0.25) when it reviews its payout policy again next February, in line with my 3-5 year earnings growth estimate of 10%.
Graph 3: Suncor's Quarterly Dividend Payouts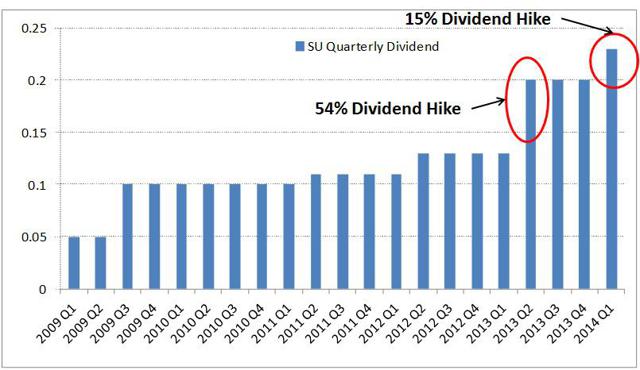 Click to enlarge
Source: Suncor Investor Relations
Table 1 below shows the amount of shares repurchased in each quarter. Suncor has been actively buying back its own shares in the open market in the last 2 years. The average dollar amount repurchased was $419 million per quarter in the last 4 quarters. Repurchase activities increased in Q4. The company repurchased $550 million worth of shares, an increase of 35% year-over-year and 29% quarter-over-quarter. The increase is definitely encouraging and it shows that management is confident about the company's long-term prospects.
Table 1: Suncor's Quarterly Share Repurchases
| | | | | | |
| --- | --- | --- | --- | --- | --- |
| | Q4/12 | Q1/13 | Q2/13 | Q3/13 | Q4/13 |
| Share Repurchased | $408M | $405M | $294M | $426M | $550M |
| Weighted Avg. Purchase Price | $32.70 | $31.57 | $30.35 | $35.36 | $36.83 |
Source: Suncor's Quarterly Reports. Note that the weighted average share price is in Canadian Dollars (TSX listed price).
Positive #2: Improving Market Access
Investors should breathe easier after the US state department released an environmental assessment that stated the rejection of Keystone will not prevent growth of the oil sands because producers can bypass pipelines and transport via rail. Although the final decision is still in the hands of President Obama, the positives outweigh the negatives in general as shown in the state department's report.
Even if Keystone XL is rejected, Suncor has ample of capacity to ship its production as stated in the Q2/2013 conference call. The completion of the rail offloading facility at its Montreal refinery allows the company to ship 30,000 barrels per day of heavy crude to that refinery, capturing the pricing difference between Brent and heavy crude prices. Also, the Keystone South (not related to Keystone XL) allows Suncor to ship 50,000 of heavy crude to the Gulf refineries. Finally, there is an opportunity to expand the transportation of heavy crude west through the Trans Mountain Pipeline Extension.
Positive #3: Integrated Model Mitigating Oil Price Volatility
Suncor's integrated model allows the company to benefit when spreads between heavy and light crude price widen. When the spread widens, the upstream (oil sands) will be less profitable but the downstream (refining & marketing) business will offset the profit decline in the upstream business. In Q4/2013, the oil sands segment experienced a 58% quarter-over-quarter decline in profit while the refining & marketing segment experienced a 31% increase in profits. Therefore, Suncor benefits enormously from having both downstream and upstream operations. Investors also shouldn't forget that Suncor has one of the most profitable downstream businesses in North America.
Table 2: Suncor's Operating Profit By Division
| | | | | | |
| --- | --- | --- | --- | --- | --- |
| In millions of C$ | Q4/13 | Q4/12 | Q3/13 | Y/Y | Q/Q |
| Oil Sands (Canada) | 400 | 450 | 951 | -11.1% | -57.9% |
| E&P (Canada,UK,Libya,Syria) | 239 | 143 | 316 | 67.1% | -24.4% |
| Refining & Marketing (Canada,US) | 458 | 450 | 350 | 1.8% | 30.9% |
Source: Suncor Q4 Report
Investment Thesis:
Suncor is an excellent name to own because of its potential for long term production growth and stable free cash flow generation. The company has a solid balance sheet with net debt of $6.3 billion, which is about 0.6 times its annual cash flow of $10 billion. I predict healthy free cash flow growth in the next 3-5 years once newer projects (such as Mackay River Expansion, Fort Hills, Golden Eagle etc.) come online and cash costs come down as explained above. Suncor truly demonstrated stellar capital discipline under Steve Williams. The ramp-up of Firebag 4 was on schedule and under budget by 15%. The strict capital discipline and smart capital allocation (share buybacks, dividend hikes etc.) will enhance the attractiveness of its shares.
Suncor is attractively valued at 10.5X earnings (next 12M) and 5X cash flow. Most integrated oil and gas companies trade near 6 times cash flow and 11-12 times earnings so there is potential for multiple expansion. At 6 times cash flow, Suncor should trade near C$42.00, which implies a price target for the US listed shares of US$37.85 using the current exchange rate of 1.11. Readers should note that I am anchoring Suncor's value based on its TSX listed price (in Canadian Dollars) because Suncor's financials is in Canadian Dollars. Therefore, a decrease in the Canadian Dollar will erode value for Suncor's US shareholder. The same logic applies to Suncor's $0.23 quarterly dividend. The payment is also in Canadian Dollars.
Conclusion:
Suncor is an excellent name to own in a conservative portfolio. Given that the share price has corrected along with the general market, investors will have opportunities to buy on dips especially if sell-side analysts cut their near term EPS estimate after the Q4 earnings miss. However, I believe long-term investors can benefit from time arbitrage if they are willing to ignore the short-term negatives. Looking at the long-term fundamentals, the stock is attractively priced.
Disclosure: I am long SU. I wrote this article myself, and it expresses my own opinions. I am not receiving compensation for it (other than from Seeking Alpha). I have no business relationship with any company whose stock is mentioned in this article.
Additional disclosure: This article is for informational purposes only and does not constitute an offer to buy or sell any securities discussed in the article. The stock mentioned in this article does not represent financial advice. The target price presented in this article is based on current information and are subject to change without further notice. Investors are recommended to conduct further due diligence before committing capital to any investment.