Prospect Capital (NASDAQ:PSEC) is a component in my 'General', 'High-Yield' and 'Value' BDC portfolios and is currently considered a 'Buy'. This article will discuss the most recently reported financial information, following up on my previous EPS projections and discuss dividend coverage as well as what I will be looking for in the upcoming earnings call and how it might change my EPS projections, pricing, rankings and risk profile for PSEC.
Follow Up on Previous Earnings Projections
The following projections are from my "PSEC: Sustainable High-Yields? Part 2" in December where I estimated calendar Q4 EPS of $0.323 which was close to actual as shown below.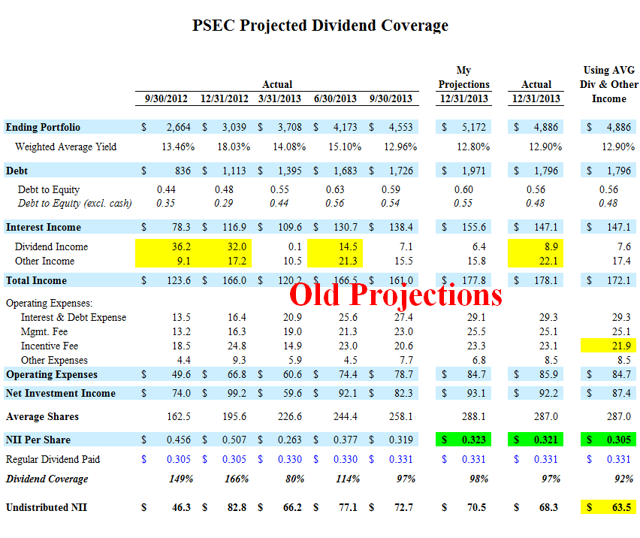 My interest income projections were higher due to higher projected portfolio growth than actual but dividend and other income were higher so the total income was $178 million for both my projections and actual. Expenses were also close with the exception of 'other' which I will be interested to hear on the upcoming earnings call if there were onetime expenses included. Both my projected net investment income ("NII") and average amount of shares were close as well which is why the NII per share estimates were in line.
However if dividend and other income were not as high for the quarter what would this mean for NII per share going forward? I used the twelve month average for both to estimate the effects on dividend coverage. The results would be a lack of coverage by $0.026 per share or almost $5 million additional reduction in undistributed NII that is currently being used as a cushion for coverage and needs to be watched in the upcoming quarters. As of December 31, 2012 the amount of undistributed NII was almost $83 million and is now around $68 million but these amounts can change quickly if PSEC has a bad quarter as it did in calendar Q1 2013.
New Share Issuances
As discussed in "Prospect Capital: Sustainable High-Yields?" PSEC has been issuing shares through its ATM program at an increasing rate as shown in table below: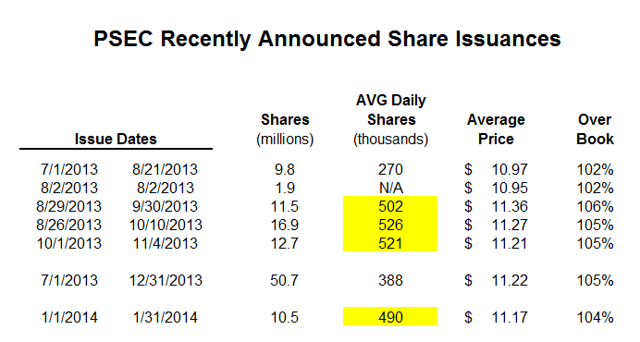 Average daily new share issuances have increased since July. As of January 31, 2014 PSEC had already issued 10.5 million shares in 2014 and at the current rate of around 490,000 share per trading day. I am hopeful that the company will not continue this pace of issuances and start to use more debt to fund portfolio purchases.
Assuming PSEC kept its debt-to-equity ratio similar to recent levels and average amounts of dividend and other income there would be a slight lack of dividend coverage of approximately $0.026 per share per quarter and the amount of undistributed NII could be depleted sooner than I had earlier projected. PSEC currently has over 310 million shares outstanding which would cost the reserve around $8 million per quarter giving PSEC two years of cushion. However if it continues to add 30 million shares per quarter the reserve would be depleted by calendar Q2 2015.
What does this mean for PSEC?
Assuming PSEC does not plan on cutting dividends next year the company has a few options. Most BDCs have been using higher amounts of debt to compensate for falling portfolio yields. If yields continue to fall PSEC will need its available leverage to increase returns to pay dividends. The recent earnings release stated: "Our modestly leveraged balance sheet, with its vast majority of unencumbered assets, access to multiple funding sources, matched-book funding, and weighting toward unsecured fixed-rate debt, is a source of significant strength. Our debt to equity ratio stood at a modest 48.0% after subtraction of cash and equivalents at December 31, 2013. Our equitized balance sheet also gives us the potential for future earnings upside as we prudently utilize and grow our existing revolving credit facility as well as potentially add additional secured or unsecured term facilities made more attractive by our investment-grade ratings at corporate, revolving facility, and term debt levels."
Another way to increase returns is through creative investments that may involve increased amounts of risk. On the last earnings call when the CFO was asked specifically about the lumpy nature of dividend and other income he replied "Our financial bio side is much more predictable, which is probably foreseeable to you because those are loan instruments, credit instruments and therefore high contracted recurring cash flow types of businesses and recall we have two installment businesses and an auto finance business in the book. So those have been fairly predictable and we're looking at other businesses within the - sort of consumer finance and other diversified specialty finance sector as well."
Both of these options were addressed in the latest statement: "During calendar year 2012, we received significant dividends and interest income from our Energy Solutions investment. Our income from Energy Solutions in calendar year 2013 is significantly less than such income in calendar year 2012. We are targeting to offset this decrease by utilizing existing liquidity and prudent leverage to finance our growth through new originations, including attractive yielding investments in the financial services and other sectors."
What does this mean for shareholders?
PSEC is one of the higher yielding BDCs and has continued to increase its dividend over the years. As the amount of shares climbs and its cushion of undistributed NII is used I believe PSEC will hopefully use more debt to fund investments rather than invest in riskier assets. On the earnings call today I will be looking for one time income and expense discussion, income from recent investments, the development of some of the newer origination strategies and the potential for increased income or risk, and preferred leverage levels going forward. This information will be included into the latest "Prospect Capital: February 2014 Report" that discusses my revised EPS projections, pricing, risk rankings, and interest rate sensitivity analysis.
Investors should only use this information as a starting point for due diligence. See the following for more information:
Disclosure: I am long PSEC. I wrote this article myself, and it expresses my own opinions. I am not receiving compensation for it (other than from Seeking Alpha). I have no business relationship with any company whose stock is mentioned in this article.