The Reserve Bank of Australia (RBA) made it official: the low interest rate cycle has reached a trough. In its latest Monetary Policy Decision on February 4th, the RBA concluded (emphasis mine):
"In the Board's judgement, monetary policy is appropriately configured to foster sustainable growth in demand and inflation outcomes consistent with the target. On present indications, the most prudent course is likely to be a period of stability in interest rates."
Combine the promise of no further rate cuts with a balanced economic outlook, and traders immediately looked across the pastures and over the hills to a time when the Australian economy is humming again and the RBA is hiking rates. In response, the Australian dollar (NYSEARCA:FXA) immediately soared against all major currencies: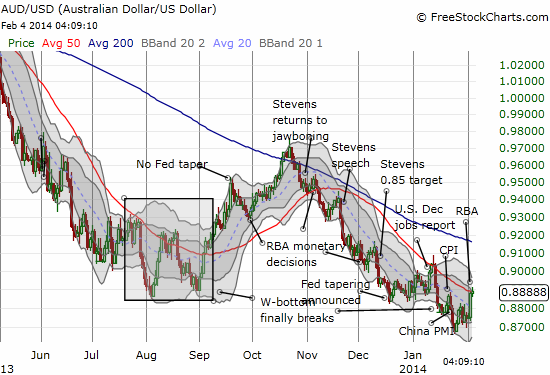 The Australian dollar surges off the bottom after the RBA implies a trough in interest rates
Source: FreeStockCharts.com
The RBA still sees a "pick-up" in global growth this year, "firmer consumer demand," "a solid expansion in housing construction," along with "subdued… prospects for business investment," weak demand for labor, and a deceleration in wage growth. Most importantly this time around, the RBA expressed a lack of concern for creeping inflation given it remains within the 2-3% 2-year target. The RBA partially blamed higher-than-expected inflation on a stronger-than-expected impact from the depreciation in the Australian dollar. However, the RBA still clearly prefers the current (or lower) exchange rate:
"The exchange rate has declined further, which, if sustained, will assist in achieving balanced growth in the economy."
Without the prospect of further rate cuts anytime soon, all the RBA has left to get a lower exchange rate is jawboning. By linking the longer-term potential for strengthening growth to "…low interest rates and the lower exchange rate," the RBA has set the stage for future jawboning. The currency market has shown time-and-again a preference for putting a premium on the Australian dollar, so the default direction is up without a countervailing force. I am imagining Governor Stevens trying to provide that counter by explaining to future audiences the direct link between a lower currency and greater economic health.
For now, until/unless AUD/USD closes firmly above 0.90, I think it is still good for fading on rallies. Beyond that, I will have no choice to flip back to a bullish trading bias.
Be careful out there!
Disclosure: I have no positions in any stocks mentioned, and no plans to initiate any positions within the next 72 hours. I wrote this article myself, and it expresses my own opinions. I am not receiving compensation for it (other than from Seeking Alpha). I have no business relationship with any company whose stock is mentioned in this article.
Additional disclosure: In Forex, I am short AUD/USD