Energy Inc (NYSEMKT:
EGAS
) is a small-cap regulated Montana-based natural gas utility that is on the move. One of the few roll-ups in the local gas utility business, EGAS offers investors adequate dividend yield and interesting growth prospects at reasonable current valuations. EGAS serves clients in Montana, Wyoming, North Carolina, Maine, Ohio, and Pennsylvania. In addition, EGAS owns working interest in 140 natural gas wells in Wyoming along with a local gathering and transfer pipeline.
Energy Inc. is expanding by acquiring small, independent local gas utilities that are not necessarily contiguous. A roll-up business plan usually encompasses buying individual businesses in a fragmented industry and gaining economies of scale through growth. While most investors are familiar with the major gas utilities that cover wide swaths of the population, there are many local gas utilities that service smaller communities in rural areas or where natural gas is not the predominant fuel of choice. Energy Inc is assembling these smaller utilities into a growing enterprise.
Energy Inc is managed by Mr. Richard Osborne, and he currently owns 41% of outstanding shares. Several years ago, Mr. Osborne was brought in to turn around a failing Montana local gas utility, Energy West. In about three years time, financials and earnings began to improve and Energy West's dividend was reinstated. Osbourne shed some propane operations in Arizona and put the proceeds into other expansions. In 2009, Energy West changed its name to Energy, Inc. In January of this year, EGAS purchased several utilities in Ohio and Pennsylvania, almost doubling its customer count to 62,000. EGAS's overall service area population is about 5.3 million.
There are several intriguing aspects to Energy Inc. Management targets acquisitions where natural gas is underutilized, offering organic growth opportunities. For example, in 2007, a small Bangor, Maine operation was acquired from Sempra (NYSE:
SRE
), the huge utility conglomerate. Maine has historically relied on heating oil as its main fuel source and state-wide natural gas market penetration is less than 1%, versus a national average of 51%. Residential and commercial heating by fuel oil is usually more expensive and pricing is more erratic than by natural gas. To encourage gas utilities to invest in the infrastructure required to expand service, state regulators allow the option for regulated gas pricing to be based on costs of competitive fuels rather than solely the natural gas market. This offers the potential for better operating margins that can be used to fund increased capital expansion.
While EGAS has not yet requested this higher-priced formula in rate requests, the program offers incentives to ramp-up organic growth in Maine. Over time, the politics of heating oil versus domestic natural gas, coupled with financial incentives, should offer EGAS interesting opportunities. Understandably, this is a small part of a small company, but could be a future spark for steady organic growth.
According to SEC filings, EGAS has recently made an offer to acquire Corning Natural Gas (CNIGW.OB), the local utility for Corning, New York. Mr. Osborne was Chairman of the Board of CNIG, in addition to his duties at EGAS, and resigned in 2009 when a previous purchase offer from EGAS was rejected. Last summer, Mr. Osborne seemed to be primed to buy Florida Public Utilities, but FPU agreed to be acquired by Chesapeake Utilities Corp (NYSE:
CPK
).
Like many small companies of its size, Energy Inc is not without controversy. In Jan 2010, EGAS closed on the acquisition of four private-held utilities in northern OH and western PA. The purchase price was 1.7 million restricted shares and assumption of $20 million in debt. These four utilities were privately owned by Mr. Osborne. EGAS tried to do the deal a few years ago as an all-cash offering funded by new debt, but it was not well received by shareholders, share prices slumped, and the deal was called off. The additional shares from the recent purchase increased Mr. Osborne's holdings to its current 41%. Although approved by a third-party appraiser for fair value, skeptics have the foundation for an insider-enrichment argument. While some might squirm at the acquisition of the Chairman's privately-held utilities, the large insider stock holdings creates a tight bond between management and investors to increase shareholder value through higher market prices and dividend distributions.
Energy Inc trades on the NYSE Amex, has a market capitalization of $66 million, 6 million shares outstanding, and debt of $28 million. Earnings per share for 2009 grew at a nice pace. The 2009 change from a June fiscal year to Dec makes y-o-y comparisons a bit more difficult, but are available on an unaudited basis. While revenues were down due to lower natural gas market prices, operating earnings per share grew by 38%. EGAS earned $0.77 in 2008 on revenues of $87 million. In 2009, EGAS reported net earnings of $1.58, including a $0.51 non-recurring tax credit, on revenues of $71 million.
2010 performance should be positively impacted by the substantial customer increase from the Jan acquisition. However, since proforma financials have not yet been filed with the SEC, it is difficult to forecast 2010 earnings improvements, including share dilution and higher interest expense. Worse case should be non-accretive in 2010, with improved progress over time. Backing out the 2009 one-time tax credit, 2010 EPS could be in the $1.00 to $1.20 range, depending on the performance of the added customer base.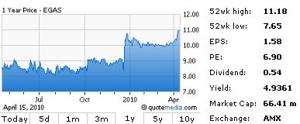 At its current share price, Energy Inc is undervalued to its peers in the industry. EGAS is too small to attract much Wall Street attention, and there is not much news to create retail interest. While a valuation discount to its peers may be appropriate due to its size and inherent risks of an active roll-up business model, today's market price and 4.9% current yield should provide adequate overall investor returns. Current distribution per share is $0.54, paid monthly, for a comfortable pay-out ratio of 50 percent. With the growth of earnings over time, dividends should increase.
Below is a comparison of current valuations, with peers in ( ):
Price to Sales: 0.63 (2.1)
Price to Cash Flow: 2.7 (6.2)
Price to Book: 1.2 (2.4)
Price to Earnings: 10 (20)
Investors looking for an under-followed, micro-cap, regulated natural gas utility with heavy insider ownership and interesting growth prospects should review Energy Inc. Based on improving investor exposure and a closing of the valuation gap, my personal price target over the next 18 months is $14, plus the cash dividend, for a 22% annual return. Like many small cap companies, due diligence starts with SEC filings and the company website:
ewst.com
Disclosure: Author long EGAS